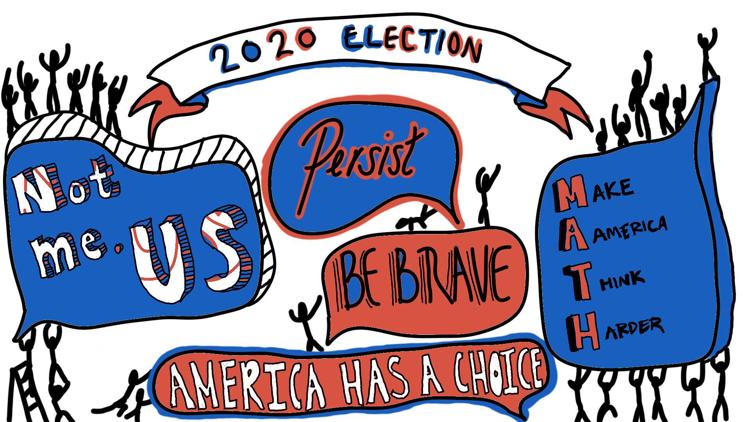 The end of the seventh Democratic debate comes with some much-needed reflection. As a member of the Latinx community, I'm within my right to say that I am unimpressed with the way things have played out. Democratic candidates need to be focused on the bigger idea of winning the presidential seat and not tearing each other down.
I have no immediate quarrels with any of the qualifying contenders, but when I start to see that the list of top competitors consists of only white people, I can't help but get bored. Many, like myself, have seen this all before.
Elizabeth Warren, Pete Buttigieg, and Amy Klobuchar may offer their own splash of diversity to the Democratic candidates in regards to gender and sexuality, but for some people, myself included, this isn't enough. 
Prior to the debate, CNN leaked a 2018 conversation between Warren and Bernie Sanders. The source claims that Sanders made sexist remarks, presuming that a woman could not win the presidential election.
If you've been tuning in, you'll know that Vermont Sen. Bernie Sanders, the seemingly most progressive candidate the left-wing has to offer, exchanged his own political blow in response to the accusation during the debate.
"Well, as a matter of fact, I didn't say it … There's a video of me 30 years ago talking about how a woman could become president of the United States," Sanders said during the Jan. 14 debate, discrediting the accusations made against him. 
Shortly after the debate, CNN captures the audio of Warren defending her position. 
"I think you called me a liar on national TV," Warren said. 
Nobody may ever know if either candidate was telling the truth in its entirety, because only Warren and Sanders truly know what was said. However, that alone didn't stop Sanders from taking advantage of the misogynistic culture that's so popular in the states.
Sophia Jordan Wallace, an associate professor of political science, offered professional insight regarding the elements of misogyny found within social media trends such as #RefundWarren.
"There's a lot of research that shows that the standards from which women candidates are held to are higher and thus critiqued," Wallace said. "These are all deeply gendered patterns that only happen to women."
This stunt has only damaged the composure of the progressive movement, not just damaged part of Sanders' reputation. In fact, the lack of diversity and solidarity among democratic candidates may further discourage voters from engaging in politics. 
My biggest concern this year is that our current president will be reelected in office for another four years. The current impeachment process is taking too long, so we must shift gears and focus on the Democratic candidate who may lead us in a time of great division and fear.
In my experience, there are two groups of Democrats: those who are disengaged because they don't favor any candidate and those who are politically involved and stand behind their favorite candidate strongly. With the varied candidates on the stage right now, there is no telling who will be the Democratic nominee for the race. I interviewed political science professor Aseem Prakash to gain some insight for what's to come in the debates. 
"The problem Democrats have is that there's no clear front runner," Prakash said. "If the current trends continue, it could be what's called a contested convention, which happens all the time."
A contested convention now means that candidates are still vying for the presidential nomination. There's plenty of time for candidates to strategize and win the favor of the people by collecting voters. But this needs to be done sooner rather than later in order to put a Democrat in the Oval Office. 
This is still anyone's election and I, for one, am rooting for the underdog. 
I have high hopes for Andrew Yang's campaign. I've noticed that Yang is honest, smart, and a reasonable candidate who has been shown to prevail in the face of adversary. Despite his absence in the latest debate, Yang has since been endorsed by former Congressman Mike Honda, as well as Dave Chappelle.
Now is the time for Democrats to step up to the plate. Acting earlier rather than later, or rather acting at all, will help secure a Democratic win. 
Reach contributing writer Jorge Solis-Munoz at opinion@dailyuw.com. Twitter: @Guadalajorge
Like what you're reading? Support high-quality student journalism by donating here.