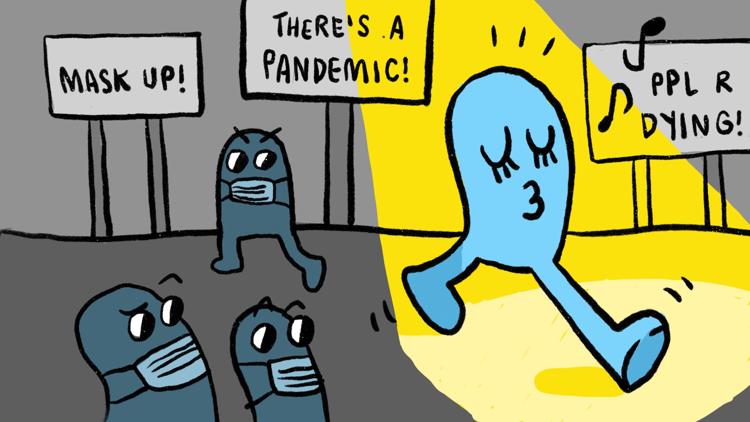 When I open social media, it feels like I get a mix of Black Lives Matter posts, news, and pictures of my peers hanging out in groups. It's this last one that bothers me — it seems that people my age aren't taking the pandemic seriously. 
It's like in elementary school when one or two kids did something bad and the whole class had to stay in for recess. Even though I'm taking the necessary precautions to remain safe, I still walk past groups of college students not wearing masks despite being in groups of five or six. 
It's infuriating. There seems to be a divide — if someone hasn't experienced the COVID-19 virus or doesn't have a reason to stay safe, they continue to live their life like normal. I'm cautious, because I still want to be able to visit my grandma and my parents despite having moved into an apartment. My roommate is similar and before moving in, we established apartment rules for social interactions and grocery shopping. 
I do see where people are coming from when they say they want life to go back to normal. I do too. But partying and ignoring the risks posed by the coronavirus aren't the best way to do that. 
"I know a truly infuriating number of people who have no respect for quarantine. They're mostly people in the Greek System who've never really stopped partying," Arun Solanky, a senior, said. "It feels like an insult." 
For people who have given up a normal college experience to keep themselves and others safe, it's painful to watch other college students do the opposite. The number of times I have seen Instagram captions with some variation of "just took our masks off for this picture!" or "don't come for me, I live with these people!" is ridiculous. If you have to put a disclaimer on your Instagram picture, then what you're doing is probably wrong. 
Perhaps I am being a bit harsh on people my age. I know a lot of college students who are staying home, avoiding parties, and taking the proper precautions when going out. 
"Most of my friends have been quarantining since March, [and] one of my friends has even refused to see anybody else since April," Aroosh Kumar, a sophomore, said. "But there are some people I know who are going to parties and large gatherings without any protection. And whenever I confront them about it I always get the response of, 'We were outside so no worries,' without fail." 
Even if there are a lot of people being safe, there are enough college students not following social distancing guidelines to create a real threat to our safety. 
There is a psychological reason for people caring less about safety precautions for the coronavirus. The human body handles chronic threats differently than immediate ones. As the pandemic drags out longer and longer, the threat feels less and less real. 
"Visuals or stories conveying the impact to an individual the person cares about or knows might help [make the threat real]," Ann Bostrom, a Weyerhaeuser endowed professor in environmental policy, said in an email. "Also, discussing how seriously other young people/peers they respect are taking the threat might help."
If you are someone reading this who has been doing everything right, please know this piece is not directed at you. It's directed at people who cannot seem to comprehend that their actions are not just putting themselves at risk, but putting everyone at risk. The world recently passed 1 million deaths from the COVID-19 pandemic. While stopping your life completely is beginning to be unrealistic as the pandemic continues, please take this threat seriously. 
"Wear a mask, wash your hands, stay a couple of arms' lengths away from folks if you can — take care of yourself and others, please ask for help if you need it,, and stay in touch with your friends and family to keep grounded," Bostrom said. "Sleep, exercise, vote."
The world seems to be going back to normal. The Husky football season is back on, the residence halls are open, and school has started back up. It's easier to pretend the pandemic is over. However, the truth of the matter is that it's not. 
"I don't think I'm a person who gets very angry particularly easily, or the type of person who moralizes politics," Solanky said. "But COVID-19 is a moral issue. There is no sane, scientific argument that enabling the disease to spread is acceptable."
I'm extremely lucky. I haven't lost anyone to the COVID-19 virus, though I have had friends test positive. I live in constant fear that I will lose someone. My parents are teachers and I dread the inevitable day they go back to school. No one is safe from the virus, no matter how far the narrative that young people are less susceptible is spread.  
I want to be able to hug my friends and hang out in their apartments. I don't, and won't, do that until it's safe to. There is nothing more jarring than reading an article about how the United States just passed 200,000 deaths from the COVID-19 virus while hearing laughter from a party coming from an apartment near mine. 
Reach writer Zoe Schenk at opinion@dailyuw.com. Twitter: @schenk_zoe
Like what you're reading? Support high-quality student journalism by donating here.