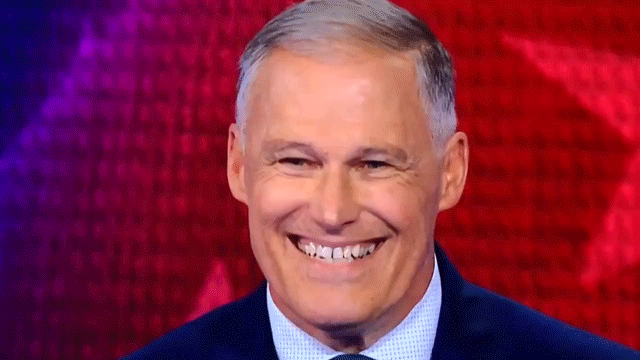 It was more than a little disappointing that the biggest threat to human existence was discussed for less than seven minutes during the two-hour long Democratic debates. It was even more disappointing that most candidates referred to climate change as an opportunity to create jobs, not as the global crisis that actively disproportionately affects marginalized groups, specifically people of color and indigenous communities. 
It was also frustrating that two-time Washington state Gov. Jay Inslee, a single-issue candidate with a climate change-centered platform, spoke for only five minutes out of that two-hour time slot. For f---'s sake, Inslee spoke less than three of the moderators (yeah, I'm looking at you, Todd, Maddow, and Holt).
Inslee has a proven history of being committed to a progressive agenda. He isn't someone who recently realized that all human beings deserve basic equal rights (unlike Gabbard, who offered an "oops, sorry!" about denying LGBTQIA+ marital rights for over ten years), but has been actively working to empower the LGBTQIA+ community, labor unions, Dreamers and other undocumented immigrants, Muslims, and more. Out of all the candidates, Inslee has released the most comprehensive plans to address climate change on a global level while also incorporating the economy and education through the creation of green-jobs and expansion of climate education across the United States.
And yet, he sold himself short on stage.
I remember being annoyed with the 2016 Republican primary debate being an absolute mess of interruptions, finger-pointing, and blatant call-outs of other candidates' weaknesses.
Let me be a hypocrite and share that, last night, I was actually disappointed that Inslee kept it civil. I wanted him to actually say something and have someone hear it, and if that meant interrupting someone or continuing his response despite another candidate trying to talk over him, so be it. 
Inslee didn't have any powerful moments; he didn't respond to other candidates, he didn't advocate for himself, and he failed to show off his clear dedication to issues that matter through his liberal track record as our governor.
His politeness maintains his obscurity: his gentle hand-raising didn't get him any additional camera time, did nothing to close the 875 to 2,000+ words spoken gap between him and Booker, and left him as the forgettable, vanilla, liberal, white man that he isn't. Even Tim Ryan mixing up Al-Qaeda and the Taliban got more attention than any actual policy point Inslee tried to make. 
The trend followed as Inslee tried to showcase his demonstrated efforts to oppose the Trump administration, including but not limited to suing the Trump administration after the enactment of the travel ban, passing Washington State Bill 5116 to achieve carbon-free electricity by 2045, protecting women's reproductive rights in the context of insurance costs, and leading a state with developing sanctuary laws like Senate Bill 5497 (Keep Washington Working Act). Did it get him anywhere? No. 
Inslee, despite being more objectively qualified and backed by a proven state-scale record than at least two or three other candidates out of the twenty Democratic nominee hopefuls, came across as the friendly, non-gropey (@Biden) uncle that gives you a free succulent everytime you visit — and he knew it.
When the candidates were asked to name the biggest geopolitical threat to the United States, candidates Booker, Castro, O'Rourke, and Warren named climate change, but Inslee named Donald Trump (the only candidate to do so). 
For the candidate whose entire platform is based on "save the planet" policies, it was confusing for him to diverge from his brand, but ending on a more firm and aggressive note at least got a few cheers and showed that he was also aware of his lack of impact on the audience. 
I was born and raised in Washington, and I do appreciate what Inslee has done for this state. Yet, I'm not biased towards him, especially not because he's our governor. I'm biased towards any candidate that can beat Trump in the 2020 presidential election, act in favor of the American people, and actually be a good leader — and that shouldn't be a big ask for the next national leader of the United States of America. 
(Jay, if you're reading this, I love and support you and also don't want to die because of climate change, but please just f---ing interrupt someone next time.)
Reach writer Kiran Singh at opinion@dailyuw.com. Twitter: @SinghKiran20
Like what you're reading? Support high-quality student journalism by donating here.