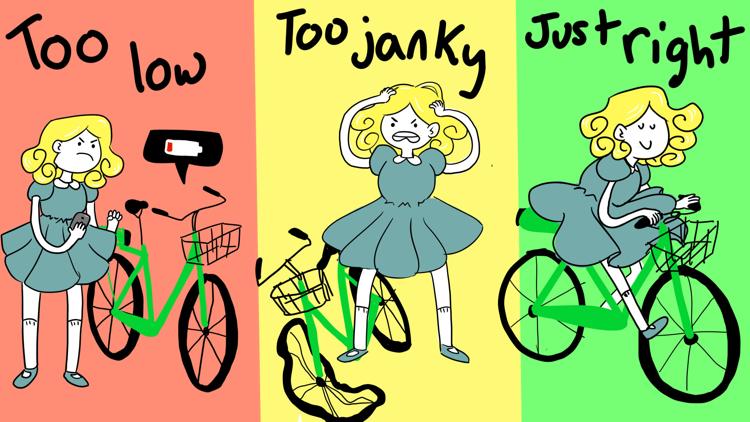 Transportation in Seattle is what some would call a heart attack-inducing crux of mayhem, and it has only morphed into this in recent years. According to a report by The Seattle Times, the number of personal vehicles owned by city residents increased by 12% between 2010 and 2015. Our freeway lanes and intersections have never seen this level of congestion. 
Not only does this increase in car ownership take its toll on the natural environment, it also makes life harder for commuters coming into the city for work or school. Beginning July 2017, the city of Seattle welcomed a solution that was both convenient and inexpensive. Enter: the LimeBike. 
It's hard to go anywhere in the greater Seattle area without seeing a plethora of green, electric-powered LimeBikes. These vehicles are fast and convenient, especially on a college campus as massive as the UW. 
Running late for class? Grab a bike, peddle to that building super far away, and get there in half the time it would have taken you to walk. I rode LimeBikes to the light rail station almost every day over the summer. This allowed me to leave my house 20 minutes before I was supposed to be at work, instead of the 45 I needed if I walked. When you can find them, they are also incredibly easy to use — that is, when they work properly.
LimeBikes have a number of problems that made me switch to Uber's JumpBikes toward the end of the summer (but those have their own issues, too). On the LimeBike app, you can view the battery life of each bike, but it doesn't show you whether the bike is under maintenance. I've walked a reasonable distance to get to a bike in my area only to find out the bike is broken or under maintenance. Besides being late to work that day, I was also frustrated and sweaty. 
A visual icon in the app indicating whether the bike is under maintenance, or ready to use, would prevent users from wasting time. 
But mainly, there is a safety issue with these bikes. Helmets are required by law to be worn by bicyclists in the city of Seattle. Although LimeBike states the law both on the app and on the physical bike, the company does not provide each bike itself with a helmet. They did launch a campaign called 'Respect the Ride' which distributed 250,000 free helmets worldwide, but that still doesn't guarantee consistent rider safety.
Having seen a variety of people riding LimeBikes throughout campus, it is pretty uncommon to see someone actually riding a LimeBike while wearing a helmet. Despite what the law says, students prefer convenience and a helmet is a fairly inconvenient thing for people to carry around with them as they go about their day. 
Thus, safety is and will continue to be an issue for LimeBike and other bike share companies alike, especially with a total of 1,205 bicycle collisions reported in Washington in 2017. Not to mention, a LimeBike spontaneously combusted in North Campus over the summer, revealing some pretty flammable chemicals within the bike battery. These are public safety issues that the company needs to address more directly. 
I'll continue to grab a bike if I'm in a pinch for time (and if it's not under maintenance), but as bike share companies continue to expand and multiply, innovators need to find solutions to these obvious system flaws that are inconvenient and unsafe for users. 
Reach reporter Soraya Marashi at opinion@dailyuw.com. Twitter: @sorayamarashi
Like what you're reading? Support high-quality student journalism by donating here.