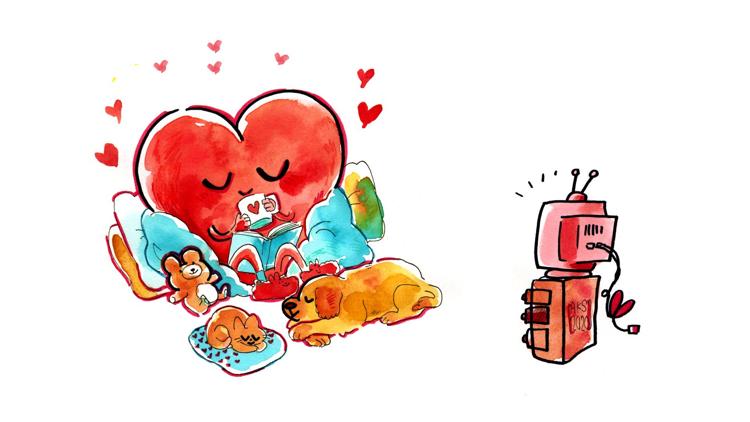 Valentine's Day: a time where many people go to great lengths to show friends, lovers, and family that they are indeed cared about.
In the spirit of festivity, I've decided to ask several random people what they thought about Valentine's Day. Answers echoed: "It's expensive," "It's a fad holiday used to suck people of their money," and "It's just another day to me."
These responses didn't shock me. These reactions are warranted, given the unspoken social rules that condition society with burdensome expectations that require spending hundreds of dollars.
Take, for example, a dozen red roses. Sounds romantic, doesn't it? Well, a dozen red roses on Valentine's Day can cost upwards of $90 depending on where you go. That's 30% more than you would pay on any other given day.
Fine dining for two can also be financially burdensome. Spending more than $100 on food? No thank you. Some people just don't have the funds to flaunt around as if minimum wage allowed Valentine's Day exceptions.
Not only do these popular activities perpetuate the commercialization of love on Valentine's Day, it also perpetuates the narrative that special events like these are more special for couples than they are for anyone else. 
It's kind of like saying that this holiday was meant for everyone, while secretly holding exclusive club memberships for those who aren't single and who can afford it. 
The theme of Valentine's Day sounds sweet at face value, but how does one truly show their loved ones that they care about them? Surely there must be more to love than chocolates, flowers, candy, and reservations at the most expensive restaurant in Seattle.
And in my eyes, there is. Although I do believe it's important to demonstrate love where love is due, I also believe that self-love is the best gift you can give anyone. 
Self-love is relevant at every stage in life, in every relationship you're in, and on any holiday. Self-love rules all, and if you're not consciously thinking of your own wellbeing, there's no better day to start than this Valentine's Day.
Start by assessing your overall well-being. Financially, are you putting food on the table and paying your bills? Mentally, are you overworking yourself? Are you taking appropriate breaks? 
Physically, are you staying hydrated or hurting anywhere you shouldn't be? Emotionally, are you complying with what the heart wants?
Since Valentine's Day is upon us, I have taken the initiative of defining several self-care practices that can be countermeasures to the troublesome notions that commercialize love.
Try celebrating Valentine's Day on Feb. 13 or 15. This idea works great for couples, non-couples, and friends alike. By celebrating a day before or after Feb. 14, you'll not only bond with your friends, you'll save some funds doing so. 
Or give yourself some alone time and do something you love. Anything is up for grabs, whether it be putting on your headphones and rocking out to your favorite tunes, dancing to your favorite beats, or simply decompressing from a hard day of work. 
Maybe take the time to handwrite letters to loved ones. This activity stimulates the creative process and gives you an opportunity to express yourself to others in a nonconventional way. This one is one of my personal favorites.
This Valentine's Day, remember that your loved ones love you, so take care of yourself and love you too. As RuPaul likes to say; "If you can't love yourself, how in the hell are you gonna love somebody else? Can I get an amen?"
Reach writer Jorge Solis-Munoz at opinion@dailyuw.com. Twitter: @Guadalajorge
Like what you're reading? Support high-quality student journalism by donating here.