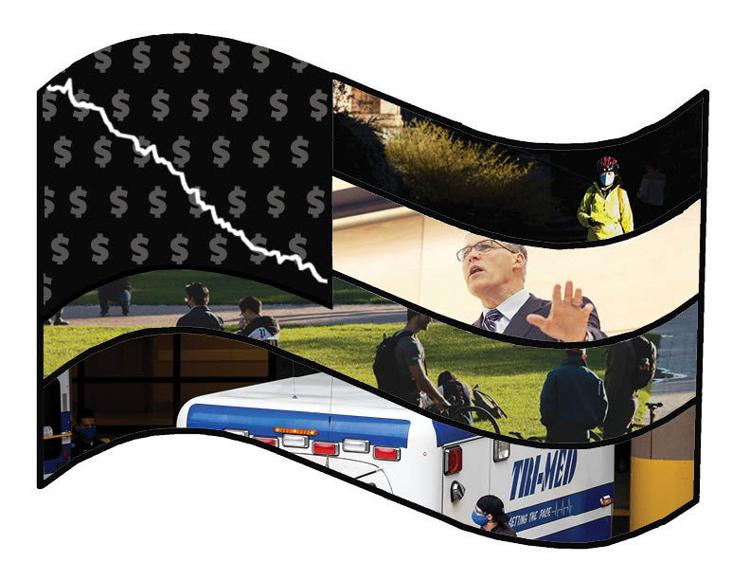 Gov. Jay Inslee should immediately initiate a broad economic reopening of Washington state. Continued executive action to keep this state under lockdown is both unconstitutional and incalculably damaging to the lives and livelihoods of Washingtonians. The state has logged a record 1.4 million unemployment claims since early March, approximately 265,000 of which are backlogged. As of May 7, Washington has paid out more than $2.1 billion in unemployment claims from afund which is spiraling toward insolvency.
Initially, I believed mass shutdowns were warranted and justified. From January to March, I lived in Rome while interning with the State Department. Day by day, I tracked COVID-19's rampage through Italy and the responses of nations worldwide. When I flew home the day Italy announced its total lockdown, I never imagined that I would write this article. 
But I've also watched the data evolve. It has become clear that prolonged COVID lockdowns are a so-called "cure" that is worse than the disease itself. Medical professionals emphasize focusing our energy on isolating and protecting elderly and vulnerable populations, not continuing to maintain economically catastrophic lockdowns.
Different needs in different localities
I spoke with Washington state house minority leader, Rep. J.T. Wilcox, about his vision for reopening the state. He emphasized "regionalization based on compliance with health metrics."
As of May 12, Washington has logged 17,512 cases of COVID-19 and 975 deaths. Dense populations, such as those in King, Snohomish, Pierce, and Yakima counties have been hit the hardest. By contrast, as of May 12, Whitman, Asotin, San Juan, Pacific, Stevens, Clallam, and Grays Harbor counties all have less than 20 cases each, while other counties have less than five. Garfield County has not reported any confirmed cases.
"We've had a number of counties with really flat numbers, and so they're wondering why they're being locked down at a time where there's not a lot of threat," Washington state Rep. Kelly Chambers of the 25th district, said.
Instead of allowing the governor to persist in protracted and unconstitutional leveraging of emergency powers, we should empower local governments to make effective decisions based on constituency needs. Communities with different densities and resources will benefit from uniquely tailored reopening strategies.
"It just seems crazy that we don't give [rural counties] an opportunity to try to revive their economy," Wilcox said. "Especially because they tend to be the economies that have been crushed over the last generation."
Executive overreach
"We firmly believe that the emergency does not exist in the same manner that it existed when we agreed to the governor's actions going on almost 60 days ago," Barkis said.
Barkis and six other lawmakers recently filed a lawsuit against Inslee's extension of his stay-at-home mandate, seeking an emergency injunction to overturn the state of emergency. They emphasized a return to policy-making driven by the legislature within a constitutional framework and legislative oversight on executive power.
"The state government ought to advise local decision makers as opposed to making decisions from on high," Washington state Rep. Jim Walsh of the 19th district, said.
Walsh is advocating for a 10-day limit on the governor's proclamations. This would allow for situational assessment in an emergency while also compelling the executive branch to reconvene and receive outside counsel more rapidly than the current 30-day limit.
On May 6, Barkis said that the legislature had not received a briefing from the governor in two weeks. Barkis said that he received notice of the governor's proclamation to extend his eviction moratorium a mere two hours before it was due to be announced.
"If you valued my input, then you would have worked [with] me over the last three weeks like I've been trying to work with you," Barkis said. "He actually crafted policy via proclamation. He didn't suspend laws, he created new ones."
The governor's double-standard on construction has been partially reversed under pressure. Gubernatorial candidate Joshua Freed has maintained an ongoing fight, including a lawsuit against infringements on religious gatherings. 
But the state is still maintaining its "essential business" versus "non-essential business" labeling. Within the complexity of market supply chains and deeply interlinked flows of consumer spending and income, it is a fallacy to presume that some businesses are unessential. Moreover, such labeling is a violation of Article 1, Section 12 of the Washington state constitution.
"It explicitly states that the state cannot treat entities — whether it's a person or a corporation — you cannot treat them differently than anybody else from the state perspective," Tyler Miller, a federal employee and the primary organizer of the two protest rallies in Olympia against the stay-at-home mandate, said. "Now you're into another whole level of constitutional violation."  
The legitimacy of protests
The unfortunate reality is that many of the lockdowns across this country are spawning governmental power trips that set a dangerous precedent for the future of our liberties. The Olympia protests in defense of free assembly, which Miller prefers to call rallies, have made an important statement against such overreach.
"A real sticking point for a lot of people is they think that I'm arguing that we should have these rallies," Miller said. "And my point is no, in fact I don't want to have these rallies. But if we don't stand up against these infringements they become a precedent and we become accustomed to them and, eventually, they just become standard and we have no reason to have a written constitution at that point."
Both Miller and Dave McMullan, a protest attendee and the chair of the Pierce County Republicans, described a feeling of righteous anger among the protesters, but also a great sense of camaraderie. Walsh characterized the group's spirit as a "celebration of our constitutional rights." McMullan also noted diverse ethnic and political representation, from Republicans to Libertarians and Democrats.
"I just want my life back and be able to govern it and make my own decisions," Miller said. "I'm pretty sure we have a couple documents that say I can do that."
Economic impact
The economic impact of COVID shutdowns is, in Wilcox's words, "at least temporarily greater than the Great Depression." $7 to $8 billion is a conservative estimate of the budget shortfall that Washington will face, according to Barkis.
"Local tax bases are going to be devastated by this freeze," Walsh said. "And we won't even see this until late summer or early fall."
In addition to the human cost of lockdowns, the government at every level will struggle to procure funding to meet service obligations.
"When this is all over and things open back up, you're not going to have as big of a tax base generating that revenue," Chambers said. "Because some of these businesses, unfortunately, probably won't reopen their doors."
McMullan wants to see policies in place that protect people with underlying health issues or who have an elderly family member, noting that even as we re-open "there are still going to be a list of unemployed people for legitimate reasons." But ultimately, he wants people to use common sense — and their understanding of appropriate social distancing and mask usage — as the state gets back to work.
"There's no reason, in my mind, for any business to not be able to open up," McMullan said.
Reach writer Marissa Gaston at opinion@dailyuw.com. Twitter: @MarissaJGaston
Like what you're reading? Support high-quality student journalism by donating here.