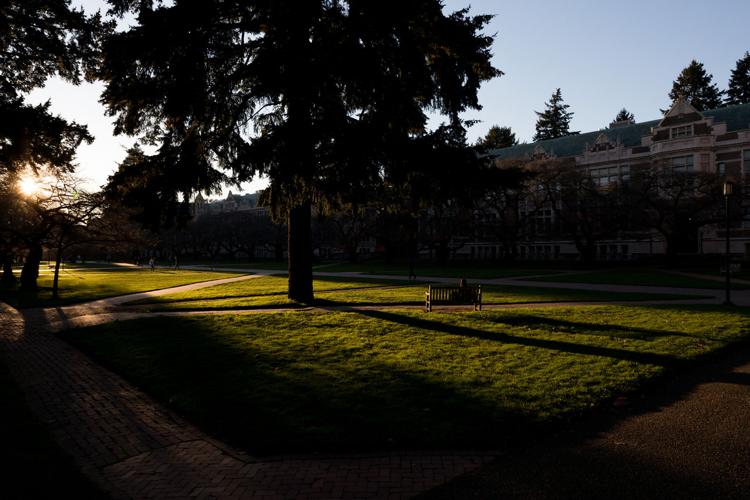 Monday, April 22, is the 49th celebration of Earth Day. The UW community has been involved in environmental advocacy efforts for just as long as Earth Day has been recognized, starting with the first "Trash-In" in 1970. As the specter of climate change looms, this advocacy should be morphed into political action and environmental justice movements taking place on campus, starting with individual efforts.
Let's step back; we aren't here to argue whether or not climate change is man-made, the sun's fault, or even something at all. Climate change is happening — we can see and feel the effects of rising levels of greenhouse gases in our atmosphere. We have moved beyond that faux-argument and it is time to move forward to finding solutions.
The UW and the U-District are not exempt from the issues that climate change poses. In the near future, it is expected that Seattle's version of extreme weather will become a new norm.
The Daily has always been committed to being an informative resource for the UW and the U-District community, and that is no different now.
Throughout this period of environmental change, we will strive to help our local community understand climate change and the impacts of policy and other environmental shifts in the future in order to empower action and change. The Daily sees the need for radical policy and action on the governmental, personal, and interpersonal level to counter the impacts of climate change. There are personal choices we can make to do our small part, but more important is the impact we as students and as community members can make on the political level to address this crisis. The UW, the city of Seattle, and students must hold accountable the corporate forces responsible for the exacerbation of climate change.
As much as using a reusable water bottle can help limit single-use plastics, calling one's representative can help more. Walking or biking to work or school is important to cut carbon emissions — and if you're able, it's a great step — but combining your voice with the community's to affect change on the corporate level can have much more of an impact.
The Daily is also conscious that climate change is an intersectional issue. Climate change poses a slew of problems for marginalized populations. Environmental justice is defined as "fair treatment and meaningful involvement of all people regardless of race, color, national origin, or income with respect to the development, implementation, and enforcement of environmental laws, regulations, and policies," according to Washington's newest environmental justice bill, the HEAL Act.
Without environmental justice, there is no economic, racial, or housing justice for marginalized populations. The equity necessary for environmental justice to work requires a multifaceted approach to addressing climate change issues that involve making both climate- and people-friendly changes. To emphasize the importance of environmental justice, The Daily is dedicated to highlighting the narratives of these groups most affected by changes in the climate.
It is easy to feel powerless in the face of something so traumatic and all-encompassing, but every student can make an effort toward the creation of environmental legislation that addresses the climate change concerns of every community. An individual effort does make a difference, both in its own effect and in the cause of coming together as a community to have an impact.
Read more from The Daily about environmental justice and how UW researchers created a mapping tool to highlight disparities among communities of color.
For further information on the individual actions you can take against climate change, you can reference the Disposal Guide, as well as search for legislators to contact about climate change efforts.
To learn more about the intersectional effects on climate change, check out "An Unfair Share: Exploring the Disproportionate Risks from Climate Change Facing Washington State Communities," a report developed by Climate Impacts Group, Occupational and Environmental Health Sciences, Front and Centered, and Urban@UW.
To make a greater community impact, you can email UW President Ana Mari Cauce at pres@uw.edu and the UW Board of Regents at regents@uw.edu to encourage compliance with the Climate Action Plan and expanding the U-PASS for all UW employees.
Science Editor Sammi Bushman contributed to this editorial.
Editorials are written, edited, and approved by Opinion Editor Rachel Morgan, Engagement Editor Hailey Robinson, Managing Editor Mira Petrillo, Sports Editor Josh Kirshenbaum, and Co-Development Editor Shahbaz Ahmed Khan, and reflect the opinions of The Daily editorial staff.