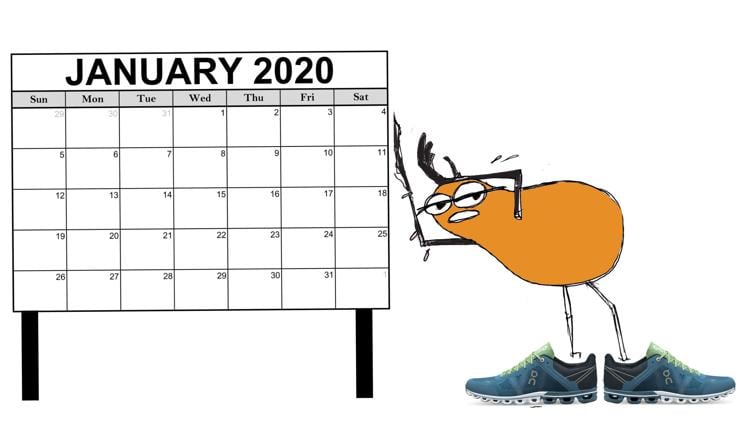 It's Jan. 6. Your New Year's resolutions are still sitting on your desk untouched because your hangover from New Year's Eve is still eating away at your motivation. The time has officially passed — there is no way you can change your life because the God-given day to do so has passed.
In the words of Jim impersonating Dwight from "The Office," which I haven't stopped binge watching throughout that aforementioned hangover, "false." New Year's is just a day for the unmotivated to try and start losing those 10 pounds that they have been complaining about for years. There is a reason that gyms see increased sign-ups during January but new registration tapers off in the following months. 
New Year's resolutions are only a solution for individuals who need an extra push to start making minor changes. If you really are looking to make a major change in your life, there is no reason to suggest that tomorrow isn't the perfect day to make that change.
For example, look at an alcoholic. It's Dec. 1 and a heavy drinker decides that they want to add a few more years to their life by quitting drinking. With family-induced anxiety on the horizon from Christmas and the possibility of a drunken New Year's kiss, there is no way that Dec. 2 is the day to quit the booze.
But consider this: quitting drinking tomorrow may add up to 20 years on your life. Binge drinking for another month could possibly take away some of those added years. Quitting drinking sooner rather than later is beneficial for this alcoholic's health, even if this major life change isn't associated with the popular day to alter habits.
And this doesn't just apply to drinking. Making a trip to the gym tomorrow can be the first step on your weight loss journey. You blew all your money while on winter break and didn't realize until you checked your bank account on your flight back to Seattle? Start using that budgeting app that you downloaded on Jan. 1 but never opened to save a few extra bucks.
It is human nature to want to use landmarks like Jan. 1 or your birthday to mark important life changes. However, associating a transformation with New Year's or your 20th birthday doesn't give the impression that real change is the purpose. 
Starting something new just because everyone else is doesn't show that the modification is coming from an internal source. Instead, it suggests that the influence is more external and geared toward immediate gratification.
When I am thinking about the changes I have made to my life, I always think about how changing my actions has made me a better partner, friend, daughter, sibling, or coworker. Or hell, even a better self. But these are all things that require more dedication than can be expressed through a New Year's resolution. 
And, to be fair, most New Year's resolutions fail anyway. The reasoning is because many are broad goals with no specific plan, like exercising more, or they aren't specific enough to the person making them, like losing a set amount of weight regardless of body type. Resolutions, being resolute, don't allow room for failure of goals that were never going to succeed in the first place.
So, to Huskies starting the first day of quite possibly their most difficult quarter on campus, today is the perfect day to start something new. Frame your goals for the quarter in a positive way, tailor them to your needs, and make them specific. 
In other, more specific words: get your ass out of bed, tear up those already abandoned resolutions, and find your own motivation to make changes that are important to you. 
Reach Opinion Editor Rachel Morgan at opinion@dailyuw.com. Twitter: @rclmorgan
Like what you're reading? Support high-quality student journalism by donating here.