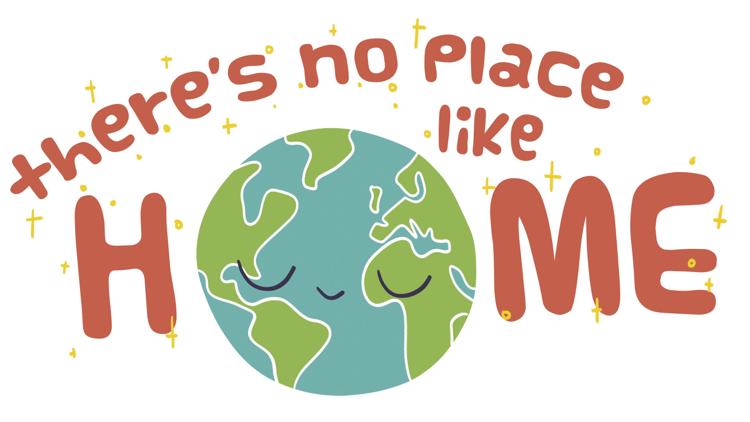 Editor's Note: It is an undeniable truth that the spiraling thoughts about the current environmental crisis entangling our planet have become an unwelcome bedfellow — one I would so love to get rid of. Dearest tree-huggers, climate change opposers, and unaware residents of planet Earth, this multi-series column, which broadly encompasses environmental topics, searches for a way to create a deeper understanding of this big pile of rocks and grass that we call home.
"We the people of Planet Earth in order to protect a collapsing world, establish a common environmental language, defend the rights of ecosystems, and secure the lives of future posterity, do ordain and establish this much more timely and, frankly, necessary Environmental Constitution for generations to come."
— — — 
"The language of the environment" is a product of all the dissenting opinions related to the environment, as they exist both regionally and globally, and how those ideas govern environmental conversation. Due to a lack of comprehensive environmental education, common perspectives on environmental issues can vary wildly, dividing individuals by how they communicate about the environment. 
These differences in communication can be seen as different dialects within the language of the environment, creating inherently varying forms of communication about the environment that reduce basic understanding of environmental degradation and can lead to interpretations that do not focus on remedying the climate crisis.
"People speak on different terms," environmental studies lecturer Yen-Chu Weng said. "For people who only understand money, you would have to talk to them in monetary terms when talking about environmental issues."
For example, when concentrating on environmental economics, this branch becomes fairly controversial in its promotion of ethical conservation. Environmental economics has the ability to further environmental policy if the benefits of some development project or legal proposition outweigh the hypothetical environmental cost. 
In this way, an environmental economist may have environmental knowledge but is only entitled to an opinion in the monetary sense. The individual might not share the same principled alarm as a park ranger or an environmental justice warrior, concerned with securing natural systems and addressing the climate crisis. 
Transglobal dialects of the environment differ in subject but are also highly influenced by historic and cultural evolutions, especially when considering the government's power to grant rights to environmental features.
India and New Zealand are two nations that agreed to grant legal rights to some of their rivers, the Ganga and Whanganui rivers, respectively.
In the case of the Ganga River, the Indian government perceived the language of the environment to have responsibility in addressing the holy river's continued contamination and pollution, establishing these rights in accords of legal protection.
New Zealand's decision was in recognition of the relationship that local Māori have with the river. In this way, the country finally sanctioned the Māori people's rightful language of the environment.
In the United States, distinguishing legal rights for natural bodies and landscapes would bridge global differences in environmental language, following some prescribed parameter.
"In this country because everything needs entitlement, giving rights to water or air or rivers are important," Weng said.
This kind of countrywide legality could extensively aid individuals in upholding some form of commitment to the planet's ecosystems. 
"We are so disconnected that we have to describe the rights of trees and animals in a legal way," education director of Earthkeepers Outdoor Camp Dan Hannafious said.
Another more obvious way to meld the languages of the environment is to integrate environmental education into schools and increase outdoor engagement.
In the book, Last Child In The Woods: Saving our Children From Nature-Deficit Disorder, author Richard Louv coined the term nature-deficit disorder, a new epidemic causing behavioral and psychological issues in children from a lack of exposure to nature. His ultimate goal is to reconnect youth to nature, fostering a committed relationship to the outdoors.
The premise of Louv's novel is highly relevant when designing and implementing environmental education in the public school system. 
"There is a gap between learning about all the Earth's systems processes and how that relates to you as a person," Weng said.
An outdoor education would improve the personal sense of duty and desire to have a language of the environment worth preserving.
"You need to know the constitution, but no one needs to know the ecology of this place," Hannafious said. 
The natural product of this is a muddled interpretation of the language of the environment that can be detrimental when considering the severity of issues in the present planetary state.
A formal environmental constitution, therefore, even one as incomprehensive and simple as this article's introduction could be the solution to the disparate beliefs and colliding thoughts. 
The language of the environment will naturally be cause for variation, but environmental sentiment should be unanimously agreed upon, as we are all obligatory citizens that need to protect the planet from harm. 
Reach columnist Suhani Dalal at opinion@dailyuw.com. Twitter: @DalalSuhani
Like what you're reading? Support high-quality student journalism by donating here.