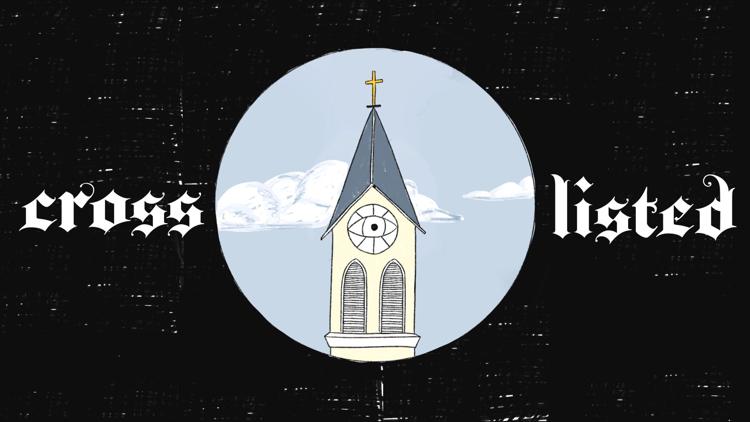 "Picture you are a glass of water," the teacher says to the young women dialed into their ninth grade sex-ed class. They listen as their teacher explains that when a woman has not engaged with a man physically, she is a full glass of water. Each time she kisses a man, or spends a while on the couch with him, or — god forbid — has sex with him, he drinks from the glass.
"Do you want to give your husband an empty glass of water?" the teacher asks her students. They shake their heads.
Years later, I sit around a table with friends who also grew up with Christian education. We swap lessons and metaphors our churches and school educators taught us as they described the importance of virginity. We tell stories of getting dress coded and of all of the boyfriends we broke up with out of fear our after-school kissing was disappointing our future husbands, or — worse — God. We laugh about how we all used to be scared of talking about sex together, even though many of us were having it. 
We express our horror at this messaging and the way it not only prevented us from owning our own sexuality, but also asking basic questions around birth control out of fear that our superiors would think we were sexually active and get us in trouble. We talk about the shame we still uncontrollably experience around our sexuality. 
As we continue to recall our lessons about God's will regarding sex, our laughter turns into anger. We remember how dire it seemed to refrain from sex, and if it happened, the utmost importance of keeping it a secret. We talk about how some of us remained silent about nonconsensual sexual experiences because of our culture's obsession with abstinence. It was better to remain a virgin in the eyes of our community than to be seen as damaged goods — even if we didn't choose that fate. Our choices were to be seen as promiscuous and bad or desirable and good; we chose the latter. 
*            *            *
White, conservative evangelicalism in the 1990s birthed this purity culture which inspired teenage Christians to wear purity rings and pray for the choices of their future spouses. Though a culture that prizes sexual purity existed throughout Christianity's history due to Biblical scripture regarding sexual immorality, abstinence ministries like True Love Waits (TLW) (launched by Southern Baptists Richard Ross and Jimmy Hester), Silver Ring Thing (launched by evangelical Denny Pattyn), and Pure Freedom (launched by Dannah Gresh) informed its eruption in modern American Evangelicalism in the early 1990s.
These programs taught their own Christian sex education that used abstinence as a way to combat STDs, led teens and college students to take virginity pledges, and preached sexual purity as the key for a healthy future marriage and holy life before God. Its subject matter completely lacked education around consent, omitted conversations around safe sex, and categorized someone's sexual choices as moral, therefore deeming the choice to have premarital sex immoral. 
This purity culture that raised us still exists; however, its rhetoric and message have not escaped scrutiny entirely. For instance, based on her experience in the church, Linda Kay Klein, who studies religiously induced sexual trauma in her post-evangelical life, has provided space for women raised with strict religious boundaries around sexuality to process resulting implications. 
In her book "Pure: Inside the Evangelical Movement That Shamed a Generation of Young Women and How I Broke Free,"Klein explains the implications of inadequate sex education resulting from virginity culture and its aspects which inherently measure a woman's worth by the preservation of her sexual purity. As a result, Klein defined Religious Trauma Syndrome, which she says mimics PTSD and is common in cases of buried sexual assault, confusion around consent, and rejection of one's sexuality in religious contexts. 
For some, this notion is inseparable from the roots of Christian theology. For others, purity culture is a mechanism invented by contemporary Christian movements to control its members.
A recently developed culture within the modern Christian church holds on to the theological claim of the Biblical Gospel but interprets the verses about sexual immorality within the cultural context of their authorship, disregarding their relevance to the Christian faith in 2019. It deems the Bible's claims about Jesus to be accurate, but its perspective on sex outdated and the church's implementation of those verses misogynistic.
Nadia Bolz-Weber, an ordained Lutheran Pastor and advocate for liberation from sexual shame in Christian culture, recently asked women to mail her their purity rings. She then melted these rings into a giant vagina sculpture. She founded a church to embody this spirit that rejects shame rather than imposes regulations. 
Rachel Held Evans, another voice opposed to purity culture, lived one year of her life following the literal Biblical instructions for a woman. She wanted to expose the hypocrisy of fundamental Christianity in its literal interpretation of the Bible by commenting on the adherence to each restriction in the Bible. She argues that this would be a ludicrous blow to modern-day Christian theology. 
These women denounce a Christianity that compares a woman's sexuality to a glass of water but share a religious title with those who don't. Such a contradiction confuses onlookers but presents young Christians with a perspective that understands sex as a human element, rather than a defining factor in moral determinants. 
Reach columnist Devon Fleming at opinion@dailyuw.com. Twitter: @devon_fleming18 
Like what you're reading? Support high-quality student journalism by donating here.