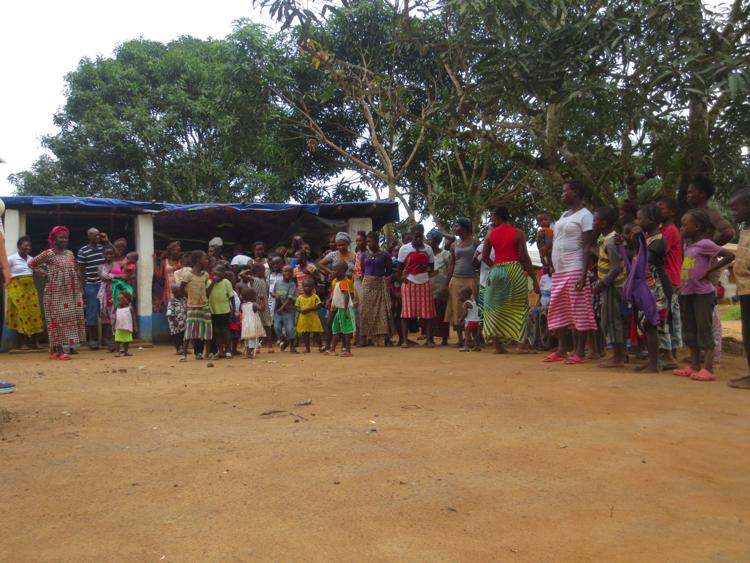 Editor's Note: In the past 30 years, Sierra Leone has gone from a war torn region to a developing democracy trying to recover and grow. This series explores the issues affecting communities in the country today. 
Living in a country like the United States where education is so highly coveted and expected, we often take for granted information about sexual health and human rights that are so familiar to Americans. It is easy to forget that this highly valued commodity is not so readily available in many parts of the world, especially for women with high aspirations. 
Such is the case in Sierra Leone where, according to statistics reported by UNICEF, just over a third of girls in the country attend secondary school. This discrepancy between this and the total number of girls of secondary school age in the country has been detrimental for the female population and has led to widespread misconceptions about sexuality, puberty, and pregnancy throughout the country.
These misconceptions have allowed an education system with critical curriculum failures to exacerbate the problems facing women in Sierra Leone. 
Over the summer, I had the privilege of flying to Sierra Leone to work with Media Matters for Women (MMW), an international nonprofit dedicated to women's empowerment through information. The organization develops informative podcasts about women's health and rights and plays them for underserved rural communities of women and girls at listening centers they have set up around the country. 
Throughout my trip, I observed just how critical the work MMW is doing for the women in Sierra Leone. In the communities I visited, I found that many of the women and girls who attended the listening sessions had not received more than a primary education. A large portion had not attended school at all. 
Part of the reason for this inequity is that the country has been either war torn or unstable since the early 1990s. Chair of the African Studies department, professor Daniel Hoffman, pointed out how the 11 year civil war that took place from 1991 until 2002 has created significant problems for the education system.
"[After] a war that long and that destructive to daily life, the basic infrastructure of the education system is in a really tough spot," Hoffman explained. "Schools being destroyed, people being out of school for many years, teachers being displaced or leaving the country — it's hard to put things back in order after that." 
However, the education system in the country is not the only issue preventing these women from accessing a quality education. Although the various governments who have held power in Sierra Leone since the end of the war have put an emphasis on education, many sociocultural norms continue to create barriers. Project director at MMW Florence Sesay explained that there are many reasons girls enroll in primary school but drop out by secondary school.
"Most of these girls drop out of school because of pregnancy, because of poverty, because they don't have the right information to take the right decision, so these girls become very vulnerable within our communities," Sesay said. "It's deep in the culture."
Her words were echoed by a colleague of hers, Zainab Sheriff, who explained the social norms and stigmatization that many pregnant girls experience. Sheriff said that often parents are not willing to look after another baby due to the expense and social stigma surrounding teen pregnancy, so they exile her from her house and many girls are forced to turn to the family of the boy who impregnated her. Typically, these girls end up taking over the household duties of their mother-in-laws, preventing them from returning to school.
While in Sierra Leone, I was able to witness first-hand how common stories like this are. At one of the listening centers I visited, a 16-year-old girl recounted her own story, as translated through one of my coworkers, of how she was no longer able to attend school after becoming pregnant. She did exactly as Sheriff illustrated and moved in with the boy who impregnated her and took over the mother-in-law's responsibilities. This meant that she no longer had the time to walk several miles to her school every day. She also told me that her sister went through a similar experience, only she was slightly older when it happened.
The problems created by the lack of education for women and girls were most apparent in the misconceptions surrounding female health and rights that were commonplace in the communities where MMW operates. I heard from several different listeners that women could prevent getting pregnant by tying a tight rope around their waist. At another center, I heard about an old, respected woman in the community who, for a long time, had told women there that they could prevent pregnancy by eating apricots because the juice has special properties. 
To most people who have endured even a rudimentary sexual education course, these beliefs might sound ludicrous. However, in communities with no access to any other information, these beliefs are as good as fact. This has created obvious problems for these groups as these rituals do not prevent insemination, and it has led many girls to become pregnant, which allows the cycle to continue.
Unfortunately, for those women who are lucky enough to make it to secondary school, the information they are provided is not much better. Prior to the civil war, students went through "family life education" — Sierra Leone's equivalent to sexual education — and were taught about the menstrual cycle, puberty, sex, and family planning. After the war, the sexual education was politicized and came to be seen as a taboo topic, so it was dropped from the curriculum. This, combined with the social stigma surrounding talking about sex and puberty with children, has resulted in a whole generation of girls going through puberty with no information about what is happening biologically.
"You cannot talk about sex to your girls, it's not even comfortable to talk about it for them," Sesay said. "When you don't teach comprehensive sexuality education, and you can't teach your girls about it, you go through the process without understanding what you're going through." 
The lack of sexual education has meant that women and girls have not been provided with crucial information about the family planning resources available to them, which has prevented Sierra Leone from bringing down the country's high rates of teenage pregnancy. This continues to frustrate the country economically as a large sector of their potential high-skill workforce is forced to forego a quality education and future professional career. To develop as a country, Sierra Leone needs to work to improve its education system, and in turn, offer more educational opportunities to women.
Reach columnist Nathan Sebree at opinion@dailyuw.com. Twitter: @lolkoling
Like what you're reading? Support high-quality student journalism by donating here.