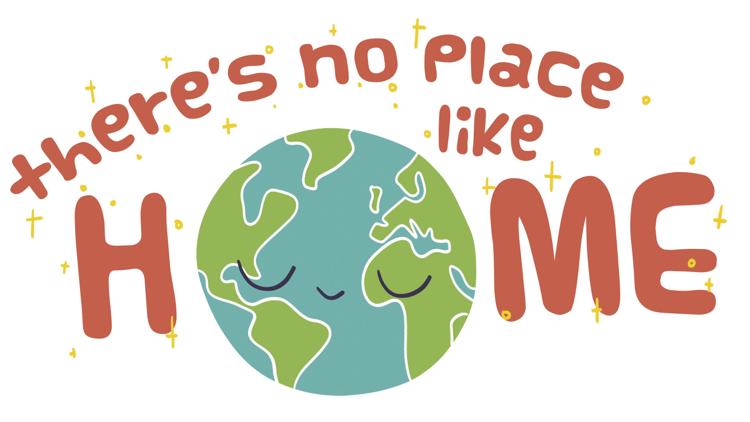 Editor's Note: It is an undeniable truth that the spiraling thoughts about the current environmental crisis entangling our planet have become an unwelcome bedfellow — one I would so love to get rid of. Dearest tree-huggers, climate change opposers, and unaware residents of planet Earth, this multi-series column, which broadly encompasses environmental topics, searches for a way to create a deeper understanding of this big pile of rocks and grass that we call home.
In the most recent Nov. 5 Seattle City Council election, constituents were flagged down at street corners and bus stops and told to submit their ballots. They were reminded of a truth that is often dismissed — that their vote matters and bears a tremendous weight of significance.
But many of the same voters felt otherwise after the 2016 presidential election, watching their exhausted time and emotion reduced to a single number that did not have the power to stop a narcissist's unfortunate ascension to the presidency. The millions of disheartened Americans that did not see a favorable election outcome basked in low political efficacy, defined by the opinion that their vote did not influence the results.
Environmental issues have become political in every regard. Epitomized by the hundreds of millions of dollars being cut from the National Park Service and the EPA to the continued elimination of regulatory requirements that had ensured oil companies were being held to an environmental standard, Trump has made it clear just how much he prioritizes immediate profits over sustainability efforts. 
A New York Times article reported on the approximately 85 environmental regulations that the administration is trying to roll back, which just indicates how interwoven the environment is with politics and the sheer gravity of this complex relationship. 
"The environmental movement does feel like a daunting task to even try to get started on because there are so many people who don't care or think that the issue is serious," sophomore Gabbie Masten said. "Only some people are invested." 
Having low environmental efficacy, or feeling as though deliberate actions are all inadequate in terms of responding to the climate crisis, is increasingly a product of political and environmental news coverage. The lacking confidence in individuals can be extremely detrimental, as fueling this cycle of hopelessness will eventually curtail the turnout of planet activists.
In the paper Developing a Scale of Environmental Efficacy, the authors deconstruct factors that affect one's inclination to have pro-environmental behaviors and the limiting agencies that challenge those behaviors, primarily discussed in terms of effort and time-frame. 
It states that "individuals must exert effort" in environmental action and that this effort is heavily reliant on the belief "that the outcome of the behavior is worth the energy expended." In regard to time, the paper says that environmentally conscience actions rarely offer immediate rewards, as they are long-term in nature.
Considering the energy to outcome ratio, paired with the complexity of time, politics definitely has a role in individuals' ongoing support of environmental actions.
"Something on a bigger scale than just environmental grassroots movements needs to be involved for a lasting result," Masten said.
In order to rekindle the desire to protect the environment, it seems obvious that the government needs to stop not only preventing future policies to protect the planet, but also by suspending the few policies in place that are addressing a few of the issues.  
The administration seems aware that by targeting the work of climate activists and acting in opposition of environmental progression, it not only has a surface level impact on a change in system legality, but also negates the feeling that proactive planetary involvement can make a difference.
"People always say that a little bit goes a long way, but then when you watch videos on social media and everything suddenly feels so awful, you realize just how much waste there is and begin questioning your small actions," senior McCaleb Eifert said. 
The fight toward environmental sustainability is equally a fight against corrupt politics that has gradually diminished the gratification individuals receive when performing environmentally friendly acts. The longevity of the movement is dependent on the foresight of individuals having an inner belief that even small changes in energy use, food consumption, or waste can make a cumulative difference. 
"I hope that as we elect politicians and gather votes that the environment and politics become one and the same," Eifert said. "Nothing will change until these laws offer protection." 
Substantial data has alluded to the fact that while Americans support saving the planet, the degree to which individuals consider their day to day actions in terms of environmental conservation is lacking, and furthermore, other national issues have been at the foreground. 
An article in The Atlantic predicts a substantial increase in voter-turnout for the coming election, which insinuates that there may be a greater chance to collectively mobilize around environmental protection. 
By boosting environmental efficacy in individuals currently discouraged by the political backlash against the climate crisis, there will naturally be more effort toward sustainability and the voter turnout for planetary cause will drastically improve. 
Reach columnist Suhani Dalal at opinion@dailyuw.com. Twitter: @DalalSuhani
Like what you're reading? Support high-quality student journalism by donating here.