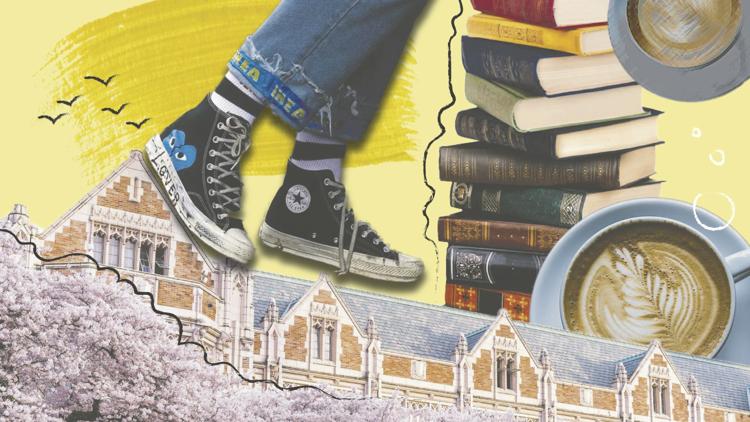 I started college with many false pretenses about how to begin my journey. Among the embellished visions I thoughtfully considered, I didn't even acknowledge the degree of growth and difference that would inevitably transpire in the coming months, leaving my home thousands of miles away. A new class of Huskies is making big decisions today, as I did exactly one year ago.
If I could give any piece of advice to myself, I would tell pre-Husky me to lower my expectations and embrace ambiguity. When I was younger, I always figured that by the time I would start college, I would sprout some unprecedented level of maturity out of nowhere and have a sudden readiness to combat any challenge.
The past eight months have taught me that the very opposite is true. While I don't necessarily feel assured and completely confident with who I am and what I am doing in every given moment, I have come to accept that lines are not drawn in permanent marker, but are rather penciled etches that each contain a new possibility.
In high school, I would often wish I was doing something of greater purpose, but beyond the thought I would not take action. College is finally a frontier with an abundance of hidden opportunities available to you with the aid of email and frequent advisory appointments. Seek every single activity that you feel you would learn or thrive in, and then the narrowing process of continuing just the few items you love will happen naturally. I found a research team learning more about the forced disappearances in Latin America that I never in my wildest dreams thought I would pursue.
While anxieties may prevail regarding schoolwork, and beating the competitive system of "weed-out" classes, know that one score is not defining and that there are ample resources meant to guide you through every hit on the not-so-forgiving curve. These classes are just entry level and as you continue through major classes, the courses become less about rivaling your peers and more about your own connection with the material.
And now: breathe. My first quarter would have been much easier if I had just listened to the more rational voice in my head telling me that the friendships formed in college would in fact be different and that everyone's quarter would be unique. I don't think I peaked this year, but I can say that I've laid a solid foundation for the years to come.
Having moved from a city notable for its sun, Seattle was a culture shock for which I was vastly unprepared. As a freshman, especially if you are from another state, I would capitalize on the public transportation provided through your Husky Card and venture to a new place every weekend.
From Fremont's Sunday markets to the Pacific Science Center's laser light shows, the city is limitless in what it can offer and only by walking its streets can you feel comfortable enough to know them.
The urge to say time is moving too quickly will always be there, but, I have found peace in acknowledging one defining factor I hadn't known prior to the UW. The seasons are always identifiable, markedly so in your tree-lined walks to class or the appearance of Mount Rainier on sunny, spring days.
I will always remember one February morning when my anticipated midterm was cancelled because the entire campus was submerged in powdery snow. I threw my first snowball that day and proceeded to pelt dozens more with my friends in the Quad, as the cold escaped me replaced with the thrill of a real winter.
There are just about a million memories I have already collected, captured in the form of a string of polaroid images on my wall, the beat edges of my high-top Converse, and the familiar faces that make a campus so large feel just a tad bit smaller. Attending the UW is a daunting, yet exhilarating conglomeration of people, classes, and experiences, and as a freshman it is important to allow yourself to challenge cherished boundaries and exude passion with everything you do.  
Reach columnist Suhani Dalal at opinion@dailyuw.com. Twitter: @DalalSuhani
Like what you're reading? Support high-quality student journalism by donating here.