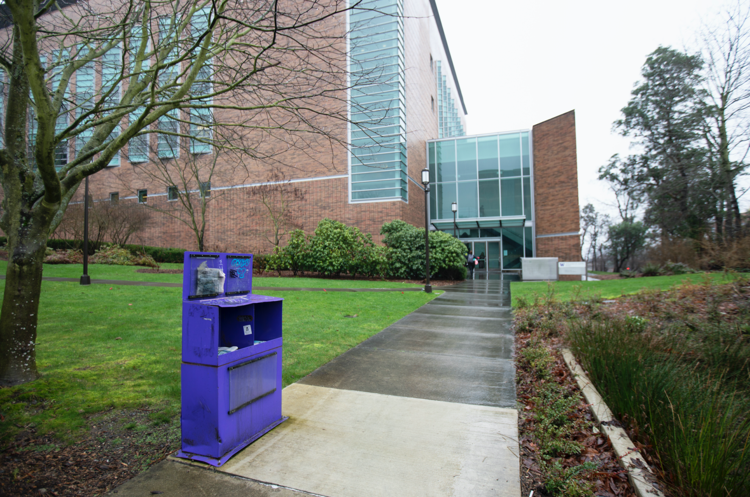 Last week, the Black Law Students Association (BLSA) wrote to the School of Law Dean Mario Barnes requesting an investigation into the placement of a sticker with racist language located on a Daily newsstand outside of William Gates Hall. This hateful display appeared at the beginning of Black History Month, a month to recognize the role of black individuals in American history.
This demonstration of racism on our campus cannot be tolerated. All students deserve to feel safe on campus, and the message conveyed by this sticker inherently creates a threatening environment, especially for the black community. 
This quarter, only 4% of enrolled undergraduate and graduate students are African American. There is a community of black students on campus, albeit a smaller one than many other racial groups. As a numerical minority, these students are more vulnerable to the kind of hate speech displayed this past week.
Beyond the safety of students on campus, The Daily is concerned that these kinds of messages are appearing on parts of campus that are directly connected to our paper, and therefore the free press. As the student newspaper, our purpose is to be a voice for students. When this language is unintentionally connected to what is supposed to be the objective news source on campus, students can feel unsafe and are effectively silenced. 
There is no excuse for members of marginalized communities to feel unsafe or undermined by hateful language located on campus. The Daily agrees with the BLSA when they say, what is needed moving forward is action. Dialogue is no longer a solution for recurring displays of racism on campus. 
On behalf of The Daily, we are sorry that these hurtful words were displayed. We stand in support of the BLSA in their efforts to hold the administration to a new standard. We need to see concrete change; verbal support from administration is no longer enough.
Editorials are written, edited, and approved by Opinion Editor Rachel Morgan, Engagement Editor Hailey Robinson, Sports Editor Alec Dietz, Health and Wellness Editor Mac Murray, and Co-Copy Chief Sam Steele, and reflect the opinions of The Daily Editorial Staff. Reach the Editorial Board at opinion@dailyuw.com.