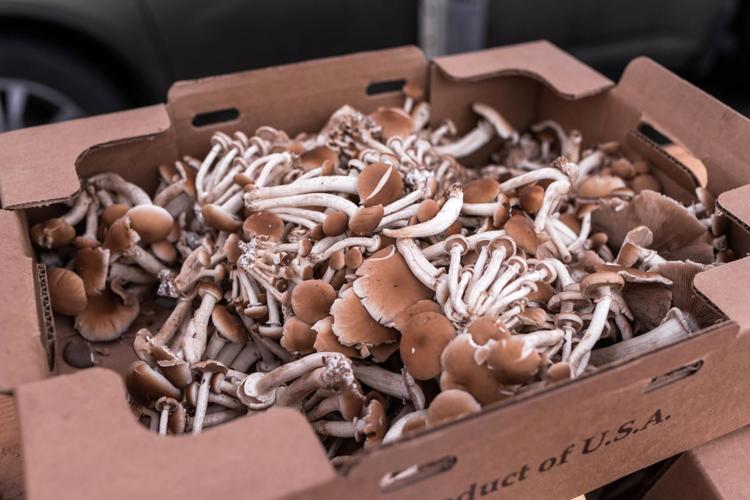 A farmers market activates one's senses like nothing else. It's difficult to not be in awe upon entering one of these charming convergences of local foods and crafts, to not admire the stacks of vegetables filling gradients of green, yellow, red, which blend with the leaping notes of fiddle and bass floating from that local bluegrass group. One's tongue curls upon mention of the crisp and tangy Yakima apples — you can almost feel the resounding crunch between your teeth. 
In this rush of sensory stimulation, however, we often forget the importance of smell. This sense associated with the humble nose is often underrated; how often, in recounting important experiences, do you bring up its olfactory virtues? 
With this in mind, I plunged into the stimulant-rich University District Farmers Market to test my nose and dive into a more fragrant world.    
Approaching the busy intersection of University Way and Northeast 52nd Street, I was first welcomed by a soft and warm scent. The pleasing sweetness of caramelized onions tangoed with the rich, gentle cumin wafting from a stand selling fresh empanadas. 
Within a few steps, though, the soaring scent which I perhaps above all associate with farmers markets graced my nose: basil. At once peppery and sweet, the green leaves launch a fleeting aromatic glimpse of Mediterranean freshness upon the market. The smell evokes the vibrant energy of spring while reminding one of the smiling heat of summer: never oppressive, always nurturing.   
At once saccharine and bitter, the bouquet of fresh tomatoes wafts directly below the basil. It playfully tinges the air, evoking narrow community garden paths fringed by damp leaves; small fingers brush velvet stems, tap the firm smooth flesh of ripe fruit.  
I bent below dew-speckled memories of childhood tomato gardens to admire a spread of vivid peppers. A sharp spice escapes the waxy skins of Shishito, habanero, and cayenne, tingling the nostrils with sneeze-inducing memories of the pulsing heat within those delicate twisting fruits.  
While many Seattle area farmers markets sport a whole host of goods, the University District market focuses almost entirely on the edible. Inhaling air heavy with waves of enveloping cinnamon sugar and puff pastry, muted hints of flower and umami baguette crusts, tangy seasoned and smoked fish, you find yourself beneath the one section of tents dedicated to products not meant for eating. The flower bouquets emit a scent more delicate than those of the food products — their lilting perfume twists and buds between currents of rich grilled meat and tangy curry. 
Beyond the flowers is Growing Things Farm's stand — a prime example of why we must not discount those farmers market stands which stretch beyond the digestible, in seeking sensory satisfaction. The stand boasts several trays of goat milk soaps. Each chalky pastel chunk oozes aromas at once familiar and foreign. The eucalyptus soap is pungent and oily, the orange-clove tangy and temperate, the fir soap spicy and intimate.
Multiple studies have noted the strong correlation between scent and memory. Scents are first processed by the olfactory bulb which is directly connected to the amygdala and hippocampus, two parts of the brain which are heavily involved in both memory and emotion. Thus, an experience as mundane as a stroll through your local farmers market can trigger a whole host of memories upon contact with the environment's wealth of aromas. 
As I emerged from the University District Farmers Market — piney and pungent Chanterelles fresh in my lungs — sensations from childhood p-patches, neighborhood groceries, danced through my brain. The next time you find yourself near a friendly farmers market, inhale deeply; who knows what pleasures you will relive. 
Reach Pacific Wave Co-editor Sophie Aanerud at pacificwave@dailyuw.com. Twitter: @thesraanerud
Like what you're reading? Support high-quality student journalism by donating here.