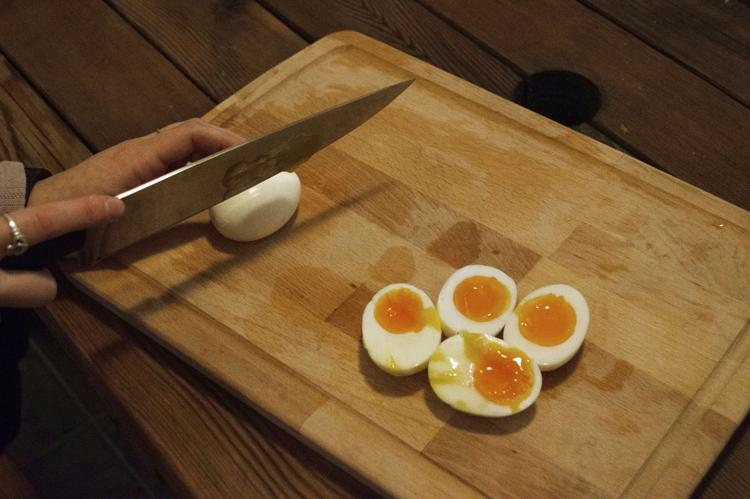 I've got Al Green on the kitchen speaker and 10 hours of sleep under my belt; in other words, it's Sunday morning. I plop two eggs into a pot of boiling water, gently, otherwise they'll crack and you'll be looking at a ribbon dance of egg whites which would actually look pretty cool if this carton of eggs weren't $6. 
A note on expensive eggs: they're absolutely worth it. I used to have backyard chickens, and after eating fresh eggs, you cannot go back. There's a lot of things we should be buying ethically and as college students, we probably have to pick and choose. With eggs, you absolutely know the difference: the yolks are a deep orange, like blooming poppies, and they taste deeper and more flavorful than the jumbo white variety at the store. 
You can taste it when the chickens are happy. I try to get mine at the U-District Farmers Market, but if I don't plan right (because I can't be without eggs for more than a day), I settle for Vital Farms, one of the few pasture-raised egg companies in the United States, which they sell at the Target on the Ave. I used to think that soft-boiled eggs were one of those enigmatic French dishes that was impossible to get right and that I would never be able to make for myself (I still feel this way about poached eggs), but Bon Appetit's simple recipe made me realize that soft-boiled eggs are absolutely the people's eggs.
I've danced to two Al Green songs, so the eggs are almost done boiling (seven minutes exactly). I transfer them to ice-cold water to stop the cooking. The shells peel right off, thanks to the dash of rice vinegar I added to the water, a trick I learned from my brother. 
These eggs are about to get so drool-worthy. When you cut them in half, the aforementioned orange yolk is at the perfect, lava-like consistency: thicker and richer than the way I usually make my fried eggs. They look like two little suns on the plate. This morning, I top them with chili oil, salt, and some soy sauce, but there's a hundred different ways to pair these eggs: on avocado toast, over rice, with cooked greens. But because of the happy chickens, they shine pretty damn brightly on their own. 
That's it. Give it 10 minutes and you have a warm, colorful, umami snack that feels way fancier than an over-easy, the perfect way to bring delight to your Sunday morning.
Reach Pacific Wave Co-Editor Charlotte Houston at pacificwave@dailyuw.com.
Like what you're reading? Support high-quality student journalism by donating here.