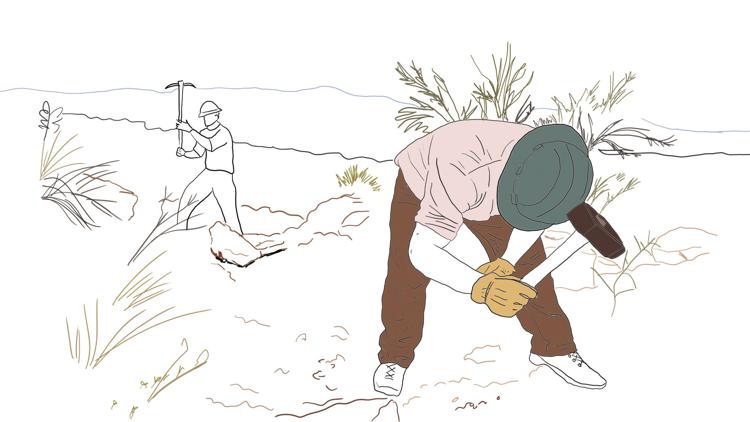 The truck thermometer reads 96 degrees. But after several hours hunched under the southern California sun, squinting for invasive desert knapweed against bright sand, and dodging cholla spines and suspicious ant hills, the temperature feels well over 100. As the heat waves skew the Santa Rosa foothills and, in the foreground, the desert dump, I find myself wondering: Why did I choose to leave the relative comfort of Seattle, the repetitive ease of my studies at the UW, to spend 40-hour weeks digging trails, spraying herbicide, pulling invasive plants, with over half my nights spent in a cramped tent?
This is the lifestyle of a Conservation Corps member.
There are approximately 130 recognized "Service and Conservation Corps," according to the Corps Network Annual Report for 2018. While every U.S. Conservation Corps differs in duties based on size and location, almost all are modeled after the Civilian Conservation Corps (CCC). Created by the Roosevelt administration in an effort to counter Depression-era unemployment, the CCC employed over three million young American men between 1933 and 1942, putting them to work on projects mandated by the U.S. Forest Service, the National Park Service, and the Departments of the Interior and Agriculture.
Despite being discontinued in order to divert resources to the war effort, the CCC's legacy lives on in the thousands of miles of trails, roads, and other park infrastructure enjoyed by millions today.
Of course, the work of the CCC requires constant upkeep and additions. While departments such as the U.S. Forest Service, National Parks, and U.S. Fish and Wildlife are able to tackle a lot of this work, additional labor beyond their means are often necessary. This is where the modern Conservation Corps come in.
In 2018 alone, conservation corps restored over 1,400,478 acres of habitat and 13,967 miles of multiuse trailway.
It was in a deluge of collegiate ennui that I applied to spend my spring quarter working as a corps member at the American Conservation Experience (ACE), a nonprofit which works in conjunction with AmeriCorps on "recruiting, coordinating, and training volunteers to undertake practical environmental restoration projects in America's national parks, forests, wildlife refuges and other public lands."
A month and a half after applying, two days after a crush of finals that were pushed a week forward, I emerged from the Flagstaff Pulliam Airport, uncertain what lay before me, and hoping the massive snow drifts on the ground wouldn't last much longer.
Since arriving, I have built trails in Sedona, Ariz., removed invasive species from the deserts of New Mexico and California, and restored recently logged forestland in Prescott, Ariz. I have met young people (most Conservation Corps cater to those in their 20s, with ACE welcoming those between the ages of 18 and 35) from across the country. While many involved see their participation as a means of entering the conservation-focused career sector, others participate for the unorthodox work environment and opportunity to engage their passion for the environment in an organized manner.
Despite anticipating being the odd English major out of the program, I found myself hoisting pick mattocks and wielding McLeods beside recently graduated sociology, poly-sci, and business majors, as well as those taking alternative paths in education.
Environmental conservation takes all different forms. The physical effort of the Conservation Corps member composes only one category of environmental stewardship, but it is a critical one. Whether it be the maintenance of that favorite trail, the preservation of a native species, or the cleanliness of your local national park campground, Conservation Corps are more often than not responsible.
As I come up on my last sore, sweaty, and incredibly rewarding month as a corps member, I can't help but feel a sense of melancholy upon concluding this much-needed retreat from the monotony of academia. From the satisfaction of observing the fruition of one's hard work to the sense of camaraderie between crew members, from the nights beneath star-choked skies to hours spent learning the finer features of a good back slope and hinge, I have found myself constantly humbled and fulfilled by my time as a corps member. Now, to remove those cactus spines …
Reach writer Sophie Aanerud at pacificwave@dailyuw.com. Twitter: @thesraanerud
Like what you're reading? Support high-quality student journalism by donating here.