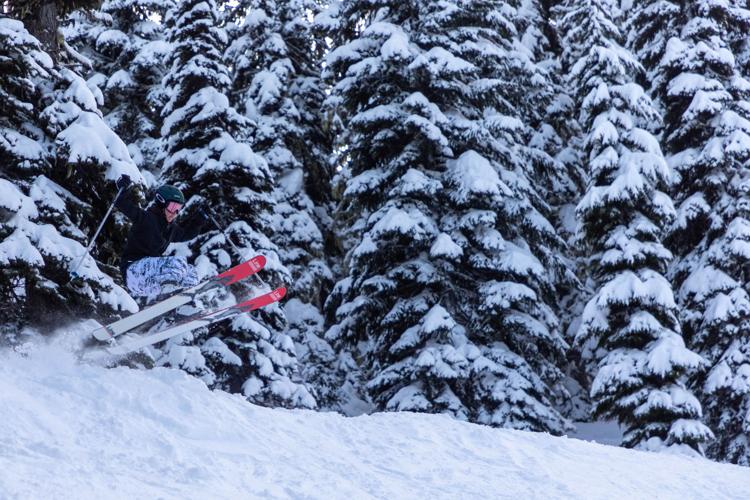 Eldorado Peak, labeled the "Queen of the Cascade River '' by mountaineering legend Fred Beckey, is infamous for the grueling 7,000 feet of elevation gain, which includes trudging up a densely forested slope to stand atop its knife-edge summit ridge. While most are content with the experience of simply climbing, UW junior Thomas Kakatsakis has skied it not once, but twice, only two weeks apart.
"The jungle approach kind of sucks," Kakatsakis said. "We had 70-pound packs, so that was f----d, but once you get up in the alpine, it's amazing."
Despite their challenges, backcountry skiing and ski mountaineering provide an escape from crowded ski resorts and an extraordinary chance to experience the outdoors.
Resort skiing in Washington has grown quite popular in recent years, and limited parking and bloated lift lines are an increasing reality on winter weekend outings.
UW skiers will likely recall theweekend of Jan. 11-12, where on the approach to Crystal Mountain Resort, many waited for hours in a 57-mile long line of cars, only to discover that lots had reached capacity at 7:48 a.m. 
"It allows you the means to explore Washington, and Washington has an unbelievable amount of ski terrain," Kakatsakis said. "People don't think of Washington as a skiing state, and I come from Colorado, but in my mind, Washington is a better skiing state than Colorado."
Backcountry skiing, or ski touring, describes a form of skiing outside the confines of a ski resort, where the skiers ascend undeveloped slopes without the assistance of a lift or rope tow.
Backcountry skiers use a specialized kind of ski binding which allows the heal to be released, and attach "skins," a strip of textured material that prevents the skis from sliding backward, to the bottom of their skis, thus allowing upward travel.
The exhilaration of descending through untouched powder might appear to be the greatest allure of backcountry skiing, but many backcountry skiers actually identify the seemingly laborious experience of ascending as equally satisfying. 
"You have to do it for the up," Kakatsakis said. "If you wouldn't do it without the up, then you shouldn't do it at all."
Backcountry skiing enthusiast and Mountain Madness climbing guide Zack Keskinen described the process of skinning up the slopes as akin to an artist painting a canvas.
"You put this perfect skin track in that stays out of the danger areas, doesn't disturb the snow, kind of has a nice gentle pattern that matches all the way up, and it's almost as beautiful as setting that track on the way down," Keskinen said.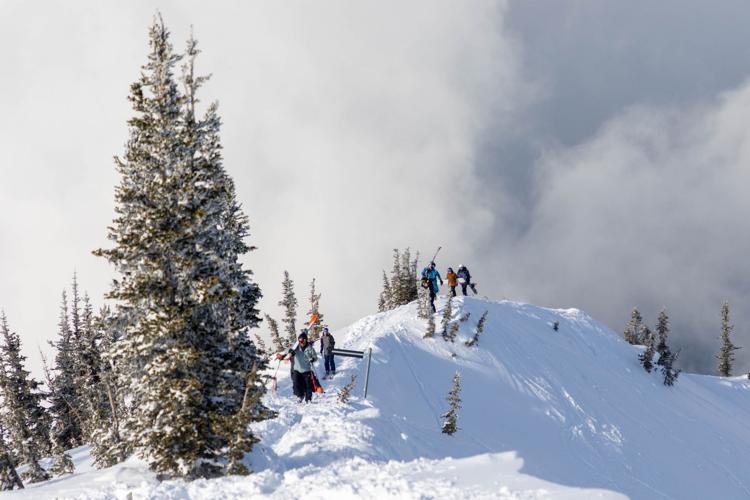 Whereas a season pass to a Washington ski resort can cost between $400 and $900, backcountry skiing is affordable, once gear and safety classes are accounted for. 
"Once you have all the gear, touring is free," Kakatsakis said. "And you don't have to buy the high-end gear, you can get used setups for cheap on Craigslist."
Although the UW might lack a club devoted specifically to backcountry skiing, multiple campus organizations provide affordable opportunities for renting some of the essential safety gear.
Membership with the Climbing Club at the UW (described by Kakatsakis as the best UW student organization for finding backcountry skiing partners) is very affordable and offers one the ability to rent avalanche safety gear free of charge, including shovels and probes.
Students can also rent backcountry skiing equipment from the UW Gear Garage, which offers an avalanche beacon, shovel, and probe for only $25.
"That's definitely a big barrier to backcountry skiing, gear is so expensive, but the fact that they rent it for like 20 bucks makes it easier," Kakatsakis.
However, it is impossible to talk about backcountry skiing without considering its inherent dangers. The warm and deep nature of the maritime snow in the Cascades does make avalanche danger lower than in the Rockies, but avalanche training, gear, and careful consideration of avalanche conditions are essential for safely navigating the backcountry on skis.
 And although avalanches constitute the most publicized danger of backcountry skiing, there are more routine dangers that are ever-present as well, such as simply getting lost. 
"You take a wrong turn going down the ski area, you fall in, break your tib fib, break your femur," Keskinen said. 
The committing and challenging aspects of the sport might intimidate curious students; however, Seattle offers incredible access to backcountry skiing areas.
While resort skiing offers convenient access to the pleasure of descending snowy slopes, backcountry skiing provides the experience of solitude, and as many skiers say, the ability to "earn your turns." 
Reach writer Henry Zing at pacificwave@dailyuw.com. Twitter: @ZingHenry
Like what you're reading? Support high-quality student journalism by donating here.