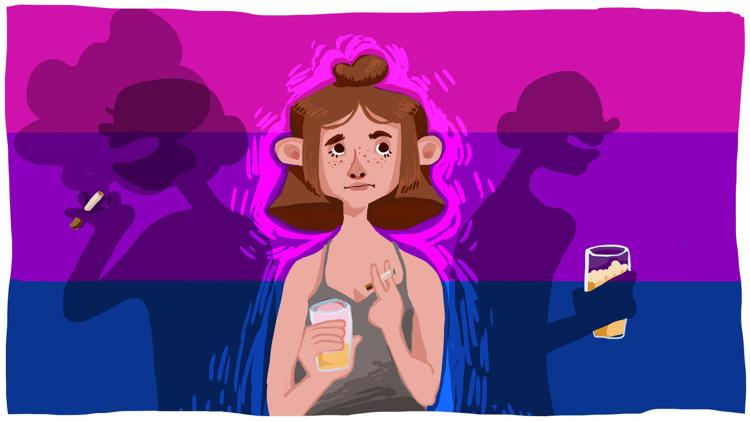 Until recently, sexual minority health kept to the shadows of behavioral research. However, earlier this year, a UW social work professor published a "groundbreaking" LGBTQIA+ health study. Based on their personal experiences, UW students were not surprised to learn the study found health disparities between straight/cisgender and LGBTQIA+ communities.
But these health disparities can also exist inside the LGBTQIA+ community.
Shedding more light on sexual minority health and behavior, another more recent UW study explored the relationships between concurrent alcohol and tobacco use and sexual orientation in young women, highlighting the influence of social context on substance use.
Funded by the National Institute of Justice, Office of Justice Programs, and U.S. Department of Justice, the study issued surveys once a day to 246 participating students who identified as women, over a period of 12 weeks. They reported their sexual orientation and concurrent alcohol and tobacco use as well as the social context of said use.
It should be noted that for the purposes of the study, researchers defined "concurrent use" as use on the same day (not at the same time) and evaluated social contexts using three categories: location (e.g. home, someone else's home, bars, restaurants), social environment (e.g. number of people attending, number of people intoxicated), and relationships to social environment (e.g. friends, family, strangers, alone).
"We found that when women, regardless of sexual identity, were with friends when they went to bars and when they were around more intoxicated people, would be more likely to have a day of concurrent alcohol and tobacco use," Jessica Blayney, co-author on the study, said.
A social culture of drinking and drug use is nothing new to many UW students, but the greater risks of substance use associated with sexual minority women (SMW) — those who identify as bisexual or lesbian — as found in the study may not be as common of knowledge.
According to the study, SMW had more concurrent alcohol and tobacco use. For bisexual women especially, alcohol-use days were associated with a greater number of cigarettes smoked, and smoking days were associated with a greater number of drinks consumed.
Bisexual and lesbian women were more likely to drink with friends compared to heterosexual women.
The study also found that of the 11% of days involving solitary drinking across all women, bisexual women reported more days drinking alone than heterosexual and lesbian women. It was also found that lesbian women drank more with partners than bisexual and heterosexual women.
"We know from other research that bisexual women have unique stressors associated with their sexual identity, right," Blayney said when asked how marginalization against bisexual people could motivate these social contexts. "That could include biphobia, invisibility, a lot of things." 
"It might be that bisexual women are more likely to use alcohol and tobacco ... concurrently and at heavier levels because of coping with a kind of marginalized status."
While one of many possible variables at work behind the scenes of the study's findings, this marginalized status plays a very real role for those identifying as bisexual.
"Biphobia is a reality in so many worlds, in the LGBTQ community, in the straight community," Director of Health Promotion Patricia Atwater said. "I think that what gay and straight people might perceive as uncertainty in terms of sexual status ends up being leverage as a form of oppression against bi folks."
There can be this disconnect between two distinct communities, where those who identify as bisexual may not see themselves accepted by either the straight or the LGBTQIA+ worlds because, while they may be the 'B' in LGBTQIA+, they can also be in 'straight' relationships. It's a line that many struggle to walk.
"In a lot of ways, I think bi folks are forced into the closet, just based off their community's assumptions about who they are because they do identify as bi," Atwater said.
This caught-between-worlds effect associated with the bisexual minority can impact their accessibility to their communities and because drinking and smoking are often social behaviors, greater risks may be attributed to this status.
"We know that sexual minorities have tended to socialize in bars and parties more often," Blayney said. "You're trying to get access to your community, and because of that, many have argued that this contributes to the heavier substance use patterns we see in this population."
Many questions arise from the study, which was published in the journal "Substance Use & Misuse." How much does marginalization play a role in these social practices of drinking and smoking? Do the individual's views of cultural expectations around this social behavior play a role?
Blayney emphasized that this study specifically studied the significant influence of social context on concurrent substance use, especially for SMW. Next, Blayney said, research should investigate the "motivations" behind these social contexts and these addictive behaviors.
While earlier this year, the UW was honored as the most affordable and LGBTQIA+-friendly university by Campus Pride, marginalization of bisexuals and other sexual minorities still interferes with many UW students' lives.
"For all of us, we need to start to reckon with our biases around bisexuality, around minority sexual identities and gender identities," Atwater said.
These higher risks for concurrent alcohol and tobacco use should not be taken lightly. Mixing alcohol and tobacco can worsen already serious health consequences, especially increasing the risk of throat cancer.
"For bi folks out there ... the first thing to know is that you're not alone," Atwater said.
For anyone struggling with marginalization, the UW Q Center offers weekly (and completely free) drop-in group counseling sessions through their "Let's Talk" series.
The UW Counseling Center also offers many resources for UW students in either the LGBTQIA+ or straight/cisgender community, including students concerned about their mental health, alcohol, or tobacco use.
Don't hesitate to reach out if you or someone you love is in need of help.
Reach contributing writer Tatum Lindquist at pacificwave@dailyuw.edu. Twitter: @TatumLindquist
Like what you're reading? Support high-quality student journalism by donating here.