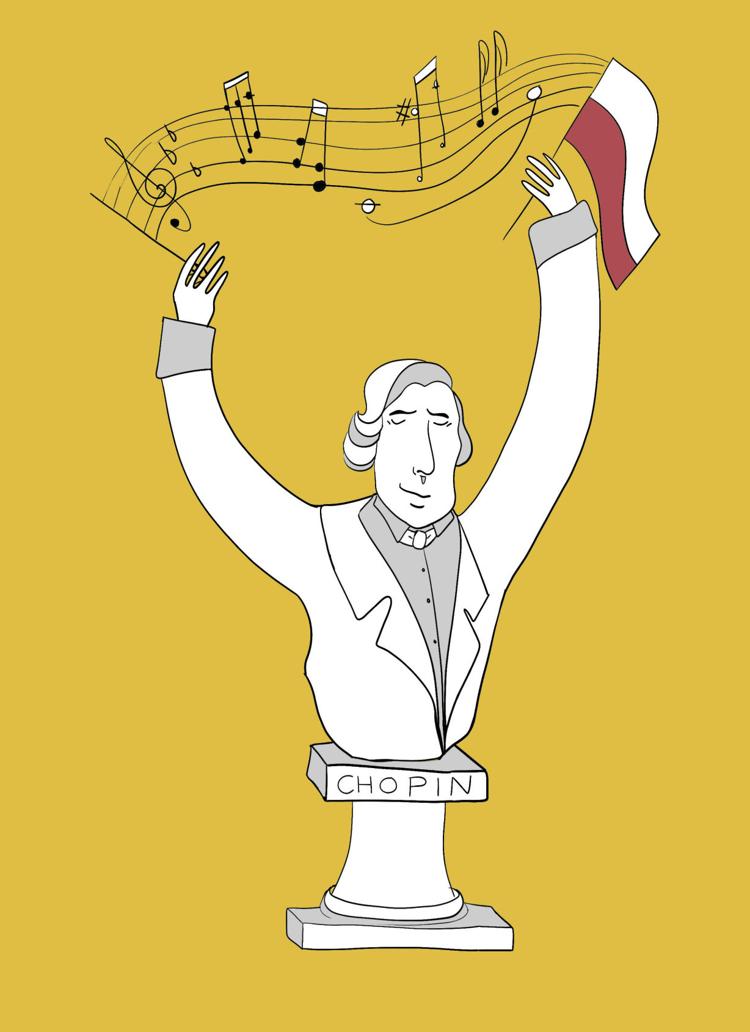 When you think of immigrants, migrants, and refugees, you may not be thinking about classical music composers. But when large groups of people are displaced, a few musicians are usually mixed in with the crowd. 
That's one reason why UW music professor Robin McCabe is organizing quarterly (Im)migration concerts that will highlight music by displaced composers. Each concert will begin with a lecture by a UW faculty member and consist of performances by UW music students. The first concert will be Dec. 2 at 4 p.m. in the Brechemin Auditorium. 
"[The composers] were longing for home, and so it produced this outpouring of expression," McCabe said. "Hardship sometimes produces beauty, which is an amazing paradox if you think about it." 
New racial laws convinced composer Mario Castelnuovo-Tedesco to leave Italy in 1939. Frédéric Chopin left Poland in 1830 to improve his career prospects but felt he could never return after his country was taken over by Russia. Paul Hindemith left Germany for Switzerland in 1938 because his wife was of partial Jewish ancestry. After trouble with the political establishment in Hungary due to Nazi influence, Béla Bartók reluctantly left for the United States in 1940. 
These composers each expressed their feelings about the political situation back home in different ways. Arnold Schoenberg had previously converted to Christianity, in part to protect himself in an extremely anti-Semitic environment, but after he left Germany for France in 1933, he re-converted to Judaism out of defiance of the Nazi regime. 
"Schoenberg was a feisty dude," UW music faculty member John Hanford said. Hanford will give the pre-concert lecture for the first (Im)migration concert in December. 
The composers' music was often affected by the turbulent political situations in their homelands. Chopin is known for gentle, often melancholy music, but composed a few uncharacteristically stormy pieces following Poland's invasion. 
Each composer built their work on music from their homelands. Chopin's "Polonaise-fantaisie" uses rhythms from traditional Polish dances. Similarly, Bartók's "Contrasts" was inspired by folk music, which many at the time considered to be the most authentic mode of expression. 
"The composers whose works are represented in the concert are building upon very long-standing traditions," Hanford said. "But they find themselves in political situations, most typically, that have serious consequences for their creative endeavors, their careers, and their personal lives."
A different sort of consequences appears within the structure of the music itself. Hanford explained that the title of the December concert lecture, "A Banquet of Antecedent(s) and Consequences," is a play on words. 
"That's a familiar concept in the so-called classical realm, that you have melodic structures particularly that have an initial shape that is somehow repeated or completed by a phrase that follows that initial phrase," he said. 
As an example, Hanford pointed to the beginning of Mozart's famous "Serenade No. 13 for strings in G major." Many of the pieces to be performed in the concert include antecedent and consequent phrases or similar formats. 
While each piece can be considered classical music, the styles and sounds are wildly different from each other. Schoenberg's "Six Little Pieces for Piano" are short and may be considered atonal, while Hindemith's "Sonata for Flute and Piano" runs near 15 minutes and ranges from playful to melancholy. The performance will include varying combinations of piano, clarinet, violin, and guitar. 
"They run the gamut from very inventive to fiery outpouring of passion," McCabe said. 
Though she herself is a celebrated pianist, McCabe will not be performing. "I wanted to showcase our students for what they really can do with their own instruments," McCabe said. 
Two of the performers, Connor Ritchie and Max Shaffer, went to the same middle school where both took guitar classes. Ritchie and Shaffer will play two movements from Castelnuovo-Tedesco's "Well-Tempered Guitars," an homage to Bach's "The Well-Tempered Clavier." 
"They're some of the hardest guitar duo pieces we've had to put together because the fugues are so carefully and closely written and designed," Shaffer said. "It's fascinating for us and I think also great for the audience." 
"The music is very complex, and it's very beautiful, and at the same time I feel like it's pretty accessible," Ritchie said. "The audience follows our individual parts as they kind of weave in and out of each other. It's a really cool sort of call and response that we get throughout the piece." 
Steven Damouni, who is pursuing a doctorate of musical arts, will play Chopin's "Polonaise-fantasie." For Damouni, this piece is interesting because it's different from many of Chopin's other polonaises. 
"Different sections don't really seem related, but they all kind of come together for the end," Damouni said. "This one is interesting because the polonaise rhythm just keeps shifting in and out." 
McCabe credits UW emeritus faculty of philosophy member Ronald Moore with the idea for this year's lecture-concert series. 
"I kept thinking about what kind of topics would draw people in," McCabe said. "[Moore] said, what about the issue of immigration, composers and artists who were displaced and had to leave their country? And I thought that idea was just irresistible." 
Reach writer Leslie Fisher at pacificwave@dailyuw.com. Twitter: @lesliefish3r