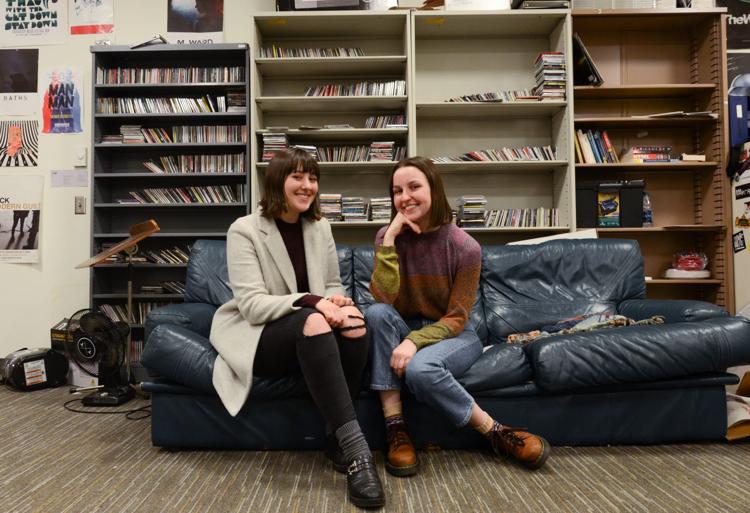 The Rainy Dawg Radio station is tucked away in the HUB, just down the ASUW+ hall. When I walked in, the ripped couches, eclectic decorations, and conversations about whether communism would ever be successful all reminded me of my own chaotic second home: the newsroom. 
Rainy Dawg immediately convinced me of its value as a campus community, even before I heard their DJs speak about it. I too have found a home tucked away in the corner of a big building on a bigger campus, and I recognized the passion and care for this institution in the DJs I spoke to, because I know it so well from my time at The Daily. 
For Chelsea Rodgers and Sami Shaffer, the community they found within Rainy Dawg, and the community they are trying to create, is what keeps them motivated. 
"For me, Rainy Dawg is and always has been a space where I felt like I belonged," Shaffer, the general manager of the station, said. "We use music as kind of this common thing we all love and care about to connect. Rainy Dawg is really about people who feel like they might not fit in, who feel like they're kinda weird or whatever, but they have a place here with us." 
DJs at Rainy Dawg get a one-hour set per week, where they can play music or have a more podcast-type of show. They gain experience with audio equipment and time to experiment with their public broadcasting. 
"It's also just a space for yourself," Rodgers, the music director, said. "It's an hour-long show with a soundproof room, so you just get that space to yourself for that whole time and it's the most relaxing thing ever." 
Shaffer's show, for example, is titled "Self Care" and focuses on "healing through music." Every week she chooses a different theme, like grief or fear. Her first show centered on the death of a celebrity, pulling from the emotions that her and many of her fellow DJs felt on hearing about the death of Mac Miller. 
For the two, who started in their positions this year, their goals center around promoting diversity: of music, in their programming, and in the community at large. 
This has meant a lot more collaboration with other on-campus communities, something the station hasn't done much of before. It's "the year of the collab," in the words of Rodgers. 
They started working with The Bean Basket, part of the ASUW Student Food Cooperative, to put on "Tasty Tuesday." Every week, the station chooses a food item that The Bean Basket sells, and compiles a playlist that captures the essence of that food, as well as a couple recipes including it. They're also collaborating with the co-op in the winter to host an event that focuses on celebrating both local food and local music. 
Rodgers is also striving for more diversity in their programming. As music director, she sorts through all the music intake, either the physical CDs or downloads the station is sent, and she relays them to DJs she thinks could incorporate them into their set. 
"My goal for this year would be broadening what we play," Rodgers said. "I've been trying to talk to DJs, as well as trying to get a group of new people together who want to play music we haven't really heard on the station before, whether it be like really niche or really old or super new. I'm trying to get us to play things people haven't heard before." 
Shaffer also feels a need to shift things in a different direction.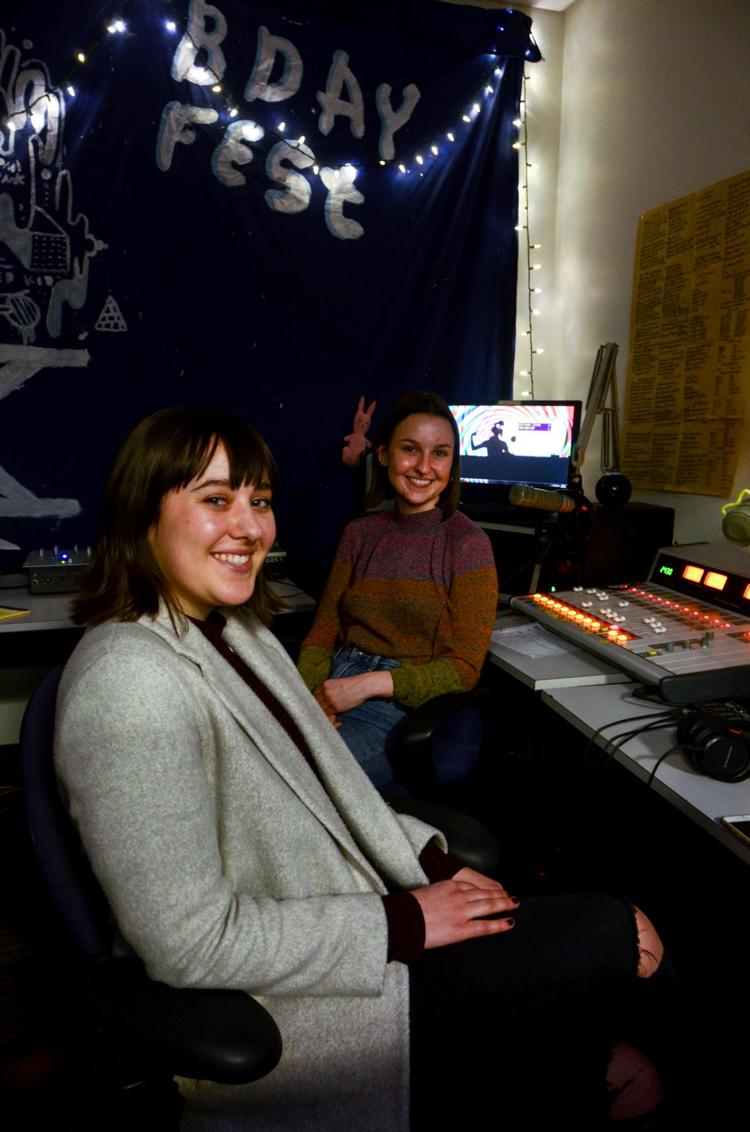 "I've found that Rainy Dawg has a certain reputation among people that maybe we're not the most inclusive," Shaffer said. "That maybe we only care about certain people's opinions, like only certain tastes are valid, and some people have gotten the feeling that we're a little exclusionary." 
Shaffer is attempting to turn that around with the show Rainy Dawg is putting on this fall. This year, instead of having a local hip hop show, like last spring, and another generic show in the autumn, Rainy Dawg is putting on a queer hip hop show on Nov. 29 in partnership with the Queer Student Commission (QSC). 
"My favorite thing we did last year was the local hip hop show," Shaffer said. "We put on this whole performance and to have other people love and connect with it … That's really why I joined Rainy Dawg my freshman year. Because I just wanted to share music I liked, and have other people find joy from it too. So that was a really cool experience, seeing that in real-time." 
According to the two, they didn't set off trying to find queer artists to showcase, but when they realized that was the direction they were going, they wanted to cement it. 
"It didn't start off that way. It kind of naturally happened when I realized the performers I wanted to contact were queer and I was like, maybe let's not make this an accident, let's make this a real thing," Shaffer said. "I want toputintention back into what we were doing by making it more specific, rather than just doing a hip hop show that just happened to have queer people in it, because I want to clearly send the message that Rainy Dawg is for everyone." 
For her, putting intention back into Rainy Dawg and having more meaningful programming are her two big goals for the year. They're partnering with the QSC in order to facilitate a more welcoming environment. 
"We're looking to the QSC for most of the stuff outside of the music, like the experience of the show and how to make it more inclusive for people we haven't seen a lot at our shows, which honestly could be because we've never worked with or talked to these communities when planning our shows," Rodgers said. 
The show is going to be at the Ethnic Cultural Center and will feature Michete, Guayaba, and one other artist that was unconfirmed at the time of this printing. It's free to UW students. 
"The reason why I work here and where I find my motivation, as cliche as it sounds, is the community and the people I work with everyday," Shaffer said. "We go to a big-ass school and the UW can feel really lonely. It's nice always having this room I go back to every day." 
While Rainy Dawg has long been a community for DJs and music enthusiasts, it seems certain that the coming year will see the station opening up to a broader audience. 
"But I don't want to just say all these things, I want to put it into action and show that I recognize that music is political like all other art, and I want to take stances that show that I'm welcoming and support people in this community through music." 
Reach Opinion Editor Charlotte Houston at pacificwave@dailyuw.com. Twitter: @choustoo