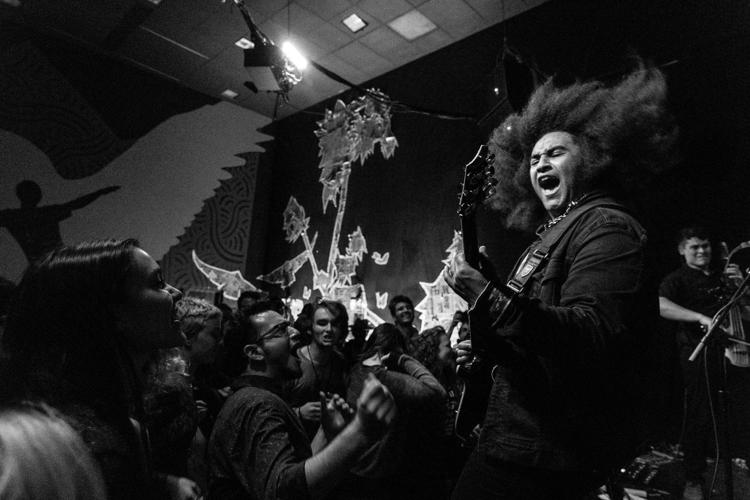 On the night of Oct. 25, before an eager crowd, Gypsy Temple took to the stage at Seattle Center's Vera Project. 
"Let's turn the lights down, keep this intimate, like a house show," frontman Cameron Lavi-Jones urged as he ushered in the audience. 
With that, the band launched into action, delivering a driving set rife with smacking drum kicks, writhing guitar licks, roaring vocals, and slashing chord shifts, in honor of the release of their new single, "Pick a Number," and accompanying music video, which was screened halfway through the set. 
Prior to the performance, when asked to describe their sound, the band members laughed. 
"We have a song called 'Heavy Handed' and I think that's pretty representative of our sound: it's heavy handed," electric cellist Cory Cavazos said. "It's very powerful and empowering as well, the sound is and yeah, a little bit of alt rock but it's more than that." 
"I think it's just too hard to put one group's sound, like the breadth of a whole sound into a single category," bass guitarist Hamoon Milaninia added.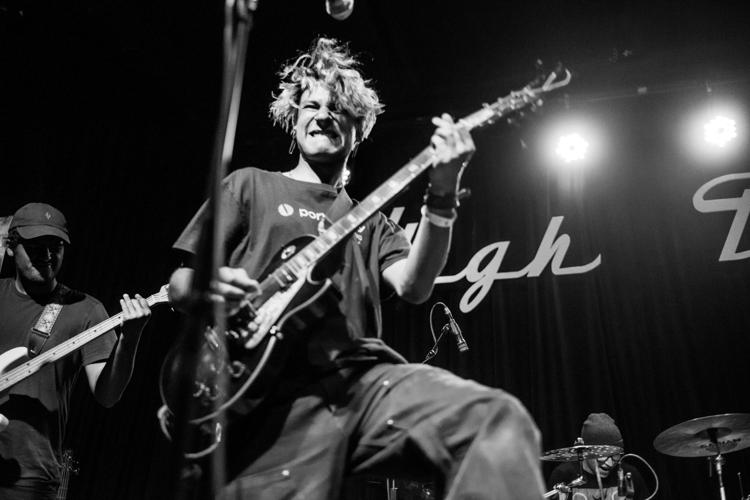 Indeed it is difficult to define Gypsy Temple's sound, which, while obviously drawing on the pounding energy of rock, also features extremely nuanced riffs and harmonies, difficult to categorize and associate with any other band. This assortment of genres from which Gypsy Temple draws stylistic inspiration, however, is only one of the elements which make this band so fun to watch.   
The five-piece ensemble possesses the power of a marching band on stage as they jump and headbang, stomp, spin, and roll back their eyes in time to their pounding rock beats and driving melodies. You can't deny it, the band has swagger, but not in the arrogant manner so often associated with young musicians. This cool energy and confidence which Gypsy Temple brings to the stage comes not from ego, but a genuine mix of pride, passion, and joy. Simply put, they're damn good musicians, they recognize the work they've put toward getting there, and they love what they're doing. 
Coming up on its seventh year, the project, started by lead singer and lead guitarist Lavi-Jones, has passed through many iterations to become the fiery source of sound Gypsy Temple is today.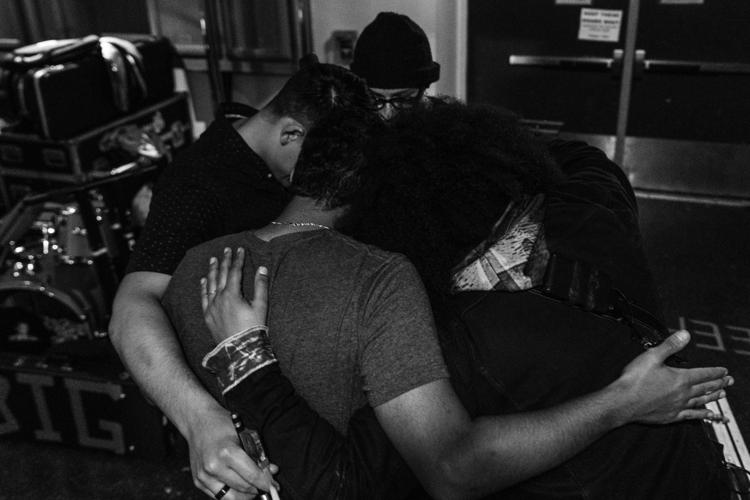 "With this lineup in particular we're on what? Five, six months maybe," Lavi-Jones reflected.  "Wilson's the newest addition and then the rest of us have been playing together for at least a year or a year and a half." 
In addition to Lavi-Jones and recently added guitarist Wilson Rahn, the band is composed of Hamoon Milaninia on bass, Cory Cavazos on electric cello, and Kai Evan Hill on drums. 
While various members of the band joined at various points in time, they all agree that after hours upon hours of playing together (during its summer tour, the band played over 40 shows), they feel like a solid unit, aptly represententing the name of the group. 
Lavi-Jones named the band "Gypsy Temple" in homage to his family. "Me and my folks would move around a lot but I never felt like I didn't have a place to belong because you know I always had my folks there, always had somewhere where I could go back and be myself and be safe regardless of whatever different places we moved to or whatever things would go through the family," he said. " ... I think that's also really representative of the group we have here." 
While still active in Seattle's underground and house show-based scenes, the band has been steadily gaining attention. 
In August they played for the opening of the Museum of Pop Culture's "Pearl Jam: Home and Away" exhibit, an experience Cavazos recalled as "a special way to connect to Seattle music history," and in September Gypsy Temple rocked the UW at the 2018 Fall Fling concert, during which the band opened on the mainstage for PSA, DJ U.No.Hu, and headliner Smino. 
The position as opening act at Fall Fling was not something the band members took lightly, recognizing it as a means of getting the band's name out the wider UW audience, as the now nationally touring Seattle-based Naked Giants had at the 2016 Fall Fling. 
"The first song, I was like, shaking with excitement," Rahn recalled of the Fall Fling performance. "Basically I was rocking out at the Naked Giants show too so I remember that and I was just like, 'Oh my God now I get to do that!'" 
Since Fall Fling, the band has been prepping for the upcoming release of their debut album while simultaneously taking up a new touring project, though this time with distinctly political motivations. 
"We're doing this tour ... called the 'Make Your Voice Heard Loud' tour. It's a voter registration and voter turnout tour so we'll be at lots of different high schools and colleges all in Washington," Lavi-Jones explained. 
The tour, headed by Gypsy Temple, has been sponsored by League of Women Voters, Washington Bus, APACE, and the King County Department of Elections. 
Rahn especially has found this latest tour significant as he openly considers himself to often be politically apathetic. "Having this vessel for me to go out and empower other people and be empowered myself has been like a super huge growth opportunity for me because I feel like before now [I thought I] couldn't really change the country that I live in and now I'm like, 'Yeah I do have a voice' and that's important to share that with other people and get them excited about it as well." 
"Raise your hand if you're registered to vote!" boomed Lavi-Jones during the performance. A sea of hands sprang forth from the audience. 
"Now keep it raised if you're going to vote!" he said as cheers erupted. The band members beamed: their sound had brought an audience to its feet and their message had brought it to the polls.
Keep an eye out for the band's debut album "King Youngblood," which is slated for release in early 2019. 
Reach writer Sophie Aanerud at pacificwave@dailyuw.com. Twitter: @thesraanerud