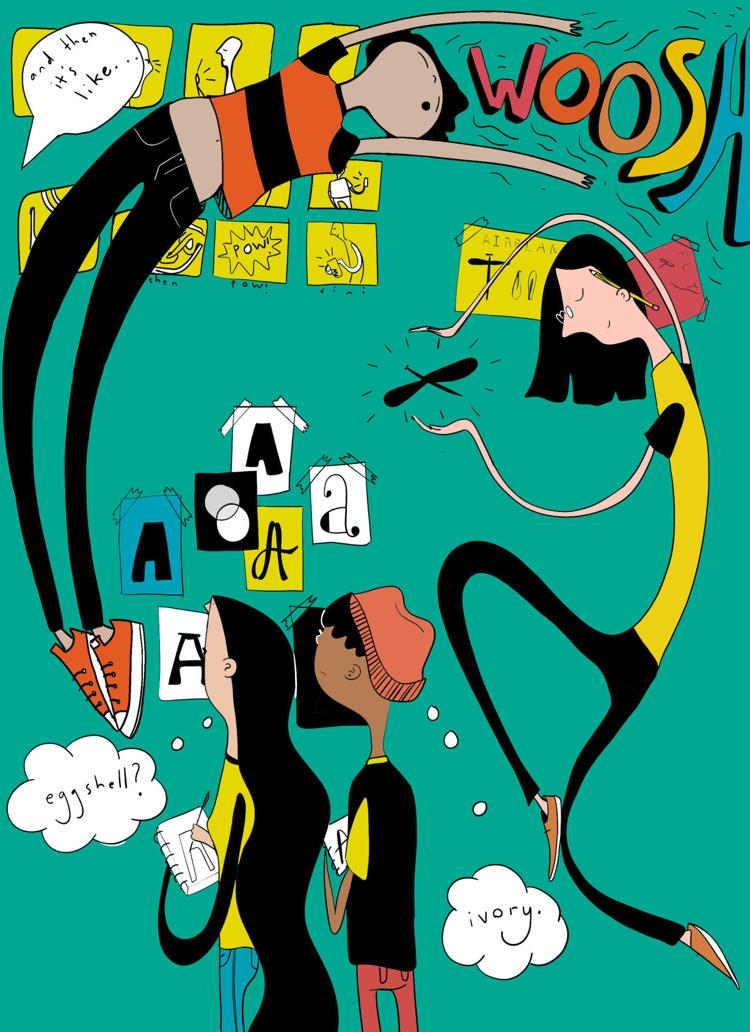 Take a look around — look at the chair you are sitting in or the website you are searching on. Question yourself. Is this item you are using easy or difficult to use? If you have nothing to say, chances are it was well-designed. That silence is the product of the mind of a designer, who works long hours to create ideas and products to create the best experience for you. This idea of designing for the world is one of the foundations that make up the Division of Design. 
The Division of Design is part of the School of Art + Art History + Design. Within the division, there are three majors: visual communication design, interaction design, and industrial design. Visual communication design focuses on creating visual solutions to problems; interaction design focuses on understanding and creating relationships between people and the systems they use; industrial design focuses on creating physical products.
To enter the program, students must achieve a 3.7 or above in Design 166 or complete a workshop consisting of interviews, design challenges, and a written portion. Here, the faculty looks for students who challenge the world in front of them. They're not looking for students who have the right answer, they're looking at how students approach their designs and if they have a passion for what they are doing.
"If you don't enjoy this class and what happens here, then design is not for you," professor of design Axel Roesler said. "It is one thing to think that design is cool and you want to be a designer, but you really need to like it."
Once students enter their majors, the work and the competition does not stop. In fact, a consistent theme in the lives of design students is the long hours spent in studios working on various design projects, whether it be creating visuals to display their work or coming up with ideas for assignments. These hours add up, causing design students to often pull all-nighters, sleep in the Art Building, and work full-time over the weekends.
So, why are they willing to do this? 
One reason is the personal investment design students put in their projects. They build emotional connections with their work. Every choice they make is deliberate. They are not answering questions for themselves, but for the general public. The work they do, according to visual communications design student Andy Le, often becomes political. 
"The reason why you build such an emotional connection is because you are, in a way, studying how you think about this information here; you are understanding what you think is important, and shaping what information should be out there in the world," Le said. "Just by designing, or being a designer, you are being political."
The personal investment also comes from a sense of pride they have for their work. Being in such a small cohort of students and knowing everyone injects a healthy form of competition into the design process. To see everyone else do great work motivates students to want to create great work as well. In their eyes, turning in minimal work is unacceptable and can be embarrassing. They create work that they can show off and be proud of. 
"When you turn in a project, it's representing your best work and you become one with this project and you want to turn in something that you are okay standing there and saying, 'I did this,'" interaction design student Bridget Lewis said. "You don't want to turn in an 'I don't care,' you want to turn in an, 'I'm proud of this.'" 
Despite the hard work and long nights, the consistent theme throughout the design student community is that they love what they do. The enjoyment supersedes the long hours. It often does not occur to them that they have worked so long. It becomes something that is always on their mind because design is everywhere. According to School of Arts + Art History + Design adviser Laura Todd, the best design students are the ones who are constantly wanting to question and explore. 
"Students who are successful in design are students who are interested in the world around them," Todd said. "They are always looking, always questioning, always wondering how to make things better or different. They are problem solvers." 
Ultimately, design isn't just about making things look pretty. It's about always trying to come up with a new idea, questioning the world, and wondering how to make things better for it. Design isn't a singular concept. It's not just about drawing or building or making a poster. It's a combination of these things and more. It takes a lot of time, and it's not easy. 
"Design is real work; anything that is interesting requires your full involvement — a scientist that wins a Nobel Prize has to work hard, a politician that creates a massive rights implementation and changes the world has to work hard — what people who make an impact have in common is that they work really hard," Roesler said.
Reach writer Cynthia Li at pacificwave@dailyuw.com. Twitter: @cynthiaalii