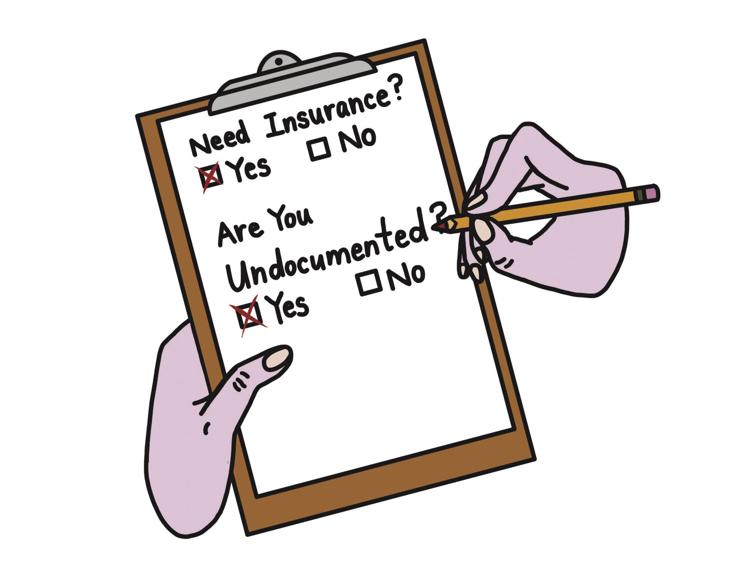 A month ago, three days into the quarter, I sprained my ankle in a lecture hall. I sat through an hour-long lecture with throbbing pain and increased anxiety. I had to get to Hall Health on one foot; I would have to miss my afternoon class; and I'd probably end up needing a few days of bed rest — resulting in more missed classes. I eventually got to Hall Health and collapsed into a waiting room chair. I got a series of X-rays, ended up on crutches, and left two hours later with an appointment set with a physical therapist.
Not once did I have to worry about having to pay out of pocket. I handed over my insurance card and didn't give it a second thought. I'm lucky to have this privilege because health insurance for undocumented students is not a given.
Henry, who is using a pseudonym for fear of reprisal and is an undocumented student, said that when he gets sick, he tries to ride it out instead of visiting Hall Health. "I'd have to pay and I don't have the money," he said.
As explained by the Hall Health director of health promotion, Patricia Atwater, there are three types of health insurance.
The type my family has is employer health insurance, meaning my dad gets health insurance through his employer and puts all his children on the plan. If undocumented individuals are able to work in the United States, typically for ninety days, their employer can give them health insurance. But for college students working minimum-wage jobs with no benefits, this isn't always plausible.
Unfortunately, this is the only type of health insurance that undocumented individuals can receive. The other two types are Medicare, which is government-funded, and individual insurance, private insurance that people can pay for themselves but also requires proof of citizenship.
Under former President Obama, programs were in place to provide undocumented individuals with resources and opportunities to become citizens, which would make getting health insurance easier. The programs were called the Deferred Action for Childhood Arrivals (DACA) and "The Dream Act." 
DACA offered temporary relief from deportation to give young immigrants a chance to work toward getting citizenship instead of being deported back to a country that many of them do not even remember. But on Sept. 5, 2017, U.S. Attorney General Jeff Sessions announced that the DACA program would be "wind[ing] down." The program wouldn't be accepting new applicants, and current applicants could only get one more two-year renewal. Several courts fought back and two U.S. district courts ruled that the federal government had to keep accepting renewal applications from people who had already been receiving DACA benefits.
The Dream Act is a three-step pathway for any undocumented high school student, graduate, or GED recipient to get citizenship. The first step is "Conditional Permanent Residence" (CPR), a status a person holds for up to eight years if they fit the criteria. If a person maintains their CPR status and is enrolled in higher education, employed, or a member of the military, they can qualify for "Lawful Permanent Residence" (LPR), also known as a green card. The final step is naturalization. After maintaining an LPR status for five years, a person can apply for U.S. citizenship.
Now, with President Trump in office and these programs killed or suspended, Atwater has seen undocumented students become more hopeless and defeated.
"A lot of students seem to just have given up," Atwater said. "It's so overwhelming to keep up with what is happening, let alone figure out how it applies to you."
Magdalena Fonseca, the director of Leadership Without Borders at the Ethnic Cultural Center, sees something similar in the undocumented students she works with every day.  
"Sometimes our undocumented students don't always know that they can get support, both on campus and off campus," Fonseca said. "Too many times have I seen a student fall ill and have to drop classes or the entire quarter."
But Hall Health has options for students who don't have health insurance. Atwater wants students to know that her office is a great place to go to if they are feeling overwhelmed. Atwater helps students find affordable and local clinics off campus, like Neighborcare and Sea Mar. She also reminds students of the resources that are available to them on campus.
"Most students know about the one free visit a quarter, but we also have free unlimited medical advice from nurses," Atwater said. Students can call or visit a nurse to get health care advice as many times as they want any time of day for free. This is a great resource for undocumented students who can't pay for visits but are trying to fight an illness.
Atwater and Fonseca both stressed the importance of the mental health resources open to students like the Counseling Center and Let's Talk, a free and confidential program that operates in several locations across campus.
"I have seen, post-[2016] election, an increase in our mental health and wellness referrals," Fonseca said. "Specifically, with our undocumented students, there has been an increase in our students feeling unsafe and unable to focus on their studies."
"There is definitely fear in the back of my mind," Henry agreed, and while his school work wasn't affected by the fear Fonseca talked about, he faced another barrier: lack of awareness.
"My schoolwork is affected by friend groups who have had privilege," Henry said. "They're already advantaged, and they don't understand, and I can't explain it to them."
Fonseca described one of the lows of her job to be "the lack of awareness" on campus, but she hopes to combat that issue by growing the Leadership Without Borders' Undocu Ally training. This is a six-hour training session held every quarter to help faculty and staff better understand the federal and state laws and how they can help support the undocumented students on campus. 
This training helps to create safe classroom environments for undocumented students while also informing professors of certain limitations undocumented students face, like requiring a doctor's note for missed classes.
"We're very proud of the fact that we have close to 500 'Undocu Allies' across campus," Fonseca said. "But it is still a very small percentage."
Looking forward, Fonseca hopes that Undocu Ally training will become a requirement for newly hired UW faculty and staff so that undocumented students can experience a safe and supportive campus community.
Reach writer Miranda Milton at pacificwave@dailyuw.com. Twitter: @mirandamilton9
Like what you're reading? Support high-quality student journalism by donating here.