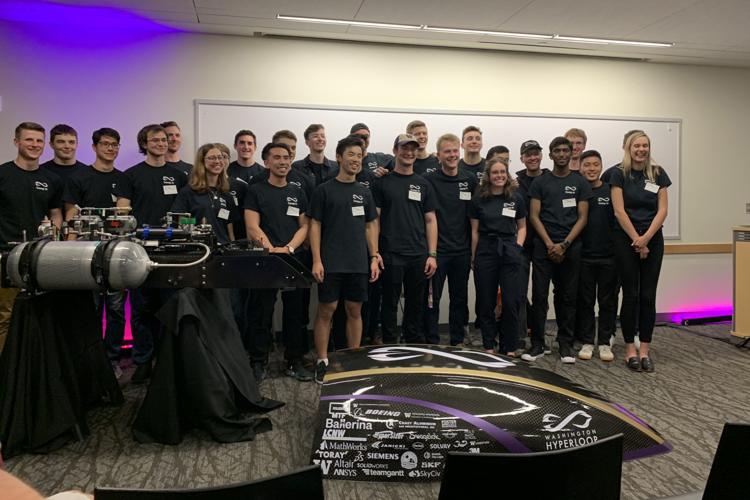 Someday, you may be able to get from Los Angeles to San Francisco in just 35 minutes through a high-speed tube.
That's the goal with the hyperloop, a concept popularized by Elon Musk and currently being developed by businesses and university teams around the world. Students in the UW RSO Washington Hyperloop are building out this technology as they prepare for the SpaceX Hyperloop Pod Competition in July.
The team is building a hyperloop racing pod using a cold-gas thruster system, which releases compressed nitrogen gas to push the pod down a tunnel at high speed. It's a similar system to the one typically used to shift a rocket's direction.
"It's a rocket without fire," Washington Hyperloop propulsion lead Gabriel Finertie said. "That's how I usually describe it to people."
This is the same propulsion system that won Washington Hyperloop fourth place in the world and first in the United States at the competition last year.
Finertie said their method "inspired a lot of teams" and that others were trying to emulate their propulsion method. Washington Hyperloop may still have a leg up, not only because of all the knowledge gained from the previous year, but also because this year's pod is lighter and therefore may be able to go faster.
"The name of the game this year has been weight savings," Ethan Simcock, one of the Washington Hyperloop directors, said.
This year's pod is just 60% of the weight of last year's pod, Simcock said. The team has been trimming weight off wherever possible by building with aluminum, using carbon fiber, and incorporating 3D printing, among other methods.
The team estimates that the pod will be able to go 250 to 300 mph. For reference, German student team WARR Hyperloop registered a world-record top speed of 290 mph at the competition last year. The speed to go between Los Angeles and San Francisco in 35 minutes would be almost 800 mph, so there's still a ways to go.
The competition will include a week of testing followed by a day of racing at SpaceX's headquarters in Hawthorne, California. More than 20 teams from around the world will compete.
There are few rules and even fewer judging criteria. The team with the fastest pod that decelerates successfully — in other words, doesn't crash — wins.
Simcock, who has been to the competition in previous years, said that teams come up with wildly different designs even though everyone is working on the same challenge.
"It's really fun to kind of just walk around and see how all the other teams have gone about working on the same general concept that we have but going about it in an entirely different way," Simcock said.
The team has been preparing for the race all year. Simcock said that the competing teams put together their preliminary design packages in the fall so that they could submit them for feedback. This process gave students a chance to find out about potential manufacturing issues or design flaws before starting to build.
Design lead Lulu McRoberts said she did a lot of sketching in December and then moved on to 3D modeling. The design evolved from a geometric shape to an organic one through "lots of iterations and meetings," McRoberts said.
During the winter, Washington Hyperloop and other competing teams submitted their final design briefings and analysis for review.
"When that comes back, you get the green light — yes, we want you to build this, we want you to come and race — or 'Sorry, maybe next year,'" Simcock said.
Washington Hyperloop is divided up into eight subteams. These groups work together on different aspects of the pod ranging from propulsion and braking to business and branding. Simcock described it as "the closest thing you can get to simulating the workplace," which may be why Washington Hyperloop alumni have gone on to work at SpaceX, Tesla, Apple, and the like.
"They get kick-ass jobs," Simcock said of the team's alumni.
Washington Hyperloop isn't just a career preparation RSO, though. The team is a tight-knit group of motivated students from diverse majors who enjoy both their work and each other's company.
"Working with everyone and getting together is fun," Finertie said. "We're all nerds, so this kind of thing is fun for us."
McRoberts said that one of her personal goals as a member of Washington Hyperloop was to join the engineering and design schools together or "have them at least be more communicative."
 "Right now, engineering and design don't talk to each other basically at all, but I think there are a lot of similarities in both of the schools," McRoberts said. "With design, you can get as artistic or technical as you want, and I'm definitely more on the technical aspect of design."
Finertie said his goal was "basically just to learn." He said he wanted the experience of working on a project and building something in real life rather than just solving problems on paper as he often does in his engineering classes.
As with any team preparing for a competition, there's a healthy dose of ambition among the team members.
"I think we're all in it to win," Simcock said.
The team is already thinking ahead to next year, too. McRoberts said she hopes to bring more designers onto the team and build out the design group as more of its own entity. She also said Washington Hyperloop was looking to bring on a social media person.
"Right now, design and business are kind of intermingled," McRoberts said. "For next year, it's kind of my goal to split those two groups apart and have a business team and a design team."
When asked how much the pod cost to build, Simcock, Finertie, and McRoberts weren't sure but agreed that director and veteran member Mitchell Frimodt's estimate of $40,000 might be about right.
Come July, Washington Hyperloop may just set a new world record and bring the world a little closer to the future of transportation.
Reach reporter Leslie Fisher at science@dailyuw.com. Twitter: @lesliefish3r
Like what you're reading? Support high-quality student journalism by donating here.