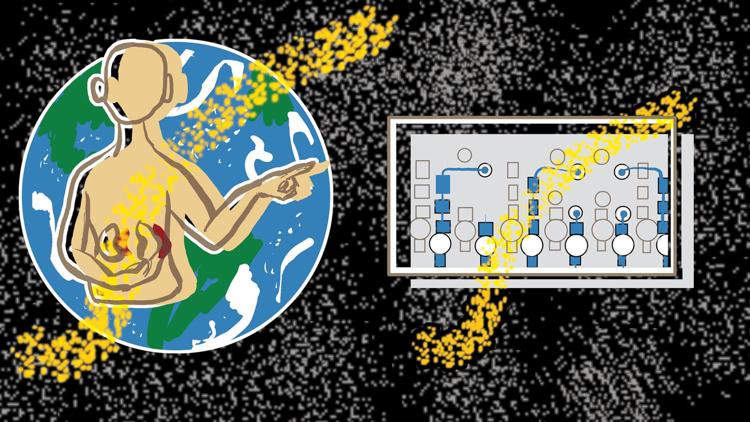 "May the fourth be with you" just took on a whole new meaning for UW researchers. In the middle of the night on May 4, otherwise known as "Star Wars Day," the sky lit up as a SpaceX spacecraft lifted off from Cape Canaveral, Florida headed toward the International Space Station (ISS).
Aboard that spacecraft are 72 credit card-sized chips containing kidney tissue. 
Associate professor at the UW department of pharmaceutics Dr. Edward Kelly and director of the Kidney Research Institute Dr. Jonathan Himmelfarb are co-principal investigators for an experiment to observe human health in the anti-gravity environment of space. Their team aims to use their observations from the kidneys in space to help treat diseases and other health issues on Earth.
"We know astronauts can get kidney problems," Himmelfarb said. "Understanding how the kidney works in a microgravity environment might provide clues that could be helpful for astronaut health, and especially astronauts that are going to spend an extended amount of time in space."
Kelly and Himmelfarb's team received a grant from the National Institutes of Health to study the effects of anti-gravity on human kidneys in 2012, and have spent the last several years researching and designing an experiment to be sent to the ISS.
One specific way anti-gravity plays into the experiment is by speeding up long-term body processes, such as osteoporosis, the reduction of bone mass. On Earth, the effects would normally accumulate over years or even decades. In space, bone deterioration is accelerated.
"The body loses around 1 to 2% of its bone mass per month," Kelly said.
Kidneys play a crucial role in forming vitamin D, Kelly said. Vitamin D strengthens bones and fortifies the body. Without it, the kidneys are unable to regulate calcium levels and promote bone formation. The space experiment will hopefully allow researchers to better understand how anti-gravity impacts vitamin D production in the body.
The kidney chip experiment is one of several at the UW that study the effects of antigravity on the body, including one that aims to break down kidney stones with a handheld device.
Originally scheduled April 30, issues delayed the SpaceX launch for several days. An electrical issue on the ISS involving the arm that would receive the spacecraft pushed back the launch to May 3. Then, the launch was further delayed because of an electrical issue on the barge, known as "Of course I still love you," which prevented the rocket booster that detaches from Dragon's spacecraft from landing upright.
"[SpaceX] has what's called an 'instant launch window,' they have to launch right when the ISS is positioned properly," Kelly said. "If they don't launch at that exact moment, then they have to wait 24 hours."
With such a small window of ideal launch conditions, the timing was crucial. Launching in suboptimal conditions could compromise the spacecraft and the experiments on board.
"We launched successfully at 2:48 a.m. on May 4," Kelly said. "Which is actually very cool to me because I'm a sci-fi nerd and that was Star Wars Day."
Although the kidney chips are now aboard the ISS, the experiment is long from over. Over the next several weeks, researches will receive updates from astronauts aboard the ISS. In June, the kidney chips will be sent back down to Earth. Researchers will then analyze the effects of anti-gravity on the kidney cells and compare them with a control group on Earth.
"We're excited and proud to represent UW in these experiments," Himmelfarb said. "We think that's great."
Reach writer Nicole Pasia at science@dailyuw.com. Twitter: @NicoleAPasia
Like what you're reading? Support high-quality student journalism by donating here.