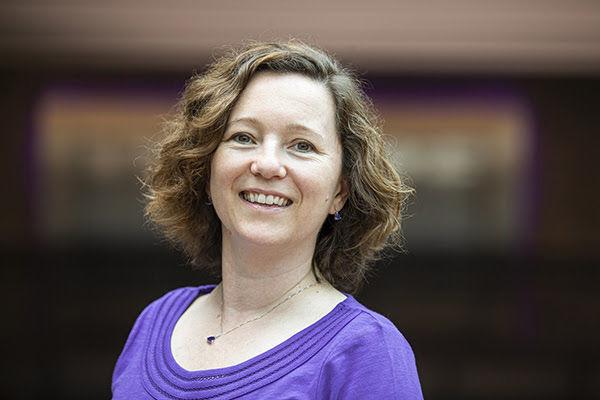 To say that Dr. Magdalena Balazinska, incoming director of the Paul G. Allen School of Computer Science and Engineering, is a busy woman is an understatement. 
Previously, Balazinska had more than just a few titles to her name in the data science world at the UW — including associate vice provost for data science, director of the UW eScience Institute, director of the UW advanced data science option in the graduate program, and associate professor at the Allen School.
She earned a Ph.D. in Computer Science from the Massachusetts Institute of Technology, was named a Microsoft Research New Faculty Fellow in 2007, and received the inaugural VLDB Women in Database Research Award in 2016, though her career wasn't so focused from the beginning. 
"Honestly, when I was in high school, I had no idea what I wanted to do," Balazinska said. "I knew I preferred math and applied sciences as opposed to reading and writing, which was less of a strength for me. But I had no idea what I wanted to do." 
Balazinska's passion and drive for her field of study is clear. Upon her acceptance of the position, she will step down from her role in her previous appointments. 
Born in Poland at the end of the 1970s, Balazinska and her family moved to Algeria for work opportunities, where she attended both Polish and French school. 
After five years in Algeria, they immigrated to Quebec, where Balazinska spent her college years and where her family currently remains. While attending Polytechnique Montreal to pursue her undergraduate degree in computer engineering, she received several scholarships from her university and from the Canadian government. 
"I loved it because when I came to college, I didn't have to write essays," Balazinska said. "It's great because once you major in computer science, you have all these technical classes, so if you like building things and solving puzzles, your whole day is just that."
After her graduate work, she did a broad job search, applying to universities and research labs across the country, and after hearing back from the UW, she found it an offer impossible to resist. 
"When I came to UW, I was trying to find who I can work with that has exciting data management problems," Balazinska said. "We have these great scientists, we have so many strong departments and schools, whether it's astronomy, oceanography, or biology, and so many great potential collaborators." 
As well as pioneering several initiatives for more efficient data management, Balazinska also serves as an important figure for women in STEM in general. 
With only 18% of computer science degrees obtained by women in the United States, one of Balazinska's many goals in her new position is to encourage a culture of inclusivity and diverse participation within the Allen School. 
This year, faculty at the Allen School created a new position called the associate director for diversity and inclusion.
"Think about the world, think about climate, think about the environment," Balazinska said.  "What we can do in computer science is make it easy and make it faster for people, or come up with new techniques to do it more effectively, then people can really move forward the science in those domains with the tools we can provide."
Furthermore, Balazinska asserts that she plans to address the diversity issue at all levels, making efforts to encourage all kinds of people to apply, especially by reaching out at the K-12 level. 
"We want people to know about computer science, to get excited about it, to know about us, and realize that this is a field for everyone, especially because it's a field applicable to so many different domains, so we really need everyone in this field," Balazinska said. 
With so many prospective students facing an incredibly daunting future in the Allen School, she wants to encourage students not to be discouraged by failure and to remember that they belong there.
"The main thing we want to convey is that this field is for everyone," Balazinska said. "Everyone is imperfect here; from other people we only hear success stories like, 'I won this award' or 'I got this job.'"  
Reach reporter Soraya Marashi at science@dailyuw.com. Twitter: @sorayamarashi
Like what you're reading? Support high-quality student journalism by donating here.