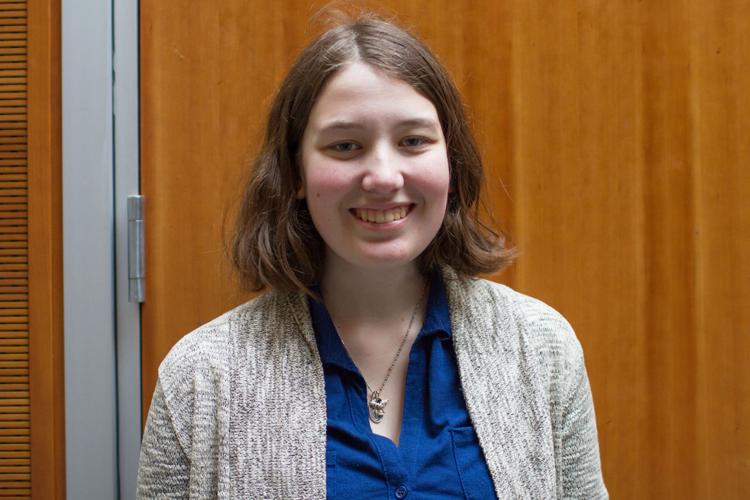 Miranda Howe, a junior at the UW, has been feeding the hydras for UW associate professor Martha Bosma's research group since spring of her freshman year. These hydras, however, are not mythical many-headed monsters, but rather freshwater relatives of anemones.
Hydras are simple animals with only two layers of cells that can regenerate after bisection. They are named after an analogous monster from Greek mythology that grows two new heads from the site of one that has been removed.
"They're really interesting because you can study how multiple cells interact, but they're very simple," Howe said. "Things don't get super complicated the way they might with a mammal where you have so many factors and so many things we don't understand."
Now in her third year working in Bosma's group, Howe has taken on her own project looking at specific genes in Hydra that may be responsible for making gap junctions, which are places where two cells are connected through protein channels. The gap junctions assist in cell signaling and can be used to study how cells signal to respond to stimuli.
"If we can understand this model of signaling, it could be expanded to more complicated organisms to see how cells signal back and forth, how neurons can communicate," Howe said. "And they're [the Hydra] a really good model for looking at, on a simple level, how cells communicate to coordinate reactions."
Howe has been working on knocking down the genes that are thought to form the gap junctions, which means effectively removing them or rendering them inactive. At that point, the hydras are considered transgenic animals since their genomes have been purposefully modified. Once this has been done, it is easier to see what role the gene plays by observing the effect on the behavior of the animal.
Due to the hydra's simple nature, experiments can be completed on a shorter timespan than working with mice or plants. This doesn't mean there haven't been challenges with working with them.
"Hydras are not something a lot of people are researching at the moment," Howe said. "Trying to make transgenic hydras itself was a really big thing to work on, so I haven't got any results from my project yet. My grad student [Josh Swore] has found some more success with what he's working on, but it's nothing definitive."
Their main focus currently has been trying to figure out the correct lab techniques to use.
"This really is a testament to how slow things can go," Howe said. "This has taught me a lot of patience and some humility there, things don't always work the way you think they will. Some data takes way longer to gather than you think it will."
Although it can be slow, Howe has found completing research incredibly rewarding and regards it as a "really good experience."
"You learn in a different way than you learn in the classroom," Howe said. "It's a lot more applied and you can see the importance of why you need to learn the things you do in the classroom. It breaks up the day from studying to be doing something hands-on."
Howe started at the UW knowing that she wanted to get involved in research, but her current project is not what she thought she'd be doing. Through this experience and working with DAWGMA, a UW biohacking group, she has realized that she would like to pursue the more investigative side of research rather than a specific applied area that focuses more on problem-solving.
"I think personally, I enjoy more investigating and trying to learn how things work," Howe said. "Some people think it's a bit boring, but I think it's really interesting."
Following her planned graduation in spring quarter, Howe hopes to pursue a career in research and plans to go to grad school to get a Ph.D. She urges undergraduates to "get involved early," even if they don't plan on a career in research.
Reach reporter Molly Slann at science@dailyuw.com. Twitter: @MollySlann
Like what you're reading? Support high-quality student journalism by donating here.