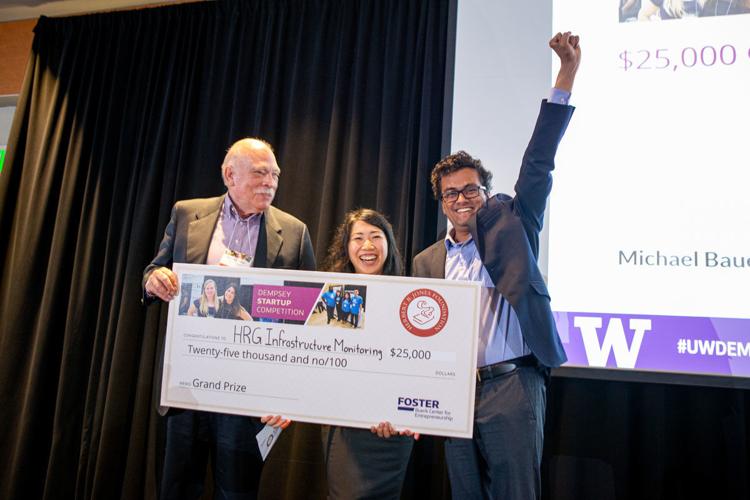 After months of networking, proposal submissions, screening, coaching, and an investment round, the 2019 Dempsey Startup Competition culminated in two final rounds and an awards ceremony Thursday, May 23. Fourteen student businesses, including nine from the UW, won a total of $80,000 in prize money.
---
 Grand Prize
HRG Infrastructure Monitoring, a startup based at the University of Victoria, won the $25,000 Herbert B. Jones Foundation prize. Co-founder Harsh Rathod was inspired to start the company after a poorly inspected bridge near Mahad, India, collapsed in 2016, killing 41 people. Rathod was frightened for family members who lived nearby and commuted over the bridge.
"Fortunately, I found out that they were OK," Rathod said during the startup's presentation in the final round of the competition. "[But] I kept thinking, 'This is the 21st century. How can a bridge collapse without inspection?' … I couldn't tolerate that fact."
Rathod decided to come up with a solution to prevent future infrastructure collapses. Traditional inspection methods are "laborious, time-consuming, costly, and highly dependent on subjective human judgment," he said. HRG Infrastructure Monitoring plans to fix those issues with drones and damage assessment software.
"Our mission is to save people's lives by making infrastructure safe," Rathod said.
---
 Second Place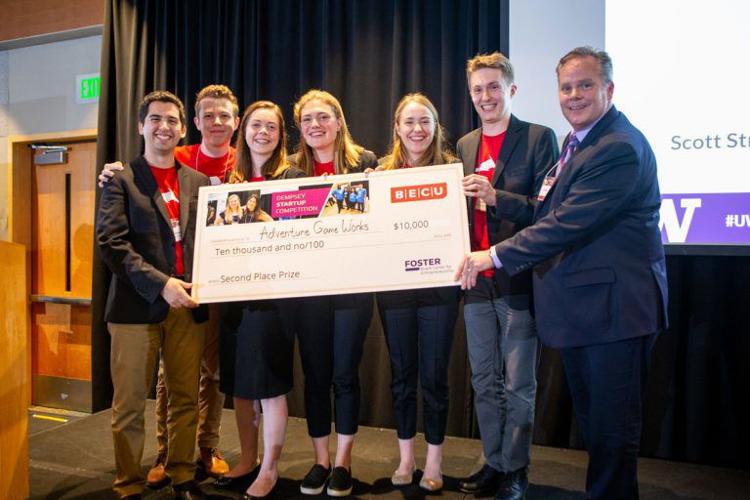 The $10,000 BECU second place prize went to Adventure Game Works, a startup from Gonzaga University that plans to sell game kits for customized live-action puzzle games. The highlight of the team's presentation was a demo involving an Ender Dragon piñata and a judge shooting a bow and arrow.
"Adventure Game Works was started to help people have fun together and create lifetime memories," CEO Olivia Banks said.
While the company is less than a year old, Adventure Game Works employees emphasized that they have been in research and development for 12 years.
"I am merely a business major in college, but twelve years ago, I was a pirate along with my cousins, searching for buried treasure," business development analyst Leah Matthews said. "I've been a wizard, survived a zombie apocalypse, destroyed the ring to save Middle-Earth, and most recently, I was a con artist pretending to be a doctor in the wild West, attempting to be the last woman standing."
---
Third Place
Bottomline, a UW-based startup dedicated to helping professionals compare job offers, won the $7,500 Friends of the Dempsey Startup third place prize. The company helps professionals understand the real value of their offers using an online personal compensation analysis tool which aggregates information about each job and projects earnings over four years.
During the startup's final round presentation, co-founder Lukas Joswiak said that software engineering professionals in particular often have complicated job offers. Factors like base salary, stock vesting, signing bonuses, area-specific tax implications, and the cost of living in different places can make it difficult to compare options or negotiate.
Co-founder Mayank Maheshwari said the team planned to beta test their product with a select set of customers and pilot it at five Seattle universities in the next few months. He said the company needed investment to gather more data as well as expertise in UX design, sales, and branding.
"Like in the Game of Thrones, we need to survive this winter," Maheshwari said. "And to do that, we need your support."
---
 Fourth Place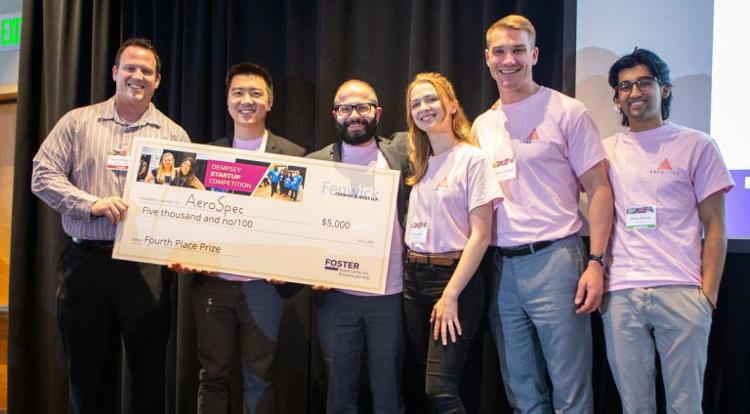 AeroSpec won the $5,000 Fenwick & West fourth place prize for its wearable air quality monitoring device, which provides real-time data on individual exposure and fast analysis. The UW-based startup's platform also has a heat map feature that, when overlaid on a facility map, can help people quickly and easily identify toxic areas.
"Current indoor air quality monitoring solutions are very bulky, impractical, lack the accuracy to create lasting solutions as soon as possible, and are very expensive to implement," vice president of engineering Zoe Gregory said.
CEO Sep Makhsous said the team originally intended to market the product to consumers, but found another market among industrial manufacturers after doing customer surveys through a National Science Foundation Innovation Corps (I-Corps) program.
"We wanted to help people with asthma or breathing disorders to understand what makes them sick," Makhsous said. "However, through that program, we understood that there's a human element in manufacturing interests."
There were 113 student-run startups from 16 colleges and universities across the Cascadia Corridor who participated in the competition. Other prize winners included NanoPrint, Cura AI, ElectroSolar Oxygen, DopCuff, WM Launch Services, Novita, and Elixir from the UW; Wheyward Spirit and Averto from the University of Oregon; and Zense from the University of British Columbia.
Reach reporter Leslie Fisher at science@dailyuw.com. Twitter: @lesliefish3r
Like what you're reading? Support high-quality student journalism by donating here.