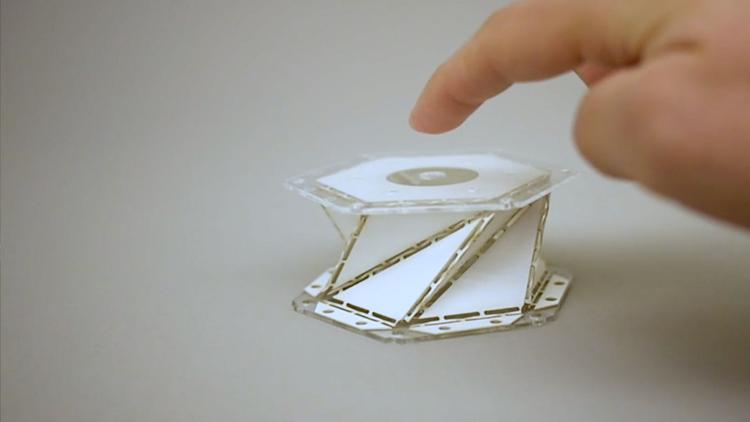 Inspired by the Japanese art of paper folding, UW engineers in the department of aeronautics and astronautics recently published an article that suggests new ways to reduce impact force in circumstances like spacecraft landings and car airbag systems.
When making origami arts, artists strategically draw lines on paper, create a folding pattern, and fold it into a three-dimensional object. This unique feature prompted these engineers' interest in studying origami. 
Yasuhiro Miyazawa is an aeronautics and astronautics doctoral student at the UW. Miyazawa and his team focus on exploring the behaviors of origami and making the best use of it in real-world situations. 
Miyazawa explained that by creating different shapes of origami, researchers build individual paper structures called "unit cells" and connect them. Together, unit cells become a chain which is flexible like a spring, allowing the impact force to move through the cells like a spring, eliminating the force before it reaches the other end of the chain. 
When applied to space vehicles, and substituting paper with a tougher material, the chain will reduce impact force before it travels to the end of the landing leg, preventing severe crushing. 
Inspired by the paper folding art of origami, a University of Washington team created a paper model of a metamaterial that uses "folding creas…
Compared to conventional materials, origami-inspired materials can be built into different forms of structures that exhibit various flexibility and stiffness. These properties provide researchers with lots of possibilities to have creative improvements and make a structure function better. 
"Origami is like the Lego block, " UW associate professor of aeronautics and astronautics Jinkyu Yang said. "You can assemble it in any way. Origami can be reconfigured to different geometry. It is a different paradigm." 
The new material has a relatively low cost and long duration of use. The heavy crush of the landing usually destructs traditional metal materials. Origami-inspired material saves the waste that is brought by one-time used landing structures. It also reduces repetitive industrial manufactory. 
"It could cost less," Miyazawa said. "It is pretty efficient. You don't have to take a lot of time to prepare for the next launch. You can technically reuse it." 
The researchers suggest that, besides spacecraft, origami-inspired material can be applied widely on circumstances that involve the need for reducing impact forces. For example, car airbags may cause significant damage to passengers. With origami-inspired material balancing and reducing the force, passengers are less likely to be injured. 
However, there are still problems that remain unsolved in the study. The structure is not optimized yet and requires more practical applications. 
"I won't call it a challenge," Yang said. "Fundamental concept will work, but industries want it to be practical and make products. There are many transition steps. This is something we look forward to achieving in a few years." 
According to Miyazawa and Yang, one of the most important purposes of this study is to examine the physical properties of origami and inspire more scientists and engineers to make use of the structure in various fields such as engineering, architecture, and biology. 
Reach reporter Sunny Wang at Science@dailyuw.com. Twitter: @sunnyqwang64
Like what you're reading? Support high-quality student journalism by donating here.