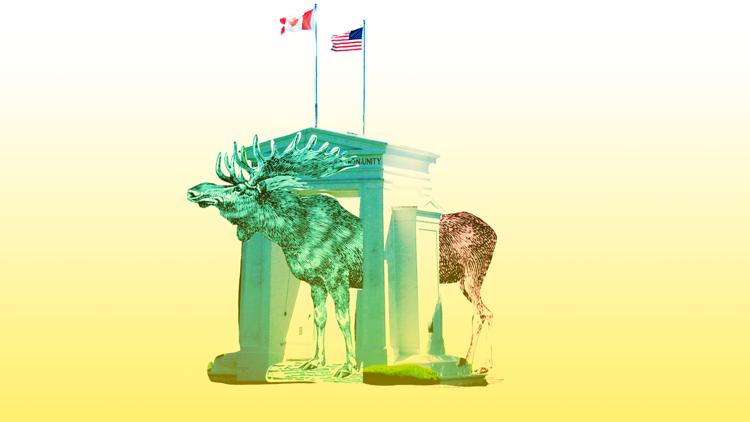 Rising dramatically from a verdant garden at the U.S.-Canadian border at Blaine, Washington stands a magnificent white arch. Within the confines of a modest cottage, known as "American Kitchen," located on the grounds from which the arch rises, American and Candian researchers met to address the importance of habitat connectivity.
Habitat connectivity concerns the degree to which wildlife is able to travel between separate areas of habitat and is a crucial aspect of a region's ecological health. 
Meade Krosby, a senior scientist for the UW Climate Impacts Group and university deputy director of the Northwest Climate Adaptation Science Center, selected this location not for its amenities, but because researchers from both countries could enter without travel restrictions. 
"It's an international peace park and you don't have to have a passport to be there," Krosby said. "It was hysterical." 
Similarly to how legal complications create barriers for trans-boundary research, increasingly disconnected habitats create challenges for wildlife movement in the Pacific Northwest, and scientific researchers from the UW Climate Impacts Group are contributing to collaborative work to address the issue of habitat connectivity. 
"Wildlife land has been really fragmented," Amy Snover, director of the UW Climate Impacts Group and university director of the Northwest Climate Adaptation Science Center, said. "Lots of animals don't have the connected habitat that they need to move from feeding grounds to others, or to migrate."
While urbanization and development are obvious impediments to natural wildlife corridors, researchers from the UW Climate Impacts Group are focused specifically on how issues of a changing climate relate to habitat connectivity. 
Climate change forces many species in the PNW to shift their ranges to more suitable habitats, and habitat corridors provide those species a pathway for that movement. Additionally, climate change affects existing corridors with events such as increasingly severe and frequent wildfires inhibiting movement through certain regions.
"The habitat where wildlife [is] going to live in the future, where it's suitable in the future, is a different place than today," Snover said. "You have to make sure that thosehabitats are connected, so they can get from the habitat of today to the habitat of tomorrow." 
Although the issue of climate change remains politically contentious, habitat connectivity enjoys support from most groups. 
"Wildlife movement is something most people really get, like intuitively," Krosby said.
Much of the work to address habitat connectivity is conducted by the Washington Wildlife Connectivity Working Group, a partnership co-led by the Washington Department of Transportation and the Washington Department of Fish and Wildlife. With a variety of land management groups in control of preserved habitat, Krosby emphasized the importance of international collaboration between federal and state agencies, tribes, non-profits, and scientific researchers. 
"Increasing habitat connectivity is a leading strategy for helping wildlife adapt to climate change," Krosby said. "Species need to move to respond to climate change, and that's only going to get worse." 
Reach contributing writer Henry Zing at science@dailyuw.com. Twitter: @ZingHenry
Like what you're reading? Support high-quality student journalism by donating here.