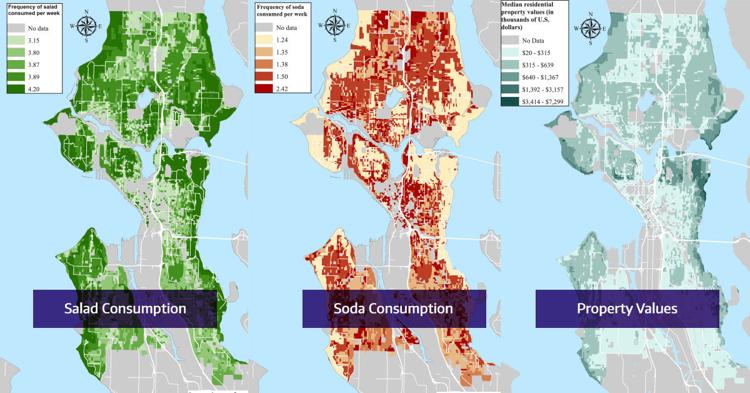 Upon entering different grocery chains in Seattle, shoppers will encounter contrasting scenes: Heaps of fruits, veggies, and fresh flowers stand in one entryway while another features pastries stacked below prominent cardboard signs. The words "local" and "organic" might be common in one, while "discounted" might be in another.  
These varying features are not accidental, much like the locations of the grocery stores themselves. The socioeconomic status of the neighborhood determines whether the local chain is ultimately a Safeway or a Metropolitan Market.
"Our dietary choices and health are determined to a very large extent by where we live," Dr. Adam Drewnowski, professor of epidemiology and director of the Center for Public Health Nutrition at the UW, said in an interview with UW School of Public Health News."In turn, where we live can be determined by education, incomes, and access to both material and social resources. We need a closer look at the socioeconomic determinants of health."
The strategic placement of grocery chains throughout Seattle, as well as in cities and towns across the country, illustrates the critical influence socioeconomic status holds on our diets. Drewnowski addresses this in his recent report, Salads, soda, and socioeconomic status, as part of his ongoing Seattle Obesity Study.
This research study, according to UW School of Public Health News, originated in King County and was carried out to find which social determinants of health more directly influenced diet as measured on the census-block scale. Its overall intended purpose was to better define areas where health interventions might be most mandatory in the future.
Given the success and findings from his work in Seattle, Drewnowski took these methods to the Pierce and Yakima counties of Washington.
Drewnowski and co-authors James Buszkiewicz and Anju Aggarwal used salad and soda as representations of healthier versus less healthy diets. These indicators are present in previous obesity studies and interventions as well as the Healthy Eating Index. The survey-based study included 20-minute phone interviews with 2,001 men and women living in King County. The participants were asked questions about their eating habits, specifically their consumption of salad and soda on a daily, weekly, or monthly basis.  
Their survey's conclusion was that property value surfaced as the driving determinant of diet over the other measured social factors, education and income.
The most evident trend was that waterfront and other higher-end property areas showed inflated rates of salad consumption while lower-income neighborhoods had greater rates of soda consumption.
This reality was reinforced by reports from Frank Schuck, assistant manager of the health food-focused Metropolitan Market at Sand Point, a higher-income neighborhood.
"Soda, we generally get two deliveries a week, whereas produce we get two deliveries a day," Schuck said.
Although perishables are naturally stocked more frequently, Schuck implied that a great deal of effort went into keeping up with increasing demand for produce.
Drewnowski's findings seemed to be reflected by the placement of Metropolitan Market locations, with more emphasis on produce in those areas identified as having more expensive housing. The opposite was true for Safeway, beingmore commonin neighborhoods with lower property value.
However, an unforeseen theme dominated several of the statements taken at Safeway and Met Market locations: The types and quantities of different food chains weren't set in stone. Instead, they varied according to the customers.
"It might be because of the area too, I would assume that our uptown store isn't going to sell as much packaged salads than a neighborhood store," Chris Granger, a produce clerk at the Sand Point Metropolitan Market, said about the location's excessive salad sales.
Schuck explained some of his observations, and how he was taking into account the wants of customers and responding to them.
"What we're seeing trend-wise with younger customers — millennials and Generation Z and older — is that they're choosing to buy more produce and salad," Schuck said.
This response to changes in shopping habits came up again in a comment about recent soda substitutions seen at the Safeway in the U-District.
"We sell a ton of the sparkling stuff now," Tom Pharo, an employee, said. "Tons of La Croix, that kind of stuff."
People tend to associate stores in less expensive neighborhoods with standard-quality food, and those in nicer areas with higher-grade items. However, the relationship isn't that simple. The chain of supermarket may be determined by the value of the properties surrounding it, but what the store stocks its shelves with comes from the demand of its consumers. Ultimately, residents have a much larger impact on what their community stores sell, and consequently, what they eat.
Drewnowski and his research revealed that in some sense, where we live determines howwe live. It can be a pretty melancholic message on the surface, but the themes drawn from grocery stores in Seattle show us that there are ways to reduce this injustice.
Reach contributing writer Billie Featherston at development@dailyuw.com. Twitter: @BillieFeathers1
Like what you're reading? Support high-quality student journalism by donating here.