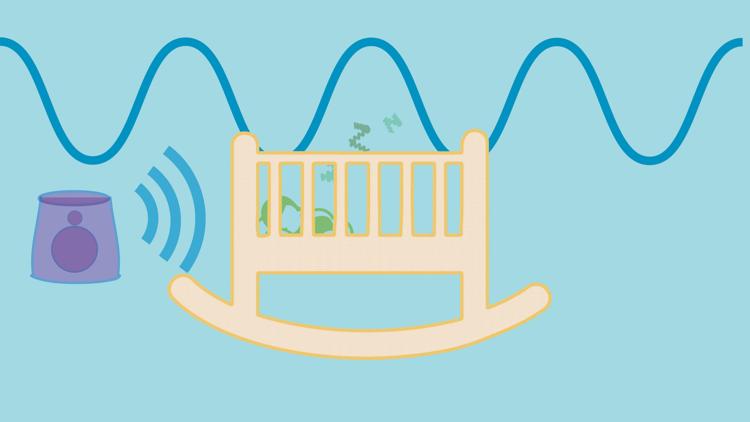 Getting enough sleep is an important contributor to an infant's health and neurological development. Sleep becomes an even greater concern when taking into consideration that children less than one year of age are susceptible to breathing problems and sleep anomalies. 
To help alleviate this problem, UW researchers came up with BreathJunior, a contactless system skill designed using microphone hardware similar to that embedded in smart speakers like Amazon Echo.
The newly developed smart speaker system skill strives to be the solution by incorporating white noise and a combination of varying frequencies to monitor infant breathing.
This research was led by Anran Wang, a doctoral student in the Paul G. Allen School of Computer Science & Engineering, who collaborated with assistant professor Jacob Sunshine of the UW School of Medicine and associate professor Shyam Gollakota of the Allen School. 
The team sought to address a common problem with the infant vital sign monitors typically used in hospitals — the devices are connected to the infant through multiple sensors and wires — and wanted to develop an approach that is less invasive.
BreathJunior works by playing random white noise signals and detecting breathing motions in the baby's chest based on how it's reflected back. In order to maximize white noise signal changes, the algorithm identifies where the baby is and maintains the focus of the signal in that direction.
Parents will also be able to monitor the movements of their baby in their cribs as well as whether the baby is crying, which are additional security components offered by the system.
"Smart speakers are becoming more and more prevalent, and these devices already have the ability to play white noise," Gollakota said in a press release. "If we could use this white noise feature as a contactless way to monitor infants' hand and leg movements, breathing and crying, then the smart speaker becomes a device that can do it all, which is really exciting."
Wang said they knew they were going to incorporate white noise from the beginning of the project not only because smart speakers can already play it, but because it's commonly used to help babies fall asleep.
"Babies are very sensitive to noise, particularly sudden noises that come and go," Wang said. "White noise helps them by increasing the floor of the noise so that it can hide those interruptions and allow them to sleep more soundly."
BreathJunior was first tested using an infant simulator and again with five infants in the Neonatal Intensive Care Unit at the UW Medical Center.
The results showed that the device is able to detect abnormal breathing patterns and monitor breathing rates as accurately as standard vital sign monitors, making it useful for both home and medical use.
The team presented the results of their research at the MobiCom 2019 conference Oct. 22 in Los Cabos, Mexico and came back with new ideas about how to expand BreathJunior's capabilities.
"We were asked questions like whether BreathJunior could work with other signals like piano sounds to monitor respiration, and how environmental noise can impact its accuracy," Wang said. "I think those are all important questions and suggestions as to how we can continue to improve the technology."
Looking forward, Wang said he is hopeful about the future of smart speakers in healthcare.
"Smart speakers are everywhere nowadays and they help make the home more convenient," Wang said. "I think health monitoring apps will also continue to become more prevalent and the work we did with BreathJunior was just another step into that field."
BreathJunior will be commercialized through Gollakota and Sunshine's digital therapeutics startup, Sound Life Sciences, Inc. within the next few years. The research was funded by the National Science Foundation.
Reach contributing writer Shannon Hong at development@dailyuw.com. Twitter: @shannonjhhong
Like what you're reading? Support high-quality student journalism by donating here.