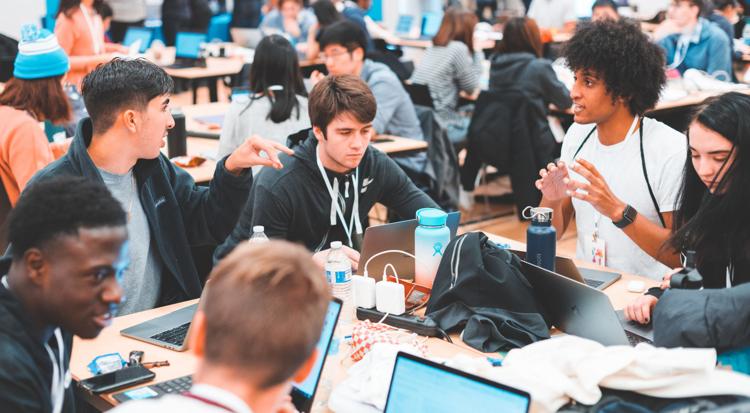 For 24 hours, The Daily followed the journey of two hack groups who built devices for social impact at this year's DubHacks.
The competition remains the largest collegiate hackathon in the Pacific Northwest since 2014, attracting thousands of hackers across the world and top tech sponsors including Microsoft, Google, and Facebook, to campus. 
This year's competition, Oct. 12 and 13, is also the world's first-ever hackathon to have the HoloLens 2, a mixed-reality headset, in the Hardware Lab for hackers to use.
"The mixed reality came as a surprise," DubHacks co-director Sharan Jhangiani said. "We were only notified two days before the competition by Microsoft." 
In addition to the ground-breaking technology, DubHacks also expanded its mission to welcome people of all backgrounds, not just those of computer science, to kickstart their tech journey at the HUB.
"A big focus of this year is diversity and inclusion," DubHacks co-director Libby Knell said. "We've reached out to people of all majors, socio-economic status, and level of experience." 
uFlourish is a mental health web application created by Adrian Ionescu, a senior studying informatics, Isabelle Andre, a junior studying electrical engineering at the University of British Columbia, and Alisha Husain, a junior studying geography. The web app helps people gain access to resources that are tailored to their mental well-being, implementing a chatbot and "tracker" intelligence.
"It was National Mental Health Awareness Day yesterday," Husain said. "And from my personal experience, I realized that the places that you think you can get help aren't best for you at that point in time." 
Across the hall is ReadMe3D, an "immersive multisensory" language learning experience created by Nour Ayad and Lucy Jiang, sophomores studying computer science, and Sophia Hwang and Alan Tao, sophomores studying electrical engineering. 
"ReadMe3D is an immersive environment for people with dyslexia," Jiang said, holding the brand new HoloLens 2. "We wanted to do this because dyslexia is an invisible disability and it's something that a lot of people often push away."
The four had never built mixed reality projects before entering DubHacks, but their lack of experience did not stop them from spending a sleepless night figuring out how to test the device for the first time. 
After 24 hours binging on caffeine, code, and boba, ReadMe3D was ready to demo their product among thousands of competitors. Their product gained the attention of two Microsoft judges who were curious about how teams were innovating the company's latest product. 
ReadMe3D is one of the first-in-the-world hack groups to develop with the HoloLens 2, making them the guinea pig to the 2019 MR headset retailed at $3,500. 
To add to the challenge, the team didn't receive any documentation to set up the device and relied completely on the Internet to figure out how it operates.
"We could've decided to play it safe and not use the HoloLens," Ayad said. "But we wanted to take the opportunity and make the most out of it." 
Knell explained that the event made a big point to reach out to community colleges, trade schools, post-secondary schools, rather than just the usual big universities.
Even in the opening ceremony at noon Oct. 12, Jeff Ramos, general manager of Microsoft Garage, said that "the most successful project comes from the most diverse teams."
The Redmond tech giant also awarded this year's "Azure Champ Prize," the winning team that used Microsoft Azure in their project, automatic entry to the prestigious Imagine Cup Semi-Finals and Surface Gos to each team member.
Regardless of whether students walked away with the prize or not, DubHacks is a place for everyone to challenge their creativity, and for some, a stepping stone into creating tech for social good. 
"There isn't any hackathon that really does social good that is rooted in the same values that we have," Knell said. "All of them are for entrepreneurship and innovative tech. What makes Dubhacks different is that we use tech as a platform for empowerment."
Reach contributing writer Anh Nguyen at development@dailyuw.com. Twitter: @thedailyanh 
Like what you're reading? Support high-quality student journalism by donating here.