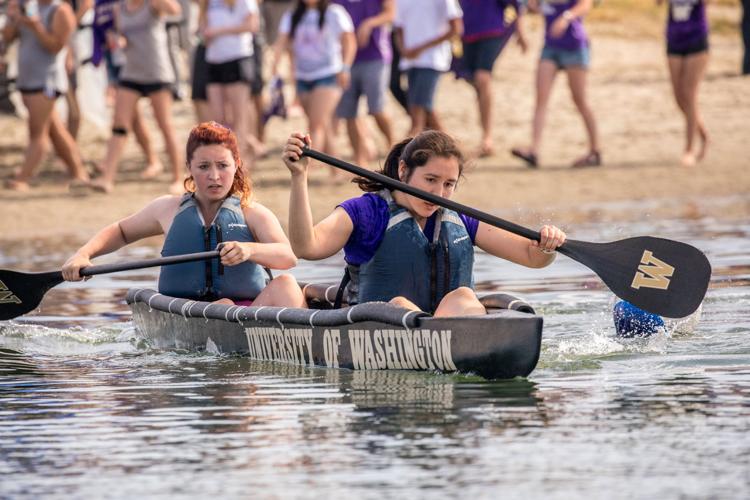 While concrete is not the most intuitive material to make a canoe out of, the UW's Concrete Canoe team makes it work. Every year, they take this incongruity to competitions, racing against other universities across the country.
First officially organized by the American Society of Civil Engineers (ASCE) in 1988, the concrete canoe competition has been challenging student engineers with a seemingly impossible task: Make a concrete canoe fit for racing.
"We're really trying to innovate and we're really trying out new ideas," Jason Wells, the current co-captain of the team, said. "There's a long list right now during the design phase. It should be really exciting."
Each year the canoe is different, but the underlying principle that determines whether an object will float or not remains the same: density. If an object's density is lower than water's, it will float. That's one reason why it's so challenging to build a canoe out of concrete.
Members do this by mixing in lightweight aggregates or fillers, such as expanding glass beads, to reduce the density of the otherwise dense material. Since air is a natural part of concrete, the team also designed a mix with a higher concentration of air to further reduce the density. Together, this makes concrete a viable material to make canoes out of for competition.
The competition is split up into four equally weighted sections: design paper, presentation, display, and races. Teams compete against each other in regional competitions and the qualifying teams move on to nationals.
The UW team will compete against other schools from Washington, Oregon, Montana, Idaho, and Alaska at this year's regional competition hosted by Saint Martin's University in Lacey, Wa. on April 11.
Building a canoe from scratch is a daunting task, especially one made of concrete. For the UW's Concrete Canoe team, this is not only a welcome challenge, but has a storied history.
The UW's first team built a canoe named Mortar-Mer in 1975, weighing 450 pounds. This year, the team plans to build a canoe under 200 pounds.
The team seeks to innovate, choosing very new and experimental processes to create its concrete canoe.
During the design review Nov. 27, club members presented on their plans for the canoe and received feedback from alumni and faculty on possible complications and improvements on their designs.
"I think they're a lot more experimental than we were last year," Andrew Nakahara, a former construction lead who attended the design review, said. "It's about being new and innovative."
Wells explained that innovation is a crucial element of the team's design, exemplified in this year's theme: Century 21 Exposition or the 1962 Seattle World's Fair. The team hopes to communicate through its canoe the innovation that engineers applied toward the construction of some of Seattle's iconic landmarks like the Space Needle, and the Seattle Center Monorail.
Among these new ideas is an emphasis on stability and maneuverability. The shift is a response to the newly reformed racing section of the competition. The endurance race has been replaced by a slalom race, an event that requires teams to paddle 100 meters forward and then 100 meters backward.
The team is also building a canoe based on a more comprehensive chemical analysis that will help members make a more optimal concrete mix that could efficiently improve the canoe's strength. In a type of curing process, concrete will get stronger in optimal conditions that the team takes careful steps to capture.
Watching over them all is faculty adviser Peter Mackenzie-Helnwein, research associate professor at the UW in the department of civil and environmental engineering. He spoke favorably of the competition as an experience to gain valuable skills one could not ordinarily get in the classroom.
"There are skills gained that go beyond what we can normally teach, time management, project management skills," Mackenzie-Helnwein explained. "Every year I get requests from some companies, 'Can you recommend somebody?' and I can always recommend somebody from the team because that's where I see the most engaged students. It's a lot of work. It's a lot [of] effort, but I think it pays off in the long run."
Mackenzie contributed many suggestions throughout the design review and closed off the event with some words of encouragement.
"Trust your skills and push it," Mackenzie-Helnwein said.
Reach contributing writer Oscar Rodriguez at development@dailyuw.com. Twitter: @Oscar_Rdrz
Like what you're reading? Support high-quality student journalism by donating here.