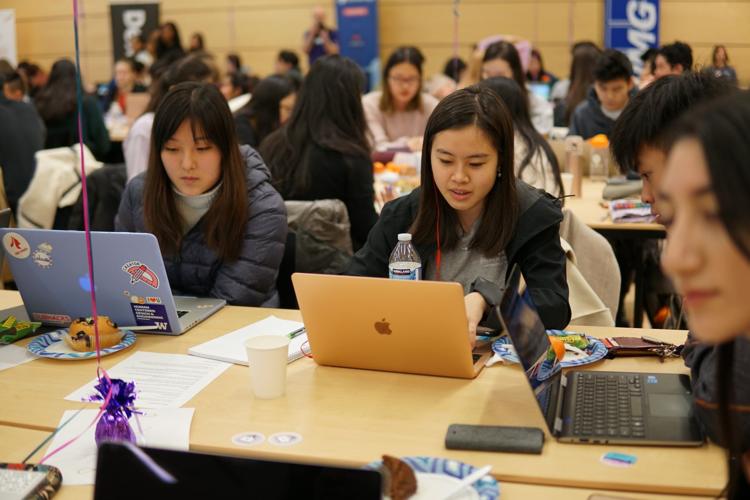 What actions can you actually take to combat climate change? How can the mental health of people of color be better supported?
Students gathered at the HUB ballroom Jan. 18 for Women in Informatics' (WINFO) eighth annual hackathon, themed "Driven by Difference," attempting to tackle these questions.
Open to all current UW students, the 12-hour hackathon spanned from 9 a.m. to 9 p.m., with students working on finding solutions to a wide array of problems.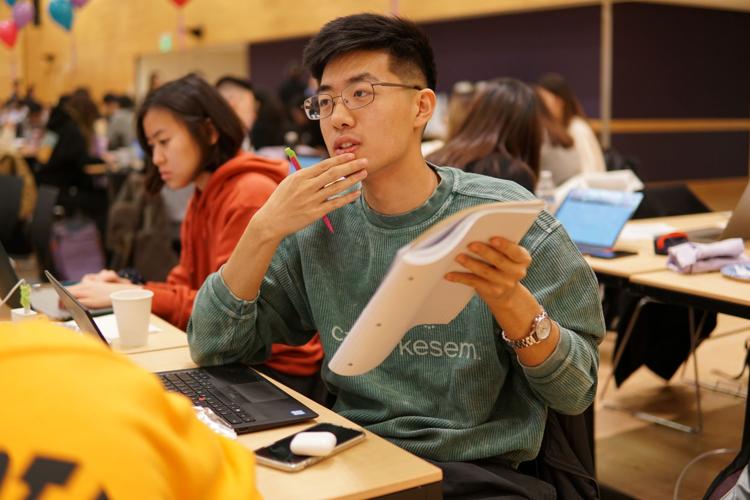 Experience in coding was not a requirement, rather, this event brought together students interested in technology and fostering change and equity, working in teams of four.
The hackathon was preceded by a "Hack the Hackathon" event explaining the gist of what to expect, according to WINFO co-president Autumn Derr.
"We want this hackathon to be very beginner-friendly so that people from all backgrounds can just come and experience technology and have this experience and see if they like it," Derr said.
WINFO director of outreach Jeongvin Yeom stated that for many of the students, this hackathon was their first step into the tech field, giving them an idea of the opportunities out there for them. 
"WINFO doesn't necessarily have a member base," Derr said. "It's basically open for anyone who's interested in technology, interested in informatics."
In regard to the theme of the hackathon, "Driven by Difference," Yeom explained that they left it broad so that students can tackle it from a variety of perspectives.
"[The theme] very much aligns with [WINFO's] purpose, which is to really celebrate equity and diversity, and just bring people of diverse perspectives [together] to create tech innovation," Derr said.
Though this hackathon is WINFO's biggest event every year, they host other events like panels, company tours, networking events, and more.
Yeom especially emphasizes the professional networking events because of how it can help many of the women and first-generation students in WINFO and in the broader UW informatics community.
Among the many hackathon participants was Maria Matlick, who worked with her team to create a website regarding climate change that aimed to spread awareness and promote opportunities related to the issue.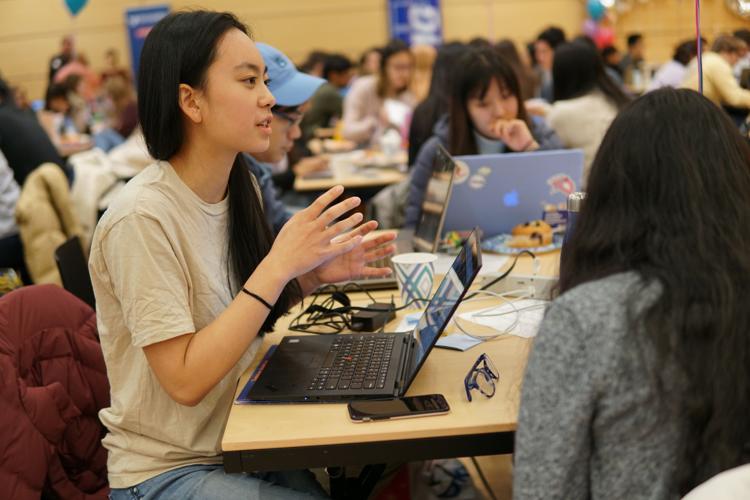 "The problem that we're identifying is that we always see people sharing issues related to climate change or other global issues, and it's all over social media, but you never really know how you can help," Antyush Bollini, a participant working on the same team as Matlick, said.
Bollini explained that they were trying to create a platform that would allow people to have access to the information on how to help the climate change issue, including information that would enable the user to be able to "effectively contribute to the situation, either by donating or by volunteering."
Ashlea Lau, another participant and WINFO first-year representative, worked with her team on an app that would help people who are trying to connect with therapists, specifically to assist people from marginalized communities. 
"The resources that [people of color] are paired up with to address mental health don't really understand their cultural background all the time, so we're thinking of making an app where we help marginalized groups … find therapists that have an understanding in their background," Lau said. "That would include cultural aspects or other specializations of types of trauma."
Expanding more on why she studies informatics and her involvement in the hackathon, Lau talked about how enacting change in the world requires being able to influence people's actions.
"Basically, the foundation of everyone's actions is their beliefs, and beliefs are based on information, so if you're able to inform people in a way that impacts what they believe in, you can essentially affect change in the world," Lau said.
Joining WINFO was a way that Lau got more involved with the iSchool community before entering the major.
Many people tend to not be aware of WINFO unless they have a vested interest in information and technology, Yeom says. But, any UW student can get involved, whether they're an informatics major or not.
Reach reporter Deborah Kwon at science@dailyuw.com. Twitter: @debskwo
Like what you're reading? Support high-quality student journalism by donating here.