Seattle's Bullitt Center: A building straight out of a sci-fi movie
The greenest commercial building in the world is just south of the UW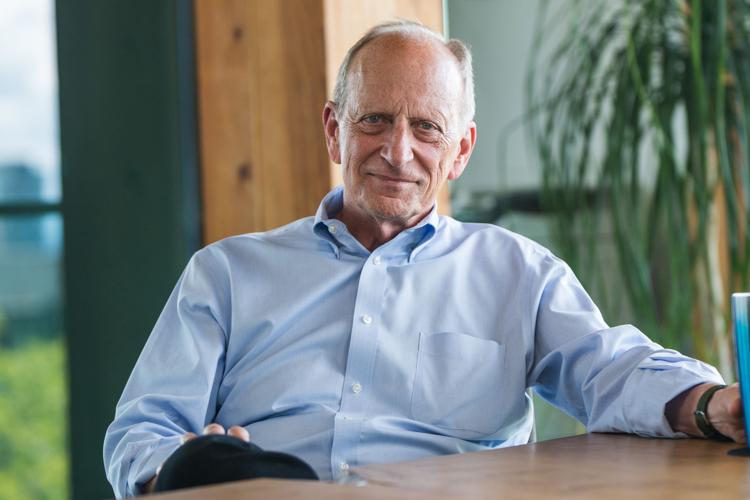 What if you could build a six-story, 50,000 square foot office building that produced as much solar energy as it used? What if you could build it in the cloudiest city in the country? That building already exists, and it's called the Bullitt Center. 
Constructed by the Bullitt Foundation along with a team that included the UW's Integrated Design Lab, the Bullitt Center features 575 rooftop solar panels, which produce more energy over a year than the building uses. With gargantuan geothermal wells beneath the floor and triple-paned, heat-mirroring windows that automatically pop open for cooling on summer nights, the Bullitt Center is an incredibly energy efficient and comfortable office space.
"We came up with a better way to design buildings with a different set of standards that lets us be far better than the code," Bullitt Foundation president Denis Hayes said. "We're literally using 20 percent as much energy as if we had built a building to their prescriptive standards."
The Bullitt Center was built to meet the International Living Future Institute's Living Building challenge (LBC). The challenge calls for net zero energy and water, locally sourced materials, and no toxic materials from the LBC red list, among other standards. While there are over 70 LBC certified buildings in the world, the Bullitt Center is currently the largest Living Building in existence. 
"This project was not just an attempt to change the way we design and build buildings," UW Center for Integrated Design coordinator Deborah Sigler said. "It was also to encourage industries to change. 
One industry directly impacted by the Bullitt Center is the local window manufacturing industry. The Bullitt Center architecture team originally wanted to use eco-friendly Schüco windows, but since these windows are manufactured thousands of miles away, they didn't meet Living Building standards. Instead, the team had to find a local solution.
The team reached out to Everett-based window and glass company Goldfinch Brothers to see if it could find a way to meet their needs. As a direct result of the Bullitt Center, Goldfinch Brothers developed a licensing partnership with Schüco and has now built many similar windows in the greater Seattle area.
One of the Bullitt Foundation's main goals was to pave the way for future green buildings. During the design process, building team members spent two years vetting hundreds of materials. The Bullitt Foundation maintains an open-source database of Red List Ready materials for other project teams to use. 
Of course, none of this is feasible for future commercial buildings if it's too expensive. Therefore, one of the most important construction goals was to keep costs down. Lead design architect and UW alumnus Brian Court said this was the most difficult part of the project.
"Getting a six-story, solar-powered building to work in Seattle, which is the cloudiest city in the country, that's a huge challenge," Court said. "And then getting a six-story office building to work with composting toilets, that's a big challenge. A building that can treat all of its own graywater is a big challenge. But to do all of that and then stay in budget, that was probably the overwhelming challenge." 
Overall, the Bullitt Center cost $18.5 million to construct, or about $370 per square foot. According to Sigler, the next similar building will likely cost less, and over time the price will continue going down. 
"For the first of its kind, I would argue it's probably not that much," Sigler said. "It's not prohibitive, especially if you consider the kinds of hurdles that the Bullitt Foundation had to get over in order to make this happen in the first place."
Five years after construction, no one has built a second Bullitt Center-sized "super green" office building in Seattle. However, other parts of the country and the world are taking notice. 
One notable construction project that has taken inspiration from the Bullitt Center is the Living Building at Georgia Tech. This edifice, which approaches the size of the Bullitt Center, is expected to become the most environmentally advanced education and research facility in the Southeast. According to Court, the Georgia Tech team closely watched the Bullitt Center during the design and construction phases.
"Where this building with its super greenness has had its impact is, interestingly, not in the city where it's located, but in places like Melbourne, Atlanta, and Boston," Hayes said. "We've seen people come here with their design teams half a dozen times in the process of putting things together, inspiring their contractors."
While the UW was involved in the Bullitt Center project, newer buildings on the Seattle campus do not have nearly as low of an environmental footprint as the five-year-old Capitol Hill building. Hayes believes the UW should do more to protect the environment as it builds.
"I'm sort of disappointed with the way the University of Washington has approached its buildings," Hayes, who is known for organizing the first Earth Day, said. "It certainly isn't the level of cutting edge architecture that we'd like to see at a school with a decent college of the built environment ... You're building some new buildings now and some of them are a little greenish, but none of them are out there anywhere near as far as they should be. 
"My word from all of this to the students is, start demanding things that are better," Hayes said. "Change happens in universities when students are pushing on their faculty and pushing on their administration."
Reach General Section Editor Leslie Fisher at science@dailyuw.com. Twitter: @lesliefish3r