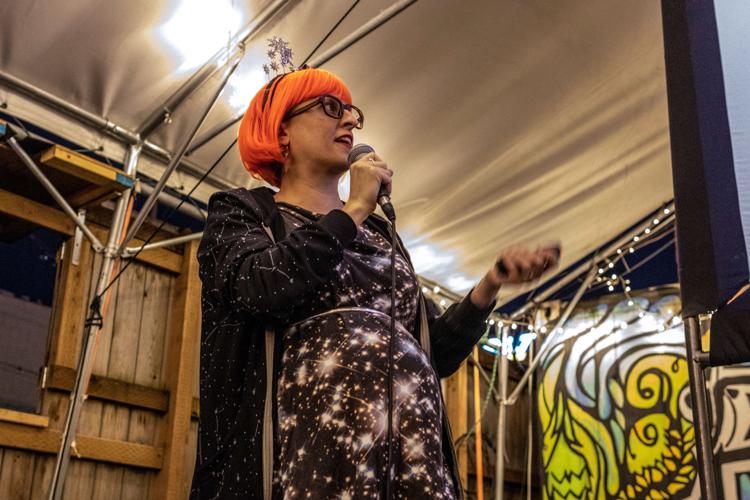 Breaking news: Space Spliffs are in. It's not actually your favorite nicotine and THC combo, though. It's a mile-long asteroid that came hurtling past Earth and almost killed us a few years ago according to a meme presented by scientist Tabetha Boyajian at Astronomy on Tap.
Hosted monthly at Ballard-based Peddler Brewing Company, Astronomy on Tap is a science communication event for all ages. Spearheaded by a group of budding astrophysicists from the UW, the Seattle chapter has hosted the likes of TED Talk givers, prize winners, and even an astronaut.
Organizers Kristen Garofali and Brett Morris were on hand Thursday night to explain that the event has almost reached its capacity. What started as a wine night in New York City has now become an international organization with events in multiple countries including a forthcoming tap in Budapest.
"A scientist at the f---ing South Pole Skyped in," Astronomy on Tap emcee DJ Carly Sagan, otherwise known as Emily Rice, said in reference to the event's growing popularity.
Upon discovery that the local chapter was started by a cohort of UW physics and astronomy students, the audience cheered. United by beer, they assembled.
Seamlessly transitioning between the complex processes of discovering planets outside our solar system and sassy remarks, presenters affirmed their research with real world connections and real-time reactions.
January's speakers included Drs. Boyajian, Rice, Richard Galvez, Meredith Rawls, and Michael Tremmel. Topics ranged from black holes to neutrinos to spliff-shaped asteroids from hell.
A cohort of drunk humans was often heard chortling in the back of the audience.
Complete with planetary trivia, corn hole, and vegan food truck hotdogs, the heat-warmed space of Peddler Brewing drew experienced scientists and amateurs alike. Morris estimated almost one-third of attendees were new each time. Speakers often referenced 200 to 300 people as capacity, with Rice hinting there was once more than 500.
"A great mixture of science, the universe, good friends, and beer!" Facebook user Cathie Westcot said on Astro on Tap's widely utilized Facebook page.
Swear words abounded as the tone strayed far from an academic paper.
That... pretty much sums up the vibe of #AstroOnTap! #ScientistsLetLoose https://t.co/VcsHWxUcvH

— Astronomy On Tap HQ (@astronomyontap) January 11, 2019
"I'm a damn astrophysicist," Galvez said during a presentation about neutrinos. "I'm going to figure this s--- out."
Garofali, who also ran science outreach through the UW's planetarium, applauded the consistent popularity of the event, citing its small beginnings as a stark comparison to the now giant event.
"It makes me feel good to know that the things we're doing are compelling and interesting enough that people are coming out," Garofali said. "Even on the coldest, rainiest nights when we're in our outdoor venue."
Morris emphasized that despite the two tap stations and chorus of drunk audience members, Astro on Tap is open to people of all shapes and sizes.
"When a kid comes and listens to a talk and everyone around the kid is drunk but the kid is stone sober and has an insightful question, that for me is the best part of it," Morris said.
Astro on Tap nationally maintains a sassy attitude. According to Astronomy on Tap's website, "Even $5 will help us buy glow sticks and rubber gloves to use for digging through Neil Tyson's trash."
Reach reporter Samantha Bushman at science@dailyuw.com Twitter: @sammi_bushman
Like what you're reading? Support high-quality student journalism by donating here.