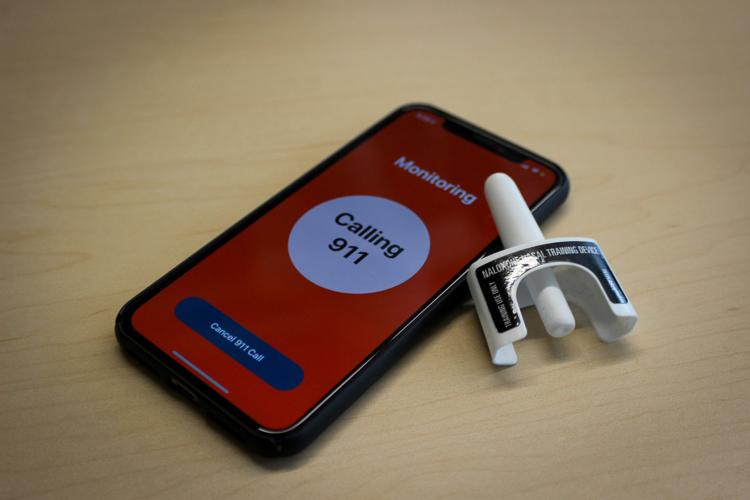 Those addicted to opioids deserve a second chance.
That is what the founders of the tech company Sound Life Sciences believed when they set out to save lives through the use of a smartphone application called "Second Chance" that can detect overdose of opioids.
More than 130 people die per day in the United States from opioid overdose, according to the Centers for Disease Control and Prevention (CDC). In 2017, 68% of 70,200 overdose deaths were associated with opioids. Additionally, over 700,000 people have died from opioid overdose between 1999-2017. These numbers are at epidemic levels.
The technology for the app was first developed on the UW campus by associate professor Shyam Gollakota at the Paul G. Allen School of Computer Science and Engineering in 2015. The app uses sonar technology to detect a person's breathing to determine if they are going into respiratory distress, one of the first signs of overdose.
Sound Life Sciences Inc. was created by Gollakota, along with Dr. Nick Mark and Dr. Jake Sunshine, to commercialize the application.
"[The technology is] a kind of sonar called frequency-modulation continuous wave sonar," Mark, CEO of Sound Life Sciences, said. "That's something that's been around for a while, but what was really innovative here was the idea of putting that onto a smartphone or smart speaker."
Sound Navigation and Ranging (Sonar) technology has primarily been used to sense movement and distance under water.
While many people think of sonar as a technology that helps submarines navigate through the depths of the ocean, Sound Life Science has brought the technology to dry land. The Second Chance app works in much the same way the sonar system in a submarine works.
"Over the last decade or so, smartphones have gotten so smart, they have a really powerful speaker, microphone, and processor, and you can use them to do things that they weren't designed for," Mark said. "We can have the phone emit this high-frequency sound above the range of human hearing. It goes out of the phone in all directions, bounces off stuff, [and] comes back to the phone, where it's picked up by the microphone."
Once the microphone has picked up the sound, it can determine movement by millimeters, Mark said. This enables the app to detect the movement of the chest as someone breathes and call for help if the app senses overdose.
"There is an [opioid] antidote, a drug called naloxone, which you can go to any pharmacy and get it over the counter," Mark said. "It comes in different forms, but the most common one you just squirt it in the person's nose, and you save their life. And yet 50,000 people a year are still dying from [opioid overdose], and the reason is that a majority of those people are alone when they overdose."
The founders of Sound Life Sciences plan to provide the app free of charge to those addicted to opioids, in partnership with state and local governments, Mark said. They are in talks with local governments such as the City of Seattle to get the app out to the public.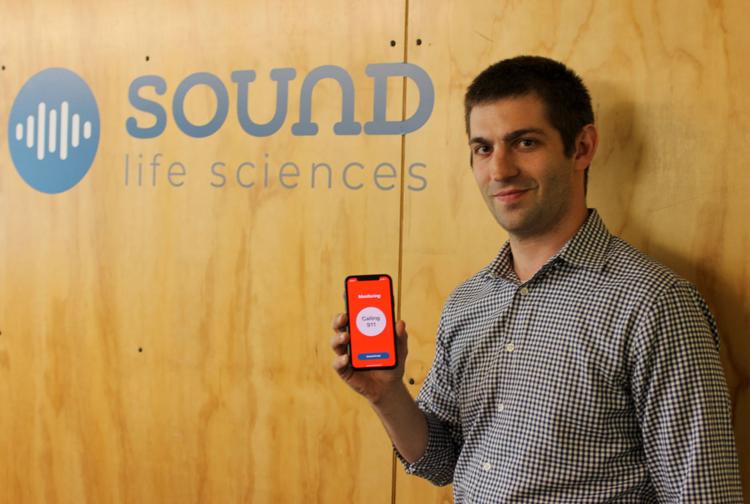 "If you are the City of Seattle, let's say, and you want to distribute this, we would customize the app for you," Mark said. "Instead of it just being a generic app, it would be an app that would be tailored to Seattle. So that would be things like, 'Here's a link to a treatment center,' 'Here's a link to a clinic,' 'Here's a link to a homeless shelter,' so that all of the services that Seattle is providing can get all wrapped up in one package."
Other devices could potentially be used as monitoring devices to detect overdose, such as wearables with heart rate monitors, but the app has several advantages, Mark said. One advantage is that not everyone has the ability to purchase such a device, especially in areas more susceptible to overdose, and generally, wearables end up getting abandoned over time.
Another disadvantage to heart rate monitoring is that by the time a person shows signs of cardiac distress, valuable time has been lost.
"The odds of them benefitting are lower because that might happen two or three or four or five minutes later," Mark said. "There are really two things that happen in overdose: you become unconscious and you stop breathing. And then there's a bunch of things that happen later: your oxygen levels drop, your CO2 levels rise, your heart rate starts to drop. All of these other things happen, but if you wait for those other things to happen, you've lost valuable time."
This app is coming out at the same time as more and more focus is being put on the opioid epidemic. Washington State has recently passed legislation to combat the epidemic.
"[The bill] is comprehensive in the fact that it does a whole host of things," Samir Junejo, policy counsel for the Washington State Senate Democratic Caucus, said. "One of the things it does is it changes the focus on the state level."
This new focus moves from abstinence to "medication-assisted treatment," such as suboxone or methadone, to curb continued use, Junejo said. And the bill would require Medicaid and Medicare to cover the medication-assisted treatment.
The bill will also help make it easier for those entering jail with opioid addictions to receive treatment while in jail.
Those who enter the jail system in King County with a prescription to medication-assisted treatment currently can continue their treatment in jail, according to Sharon Bogan, program manager of communications for King County and Public Health — Seattle.
"Over time [the bill will be] implementing a new program where [incarcerated] folks can initiatebuprenorphine treatment if they have opiate abuse disorder and they're interested and want to start that treatment," Bogan said.
One thing the bill doesn't deal with is overprescription since this was already addressed in a 2017 bill to help curb addiction.
Reach contributing writer Jessica Strand at development@dailyuw.comTwitter: @JessicaStrand
Like what you're reading? Support high-quality student journalism by donating here.