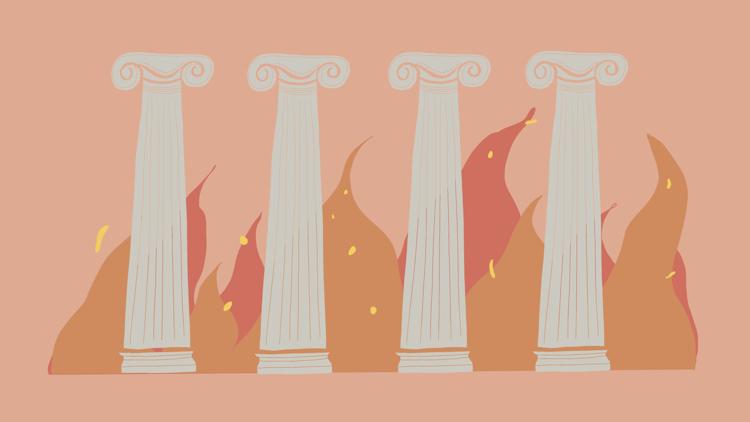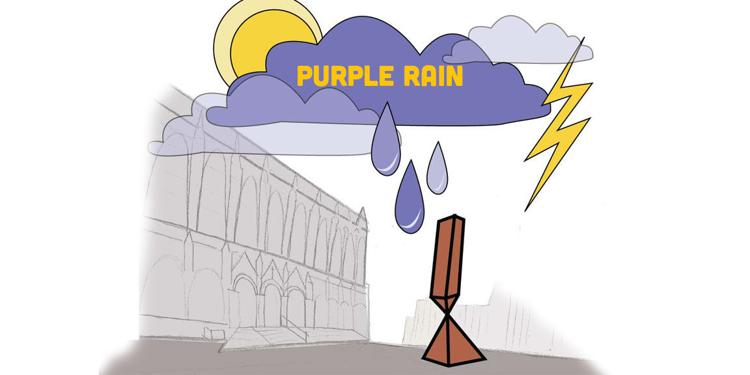 Editor's note: Purple Rain is a column that explores relevant weather topics in the Seattle region, highlighting research conducted by UW faculty.
Melting ice sheets, strengthening hurricanes, sinking islands, and deadly heat waves.
These are just a few of the effects that are at the forefront of climate-related issues.
While all are dangerous byproducts of anthropogenic — human-caused — global warming, immediate threats to Washington are of a different variety, headlined by one impact in particular: wildfires.
In the Pacific Northwest, the winter months bring the stormiest weather, and with it comes mountain snow. The amount of winter snowfall, or snowpack, is a key factor in determining summer water availability and wildfire risk.
Due to its year-to-year variability, climatologists such as Harriet Morgan keep a close eye on the snowpack throughout the year.
"Basically, the snowpack is nature's water bottle," Morgan said. "It's storing our water so that we have some of it in the summer when we're not getting that rain. What's happening as temperatures warm? Our snowpack is declining."
Morgan, a researcher for the Climate Impacts Group (CIG) at the UW, notes that Washington's snowpack is quite volatile. Even with the slightest warming, elevations such as Snoqualmie Pass that receive snowfall at marginal temperatures would experience more liquid precipitation in the place of snow.
As anthropogenic warming continues, there are implications for these regions. In fact, by the end of the 21st century, storms known as atmospheric rivers, which provide nearly half of West Coast precipitation, are expected to warm 1.8ºC, raising freezing levels by 330 meters.
"We're seeing a higher percentage of rain versus snow than we did in past decades," Nick Bond, Washington's state climatologist, said. "That rain, when it occurs in winter, goes right into the streams and washes out to the ocean. It's not the same as the snow that sits there and we can use during the dry summer months."
While flooding and water resources are direct impacts of increased rainfall, more indirect impacts exist in the summer, such as wildfires, and no year serves as a better preview of the future than 2015.
Following an exceptionally warm winter, spring snowpack in Washington state was practically non-existent. On April 1, 2015, snowpack levels were as low as 3% of average, prompting Gov. Jay Inslee to declare a drought in many regions across the state.
Low snowpack, vegetation, and soil moistures below normal set up for a dangerous wildfire season. Unsurprisingly, the ensuing summer was unprecedented as 1,823,473 acres burned, three times as much as the preceding 10-year average. In response, President Barack Obama signed an emergency declaration for Federal Emergency Management Agency funds to help fight the fires.
As Bond points out, wildfires are not the only impact, and 2015 serves as a preview to what is in store for the future.
"With a particularly bad winter such as 2014-2015, we've already seen how the lack of snowpack can have problems," Bond said. "It had major impacts on agriculture, a lot of forest fires, hydropower was down, the fish had a hard time. As things are changing, the chances for those kinds of extreme years go up."
With more extreme years predicted in the future, the need to combat climate change goes up. In Washington, many actions have already taken place, including Inslee's plan for carbon-neutral electricity by 2030, but reducing emissions isn't going to solve the issues immediately.
"If we really want to avoid the most catastrophic impacts of climate change, in addition to reducing our reliance on fossil fuels, we need to rapidly scale up our adaptation efforts," Morgan said. "Even if we stopped emitting greenhouse gasses tomorrow, because of warming we have in the pipeline based on emissions in the past, we would still need to adapt."
As Morgan points out, the impacts of anthropogenic warming are coming, and the effects have already been seen in years such as 2015. In order to avoid suffering from the most disastrous of consequences, mitigation and adaptation need to continue.
Some of those adaptation efforts stem from Morgan's team at the Climate Impacts Group, who work with many public services such as Washington State Parks to prepare adaptation efforts. In a recently published climate change vulnerability assessment, CIG provides plans for infrastructure and operation changes in anticipation of sea-level rise and increasing forest fires.
While entire ice sheets may not be falling into the ocean, the repercussions due to climate change are already beginning to set Washington ablaze.
Reach reporter Anthony Edwards at science@dailyuw.com. Twitter: @edwardsanthonyb
Like what you're reading? Support high-quality student journalism by donating here.