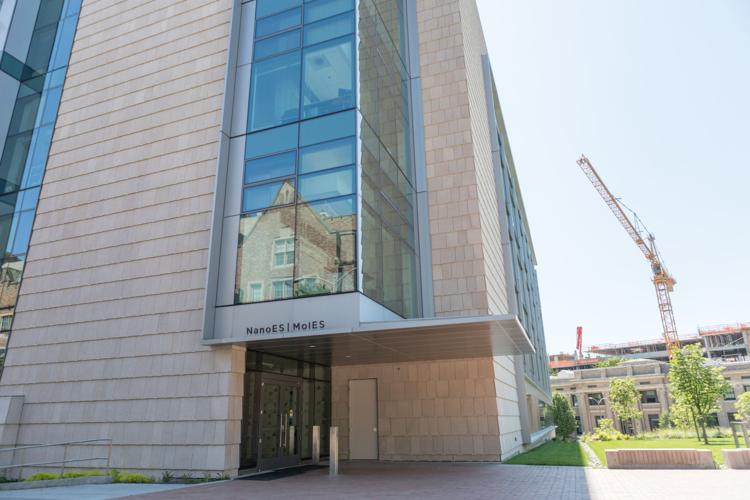 Last Thursday, Pennsylvania State University professor emeritus Tom Mallouk visited the UW to discuss a technical niche in the larger body of solar energy research: attempting to mimic biological processes in order to optimize the efficiency of solar energy conversion systems.  
Speaking on a paper, "Managing Electrons and Protons in the Bio-Inspired Production of Fuel from Sunlight," Mallouk began his talk by providing some historical background on the specific method of solar energy conversion he researches and grounding his research in the broader context of solar energy.
Mallouk first introduced a pivotal 1972 paper published by Akira Fujishima and Kenichi Honda, which detailed their discovery of water photolysis, the decomposition of a water compound by light irradiation. 
This research provided the baseline photolysis process that has allowed subsequent solar technologies to exist, like the Artificial Leaf, which Mallouk started 10 years ago. 
The technology struggles with efficiency in the solar conversion process. At its best, the cell hovers around 4% power conversion efficiency.  
According to Mallouk, optimizing efficiency matters so much in clean energy research as our ability to slow the effects of climate change depends on our ability to scale our solar energy technologies, which can provide further evidence for profitable clean energy. 
As it stands, we rely on fossil fuels for 63% of our national electricity generation, nuclear for 20% of our electricity, and renewables for 17% of our electricity according to the EIA based on 2018 statistics. 
While it is now cheaper to generate electricity from solar energy, there are still several barriers to scaling the technology to the point where it could power cities, let alone our country. 
Mallouk documented the stability of the cell, referring to the fact that in high-energy extremes, the materials in a solar cell have the potential to break down and decompose, and scientists have to track and prevent this process. 
According to Wylie Kau, a research assistant at the Washington Clean Energy Testbeds, for any technology that relies on photons or particles that carry light energy, scientists want them to be stable: in heat, light, and in the Earth's atmosphere.
Mallouk focused on the broader process of producing hydrogen in order to store energy in the form of fuel cells, which could reduce the need for batteries. 
Converting hydrogen to liquid fuel is still an unsolved process, and represents a frontier in non-carbon energy solutions.
Part of a series of talks, Thursday's event drew an audience including both active researchers in the Clean Energy Institute (CEI) as well as community members.
The institute also conducts research on other important issues in energy efficiency in addition to solar research, including grid integration and battery storage. The CEI's electrical engineers are working to optimize the addition of renewables to the grid using smart grid technology. 
The CEI will host similar events Oct. 31 and Nov. 7; researchers will be addressing virtual energy storage and other topics in clean energy research.  
Reach reporter Serena Baserman at science@dailyuw.com. Twitter: @serenabaserman
Like what you're reading? Support high-quality student journalism by donating here.
Editor's note: This article incorrectly stated that Tom Mallouk was affiliated with Penn State, this has been updated to reflect that he is a professor emeritus there.