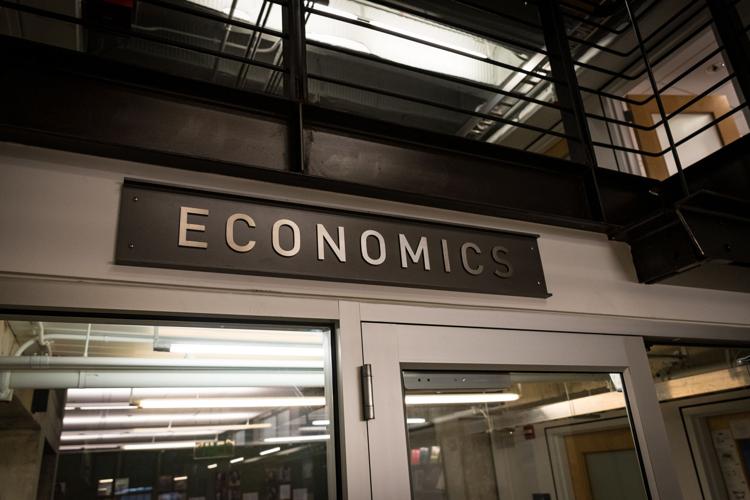 "If you don't think economics affects your life, then you just don't know," senior lecturer Melissa Knox said. 
The economics department, established in 1917, is one of the oldest and largest departments in the College of Arts & Sciences and filters hundreds of students through their classes, whether economics majors or not. In autumn 2018, 620 undergraduates were enrolled as economics majors
"Almost everything we do has an economic component to it," Stephen Turnovsky, the Ford and Louisa Van Voorhis professor of economics, said. 
Laid out on his desk are stacks of paper with formulas. For Turnovsky, who began teaching at the UW about 30 years ago, the field of economics is all about elegance. It grows and builds on itself as it goes, creating models to understand how the world should work in theory.
Since Turnovsky began his work in economic growth in 1968, the academic study of economics has changed measurably. 
Capital growth used to mean just the addition of more machines to a workforce, but it now includes other factors like education, health, and globalization. When thinking about how he could show this to someone who has only a basic knowledge of economics, Turnovsky referenced two books on his shelf with excitement.
"Here's one that was published in 1970, and so it was up to that point, mainly in the '60s, and here's the more contemporary one," he said. "And the overlap between the two is zero. There's a common starting point, and then they go in different directions." 
Over the past 30 years, economics has become more empirically based and data-driven rather than being focused solely on theory and is considered by many to be the most "scientific" of the social sciences, Turnovsky explained.
Though her road to studying economics was long, Knox started first with an engineering and physics degree before finally settling on economics; she feels like she made the right choice. 
"I wanted to understand how the world works, and then wanting to do it in a way that felt sort of scientific and economics feels … I mean it's a social science so it's not perfect, but it feels more scientific to me," Knox said.
Economics is a requirement for majors outside of the department as well. 
ECON 200, Introduction to Microeconomics, is a 500-person lecture with at least one section offered per quarter. Due to its popularity among undergraduate students, the economics department degree became a competitive major in 2009. 
Political economy majors, international studies majors, environmental studies majors, and business majors all need to take ECON 200 or 201, Introduction to Macroeconomics.
"If you take an economics class, you learn specific things like taxes and tariffs but you also learn a way of thinking and a way of analyzing how people make decisions," Knox said.
On a broader political and social perspective, economics is especially important now with elections coming up and people beginning to talk more about candidates. Knox recommends taking economics classes just to stay informed. 
Economics isn't just about money. It's about understanding human behavior and figuring out ways the world works. 
"If you are responding to incentives and if you are making trade-offs, then you're basically doing economics," Knox said. "So why not actually study what we know about how people make decisions, and then maybe have a better understanding of your own behavior or a better understanding of the people around you?" 
Reach contributing writer Zoe Schenk at development@dailyuw.com. Twitter @schenk_zoe
Like what you're reading? Support high-quality student journalism by donating here.