Finding 3,500 year old answers to island life in Southeast Asia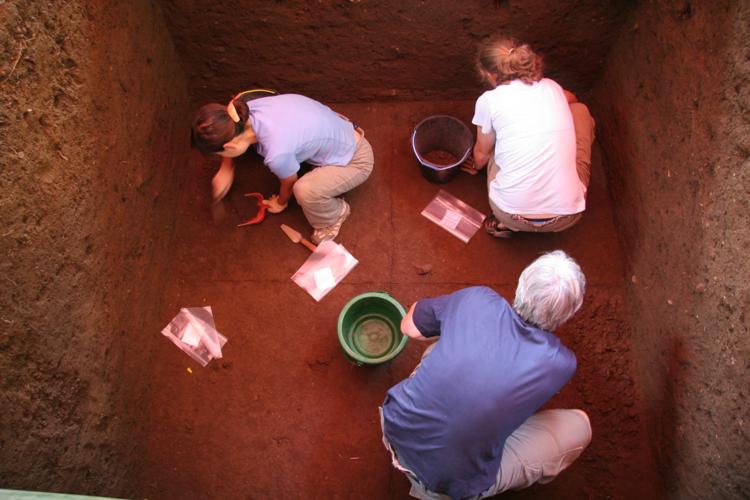 It's not every day that someone trips over the very thing they're looking for, but for Peter Lape, now a professor of anthropology at the UW and curator of archaeology at the Burke Museum, that was exactly the case. As a graduate student in 1997, Lape was walking across islands in Indonesia searching for clues dating back to the 13-15th century about the global spice trade that originated in Southeast Asia.
"That day I was really depressed because we weren't finding anything," Lape said. "Then there's a piece of pottery! There's another one! Oh my god there's pottery everywhere!"
On the small island of Pulau Ay, Lape had finally found a site worth excavating. But radiocarbon dating eventually told him the site contained pottery that was far older, 3,000 years old to be exact, than what his project needed at the time. However, that put the site in a special time period "when everything changed" for islands in Southeast Asia, about 3,500 to 2,000 years ago in what is called the Neolithic era for that region.
"You get pottery for the first time, domestic animals like pigs, dogs, and chickens," Lape said about the Neolithic era. "Lots of other things are going on. It's a really critical time we're trying to understand."
Last month, with collaborators around the globe, Lape published the group's findings from additional excavations at the site on Pulau Ay he had stumbled upon but was only able to return to in 2007 and 2009.
The project used the site to explore the fine details of what was happening at one place in early Neolithic time in Island Southeast Asia (ISEA). Pulau Ay is one of only five known locations in all of ISEA that is not in a cave and dates back to that time.
The co-authors of the study, including Lape, analyzed thousands of bone fragments, pottery shards, microscopic plant residues on pottery, and obsidian shards in order to see what appeared on Pulau Ay in different eras.
Along every step of the way there were challenges. At the time Gyoung-Ah Lee, now an associate professor of Anthropology at the University of Oregon had sifted through all the excavated soil looking for larger plant remains such as seeds, but was unable to find any preserved. In an attempt to find any plant remains, Lee even looked at termite fecal pellets to find microscopic remnants of the plants termites would have eaten, but nothing could be identified.
At the same time, another graduate student,  Chung-Ching Shiung, now an assistant professor of archaeology at the National Cheng Kung University, analyzed the pottery shards, called "sherds." He looked at the interior makeup of each pottery sample as well as how the style had changed over the years.
There was also a chance that some starch grains might remain in the pottery from plants that had been stored inside by people thousands of years earlier. The sherds were sent immediately to Judith Field, a specialist in starch who now teaches at the University of New South Wales. Field gave some hope to the work because "there was lots" of starch grain.
"But starch is really hard to identify because they're these little grains," Lape said. "Starchy plants produce a wide range of shapes ... and it's hard to distinguish one species of starch plant from another."
It wasn't until a year ago that technology had advanced enough so that Field and another mathematician from the University of New South Wales, Adelle Coster, were able to use a statistical shape matching program to identify the grains. What they found brought Lape back to the initial reason he had been on Pulau Ay in 1997 researching the spice trade: the starch grains came from yams, sago, and nutmeg.
Originating only in the Banda islands, nutmeg was one of the spices that drove global trade centuries ago. Finding it on the inside of the pottery made it the earliest known human use of the spice at 3,500 years ago and raised even more questions about how local people were using it before foreigners arrived to the region.
Lape's research casts significant doubt on the dominant theory of how the Neolithic era began in ISEA. The main theory has been that since the Chinese experienced the Neolithic era changes much earlier than indigenous people in ISEA, they left the mainland and brought new advances in food and pottery to ISEA 3,000 years ago.
The identification of yams, sago, and nutmeg did not fit with the sweeping Chinese migration theory, as these foods would have been grown on nearby islands at the time, not brought from afar like rice. Additional work by Emily Peterson, a research associate at the Burke Museum, also showed that the bone fragments found at the site were mostly fish bones with a few pig bones that appeared increasingly over time. This suggested that people were using the island to fish and kept pigs as additional food sources, which clashed with the theory that mainland Chinese brought chicken, pigs, and dogs with them all at once.
"I want to see if that's really true," Lape said. "And what we saw at this site is it's not. It's more a process of change than a package of change."
Reach writer Elizabeth Swanberg at science@dailyuw.com. Twitter: @EWSwanberg