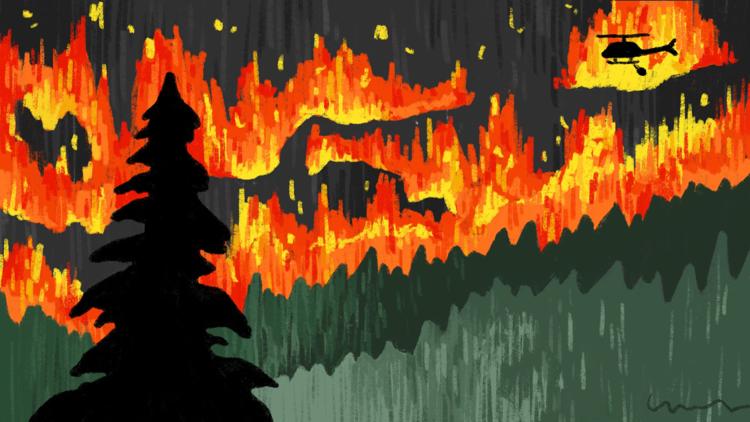 It's easy to feel safe in Seattle and to see wildfires as a problem in drier states, especially with our sprawling waterfront and views of green trees in any direction. However, as signs of climate change have become increasingly visible, wildfires become more common and more serious in the Pacific Northwest.
By the time that students had been let out for summer break, a wildfire in Grant County had already burned 20,000 acres over a mere four days — for Washingtonians, this could set a new standard. 
"There are a few ways that climate change can have a very direct effect on wildfires," Dargan Frierson, associate professor in the department of atmospheric science, said. "The main one is just that simple thing of more heat, so more heat leaves everything being dried out really quickly, fire can spread much faster 
One of the general principles of climate change is that the "extremes" will get more extreme. This means that areas that are often hit by storms will be hit harder and those that suffer from extreme temperatures will see exponential changes. Many areas across the United States are seeing new problems, including all-time record high July temperatures in Alaska this year.
The idea of extreme weather situations worsening is not unreasonable, but the fact is that our reputation for rain doesn't protect the Pacific Northwest region even though the Olympic Peninsula is one of the wettest places in the country.
From May of last year to this year, Washington saw the most rainfall in a 365 day period since recording began in 1871. However, the Washington state Department of Ecology estimates that 2019 will be the third-driest year on record. As of June 13, the U.S. Drought Monitor classified 27% of the state as being abnormally dry, 33% of the state as being in a moderate drought, and 11% as being in a severe drought.
This cycle of heavy rain and sun was part of what set the stage for California's vicious fires last summer. According to Frierson, the state's drought ended and they received a decent amount of rain, letting plants grow and spread. Shortly after, though, the drought returned and with the help of some very hot days, all the shrubs dried out, creating tinder which accelerates and spreads wildfires once they start.
After large wildfires in British Columbia last summer hit Seattle with heavy smoke and high temperatures continued, red flags went up for many which led the state to further prepare for wildfires. 
Hilary Franz, Washington state public lands commissioner, is pushing for a $55 million budget request for wildfire response and protection by adding more full-time and seasonal firefighters, helicopters, and a wildland fire training academy. Franz cited climate change and new residential and commercial development around forested areas as drivers to increase state fire fighting capacity.
While Seattle has funded and well organized emergency services, many cities and communities around Seattle don't have such resources.
Part of what made June's so-called 243 Fire in Grant County so hard to control was its remote location (making access hard), high winds, and low humidity levels.
It's much less likely to have a major city burn than a forested area with more rural communities such as Grant County. However, this means that a fire has more area to burn with less emergency services prepared to combat the blaze, leaving communities vulnerable.
On top of this, a 2018 University of Washington study showed that communities with racial or ethnic minorities are hit the hardest by environmental disasters, including wildfires. Paradise, California, was hit last year in the late summer wildfires, reducing almost all homes to rubble. The city wasn't prepared to fight the fires and hasn't been able to bounce back: Only a little more than 10% of residents have returned.
It's important to remember that wildfires aren't just about human error, such as an unextinguished campfire or cigarette butt, wildfires are the result of complex effects of climate change, including the fact that Washington's snowpack levels since April have gone from 80% of normal levels to 50%.
The biggest thing citizens in Seattle can do now is make sure they are prepared for future fires. Climate change's effects aren't slowing down and if last year's fires are anything to guess from, this summer hasn't seen its last blaze.
Reach reporter Grace Harmon at science@dailyuw.com. Twitter: @grace_viv
Like what you're reading? Support high-quality student journalism by donating here.