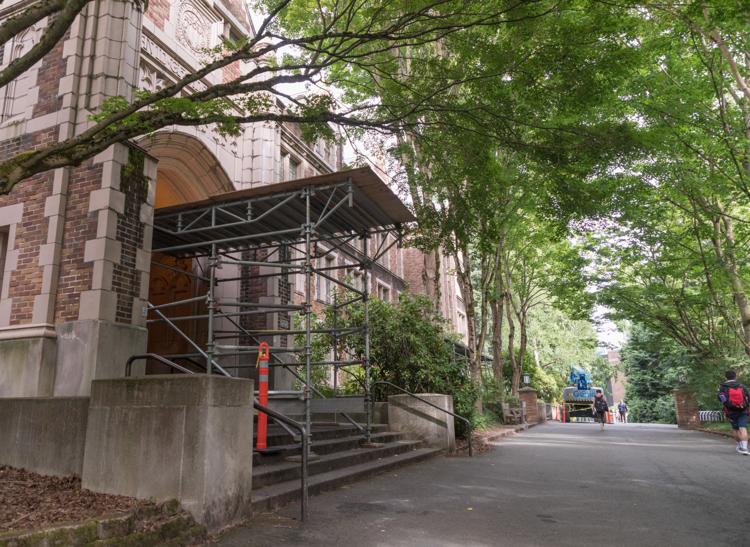 At 2:51 a.m. Friday morning, a 4.6 earthquake struck just north of Monroe in the Three Lakes area and a series of smaller aftershocks were felt in the three hours following the initial earthquake, including a 3.5 magnitude aftershock at 2:53 a.m.
According to the United States Geographical Survey, the initial earthquake, which was about 13.5 miles deep, and the aftershocks, which were about 19 miles deep, were felt as far north as Vancouver and as far south as Olympia. 
There is no immediate damage to any university buildings and no UW Alert was sent out to students, according to emergency management director Steven Charvat. The Bothell campus did initiate a call within their crisis team Friday morning as their campus experienced more severe shaking.
These earthquakes were relatively shallow compared to the 6.8 Nisqually earthquake in 2001, which was about 37 miles underground. The Nisqually quake reached the Benioff Zone, which means that the oceanic plate started to bend against the continental plate. 
Unlike Nisqually, Friday's earthquakes occurred in the North American crust. According to Bill Steele, Pacific Northwest Seismic Network (PNSN) director of outreach and information services, rocks at that depth allow energy from an earthquake to travel farther, which is why it was felt so far north and south. Despite how many people felt Friday's earthquake, the minimal damage means the shock will wear off quickly.
"This will be on the front page of the news for a day or two, and then taxes or crime generally pushes us off the front page because it was considered a minor earthquake," Charvat said. 
While this is the biggest earthquake that the PNW has seen in the past few years, there are larger threats on the horizon. It has been theorized that the Pacific Northwest is due for a large and destructive earthquake, called "The Really Big One" in a 2015 article written by The New Yorker.
When thinking of earthquakes in the U.S., they are generally associated with California. Washington, though, has the second-highest risk of larger earthquakes due to the geology of the land.
"We've studied this thing numerous times, we know it is coming," Charvat said. "There is a variety of [prevention] activities at all three campuses, but primarily the Seattle campus, we are looking to strengthen our resilience to a known threat that is going to happen. Unfortunately, this all requires resources of some type, be that personnel, budgets, and money to actually do some of this resilience activities."
That being said, Charvat hopes that this small quake will help open the doors for more emergency management support in the coming years. Currently, many of the building resiliency updates are external, not structural. This is a "bandaid" in terms of what Charvat thinks the UW needs to be doing to create a disaster-resilient campus. 
"We've slid backwards in the last few years in terms of institutional awareness and preparedness, and that's something I'm hoping that this is sort of a wake up call… and the university can reinvest and refocus on some of our limited resources," Charvat said. 
Reach staff writer Rachel Morgan at science@dailyuw.com. Twitter: @rclmorgan
Like what you're reading? Support high-quality student journalism by donating here.