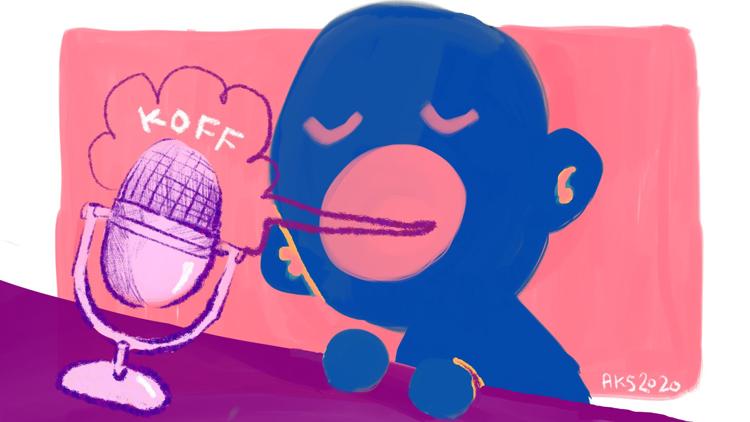 UW computer science researchers are training a cough detection model to assist healthcare workers with monitoring COVID-19 patients remotely.
"As COVID-19 cases continue to peak and we see more healthcare systems and hospitals overwhelmed, we're going to see patients who may have normally been kept in the hospital for observation sent home for recovery instead," Matthew Whitehill, a researcher at the UW's Ubiquitous Computing Lab, said. "Healthcare providers may have a desire to remotely monitor these patients." 
Whitehill, along with his partner Manuja Sharma, have been working on developing a model to detect coughs. This type of model is a "black box," because we don't know what it does internally, but it can be trained to detect coughs.
The researchers are running a survey to collect audio clips of coughs, speech, throat clearing, and laughter. The audio will then be clipped and used to train the AI. The coughs will be treated as a positive example, while the speech, throat clearing, and laughter will be treated as negative examples, training the model not to confuse these sounds with coughs. 
The more data you can give to an AI model, the better it performs, Whitehill explained. For this kind of model, the researchers are able to use data from a large number of participants, allowing for greater accuracy. 
"We would love to have more coughs if people are willing to," Whitehill said. "We've actually had some comments from people that it's kind of a fun survey to do."
Participants who complete the survey can help the researchers develop remote monitoring technology for healthcare workers treating COVID-19 patients. 
Currently, patients who are recovering in their own homes are monitored through phone interviews with their doctor. Whitehill explains phone interviews pose several problems, as they can be subjective and unreliable. Patients could lie, thinking that their health is better than it truly is. Additionally, the process is time intensive, as it requires an individual phone call to each patient. 
Remote monitoring through a cough detection model addresses these issues, Whitehill said. It's objective, monitoring the patient's health status throughout the day. 
Because a dry cough is a common symptom of COVID-19 patients, it can be an indicator of a patient's overall health. While the researchers' smartphone app is still in the works, the cough detection model is designed to run in the background of a phone, monitoring microphone data. Then, the cough detection model determines if an audio sample has a cough in it. 
Whitehill hopes that upon discharging patients, hospitals can issue a text message with an enrollment ID to sign up for the cough monitoring app. Then, as the days go by, if the number of coughs per day decreases, it indicates to the doctor that their patient's condition is improving.
Other groups who are attempting a similar project record all of the patient's audio and then send it to the cloud to be processed, Whitehill explained. He said that although he hopes companies are responsible, it does pose a potential privacy risk, as the company now owns all of your audio.
"We have worked pretty hard to use state-of-the-art deep learning techniques to create a highly accurate mobile optimized algorithm," Whitehill said. "What that means is that it can run directly on devices. This is important because it allows us to process your audio on your phone, so your audio never has to actually leave the phone."
Although this technology is clearly relevant during the COVID-19 outbreak, Whitehill has actually been studying coughs for years. There is a lot of interest surrounding the cough as a symptom and how it manifests.
Last year, before the emergence of the COVID-19 crisis, Whitehill had already been working on deep learning technologies for audio health sensing. His model from last year, CoughSense, identified users by their unique cough signatures.
Whitehill's current project is in collaboration with the UW Medical Center and Dr. Margaret Rosenfeld, a clinical researcher at Seattle Children's hospital. Originally, Rosenfeld was using the cough detection technology to study the correlation between coughs and exacerbations of a certain respiratory illness. The technology has been in testing for over a year.
"Having worked on that project, and worked on our cough detection model in our lab — which a number of students have contributed on — we're looking to use the technology that we've developed to help with the COVID-19 outbreak," Whitehill said.
Reach reporter Kaya Bramble at science@dailyuw.com. Twitter: @KayaBramble
Like what you're reading? Support high-quality student journalism by donating here.