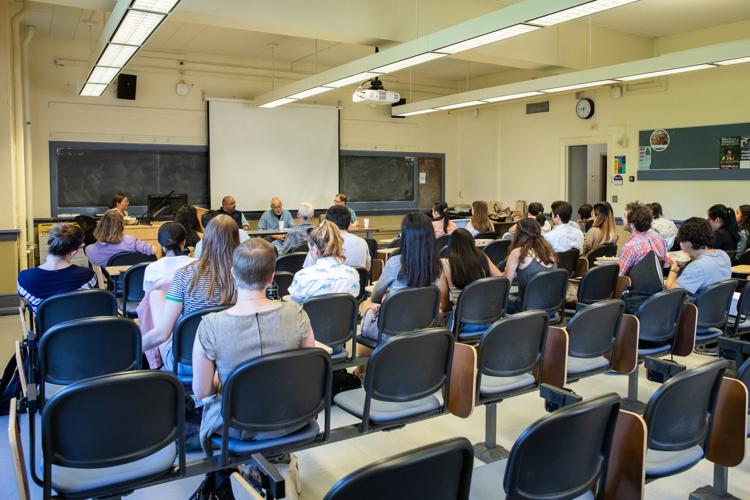 It is no surprise that the climate emergency, as it becomes a prominent global issue, is a hot-button topic at the UW. UW students themselves are uniquely positioned to take interest in the issue as Seattle prepares to face the impacts of global environmental changes.
Students attended the Economic Undergraduate Board's panel May 23, "A Conversation on Climate Change," to learn more about academia's perspectives on the issue and any possible solutions. The event was part of the board's quarterly Paul Heyne Seminar.
"We always do econ-related presentations, but this time around, we thought it'd be good to have a panel since this is a topic that's increasingly relevant," organizer Abby Talkington said.
Dr. Sandra O. Archibald from the Evans School of Public Policy & Governance and Dr. Nives Dolšak from the School of Marine and Environmental Affairs were originally scheduled to speak but were unable to attend. Dr. Robert Halvorsen from the department of economics filled in for them instead.
The new interdisciplinary approach of the event was a success, inspiring a productive discussion among the panelists. The three speakers came from the different fields of urban planning, economics, and public policy, but shared a similar attitude toward the impending threat of a climate emergency.
"My pessimism has increased over time," Halvorsen said.
Dr. David Layton, an economics professor at the Evans School, echoed the sentiment. "I didn't think the science would be as clear as it is now," Layton said.
However, not all discussion was so discouraging.
"In my opinion, it has to become worse before it can become better," Dr. Himanshu Grover, a professor in the College of Built Environments, said. "I'm hoping that soon we can rebound and there will be a major change, major shift."
The panelists then debated possible solutions to make this rebound possible.
"It seems like the carbon tax is likely to be the better instrument at yielding [those] benefits, but may not be as attractive," Grover said.
Grover was referring to the failure of I-1631 to pass in the last state election, which proposed placing a $15 tax on each metric ton of carbon.
According to Layton, while a carbon tax would help decrease emission levels, the cost outweighs the value of the threat as many see it.
"Not all members think it's an existential threat," Layton said. "They may think it's an existential impact … but at the end of the day, do they think it's another World War II?"
When asked about recent national measures like the Green New Deal, the speakers were more divided. The resolution outlines short- and long-term goals to minimize the impact of climate emergency; however, there is some disagreement over whether these goals can actually be achieved.
"It is important to put out these ideas," Grover said. "You have to plan for the next 100 years. Then you will do something in the next five."
Simply stating ideas may not be enough to generate the type of action needed to respond to the global crisis.
Layton criticized the Green New Deal for not holding the public accountable, and instead proposed that individuals start doing their part to help the planet. While taking small individual measures like composting and recycling only go so far, he emphasized that anything is a start.
"It'll be a collective choice that matters, and individual choice feeds into that," Layton said.
Directly addressing their audience of college students, the speakers ended on a more optimistic note about the next generation's response to the issue.
"You read all these articles about [the younger generation]. There is cultural change going on around us," Halvorsen said.
As the next generation prepares to face climate emergency and its worsening effects, they may be more willing to admit and properly respond to the threat it poses.
"I'm always hopeful … There is a change happening," Grover said.
Reach contributing writer Hope Morris at development@dailyuw.com. Twitter: @hopexmorris
Like what you're reading? Support high-quality student journalism by donating here.