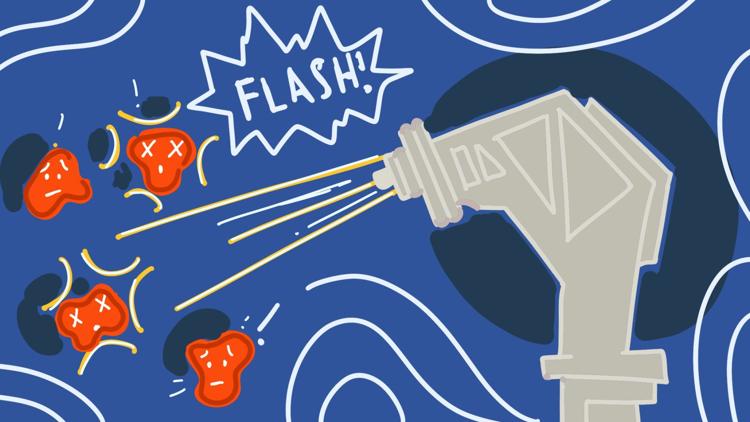 Traditionally, radiation therapy cancer treatment, or radiotherapy, has consisted of X-rays or other radiation delivered to a patient over the course of many weeks. A potential new treatment known as FLASH therapy could bypass the limitations of current therapies, possibly drastically reducing the negative side effects of radiotherapy, while also treating patients in a matter of days. 
A team of researchers in the radiation oncology department at the UW Medical Center has been studying the mechanisms of FLASH therapy with the goal of developing it for patient treatment. 
"FLASH is basically delivering radiation instead of in the time frame of minutes, in the fraction of a second," Dr. Juergen Meyer, an associate professor of medical physics, said. "The dose does not change, but it's the time, you know, it changes."
Radiotherapy operates around ionizing radiation damaging the DNA of cells and ultimately killing cancer cells because cancerous cells are unable to repair their DNA the way that regular cells do. To allow healthy cells to recover from this damage, current radiation treatments deliver smaller repeated doses over a long period of time.
"[FLASH] seems to preferentially spare normal tissues so that compared to given radiation at a regular dose rate, the cancers are being about roughly equally killed, but that the normal tissues are less damaged by this faster radiation," Dr. Jing Zeng, a radiation oncology physician, said. "That's exciting because that either means we can cure more cancer, or have a lot less side effects from the radiation treatment."
This sparing effect is unexpected in traditional radiotherapy, and according to Zeng, there is currently no conclusive theory as to why this sparing effect occurs.
"The most prevailing theory has to do with oxygen presence in the tissue," Zeng said. "When you give the radiation so incredibly fast, you're using up all the oxygen that's available in the tissue, and so you actually are no longer able to do damage with more of the dose in that time frame. So that's currently the leading theory, but it's far from being the proven conclusive theory." 
The UW has one of the few neutron therapy centers in the world, as well as two cyclotron particle accelerator machines, which allow UW researchers to research FLASH with many different particles for comparison. 
The versatility of the machines at the UW is what makes this such a prime location for the development of this treatment.
"Most clinics who offer radiation therapy, they have standard linear accelerators, and with those machines, you can't really convert them and create FLASH beams without modifying the machine in a way that you can't use it for clinical treatment anymore," Meyer said. 
Animal studies have been conducted and results are promising. More work still has to be done to understand the mechanisms of FLASH before moving on to human clinical trials, but it seems that day might not be too far away. 
"There's many many many more things we don't know than we do know," Dr. Eric Ford, professor and interim director of medical physics, said. 
With so much unknown about the mechanisms of FLASH, the future is exciting, and students could be a vital part of the research.
"[FLASH] could actually change the way we treat patients in a major way," Ford said. 
"If this pans out, things could look very different in 10 years or even five years"
Reach contributing writer Alvin Luk at science@dailyuw.com. Twitter: @AlvinLuk5
Like what you're reading? Support high-quality student journalism by donating here.