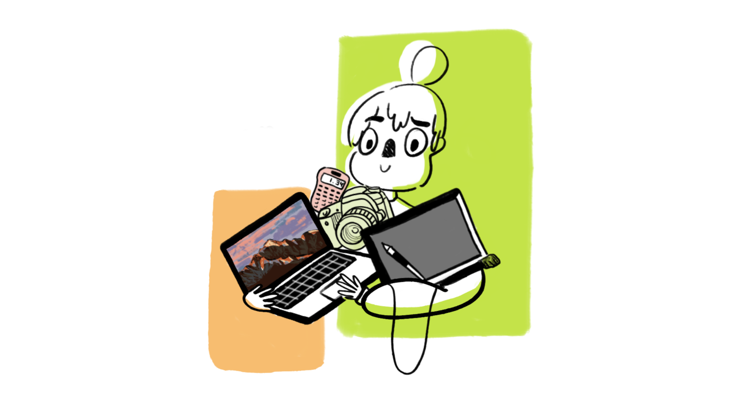 It's the morning of your midterm and you forgot a calculator. You don't have time to return home and your friends have yet to see your frantic texts pleading for help. The UW Student Technology Loan Program (STLP) can help whenever you find yourself lacking the technology you need to succeed.
Established in 2002, STLP allows students enrolled for the current quarter at the UW to borrow various types of equipment for loan periods ranging from two days to an entire quarter. The $38 Student Technology Fee (STF) and $141 Services and Activities Fee (SAF) that students pay quarterly in their tuition helps fund the purchase of technology equipment, replacement parts, and equipment insurance. 
The program allows students to check out laptops like the 2017 Macbook Pro, tablets like the iPad Air 2, and graphing and scientific calculators for no additional cost. 
Doing so, as outlined in their STF funding proposal, equips students with the necessary resources to "generate class projects, document their research endeavors and explore areas outside their comfort zone due to financial constraints."
The funding enables the estimated 5,592 students to use the program to carry out their personal and academic projects.
You can even borrow cables and chargers from the STLP if you already own equipment. The program loans out Macbook, HP, and Dell chargers, HDMI cables, and mini-display adapters for 24 hour periods. 
Though STLP cannot fix equipment not belonging to the program, STLP is a valuable resource for students with their own laptops in the case of unexpected technology mishaps.  
"When my laptop broke accidentally due to a spilled glass of water I was able to finish my English portfolio on an STF computer, giving me the freedom and opportunity to work on my portfolio and other final projects that needed to get done," Lindsay Bullock wrote in an endorsement for the program's STF funding proposal. 
However, STLP does not limit their equipment to use on academic projects. If you feel compelled to host a Vine compilation viewing party for friends or dip your toes into the overcrowded pool that is photography Instagram accounts, STLP enables you to do so without making a significant financial commitment. 
With STLP, students can rent cameras like the Canon Rebel T5i, projectors, video cameras, and audio equipment to start passion projects they've been contemplating for months. The program welcomes students to borrow more than one piece of equipment as long as they come from different categories. 
For example, students may borrow, at the same time, a DSLR camera, GoPro Hero6 Black, Sennheiser microphone, and projector to screen their completed project, but may not check out an additional camcorder or point-and-shoot camera. 
You can also email stlp@uw.edu to reserve virtual reality equipment. STLP offers an Oculus Rift gaming bundle, HTC Vive, and Alienware laptop made for development and heavy video processing. 
To use this program, students must provide their Husky Card and a government-issued photo ID. 
Students can make next-day reservations on the STLP site if they submit a reservation before noon the business day beforehand and can pick up their reserved equipment in the offices located in Room 146 of the I-Wing of the Health Sciences Building (HSB) or in the Kane basement, Room 035. 
STLP also offers same-day checkout on a first-come-first-serve basis in Room 111D of the Husky Union Building (HUB) RSO Resource Center and in the HSB I-146 office. Students can find a list of equipment available for same-day pickup on the STLP reservation page. 
The Kane and HSB locations are open from 8 a.m. to 5 p.m. Monday through Friday, while the HUB office is open from 3 to 8 p.m. Monday through Friday and noon to 4 p.m. on Saturday. 
Reach reporter Estey Chen at Science@dailyuw.com. Twitter: @esteychen
Like what you're reading? Support high-quality student journalism by donating here.