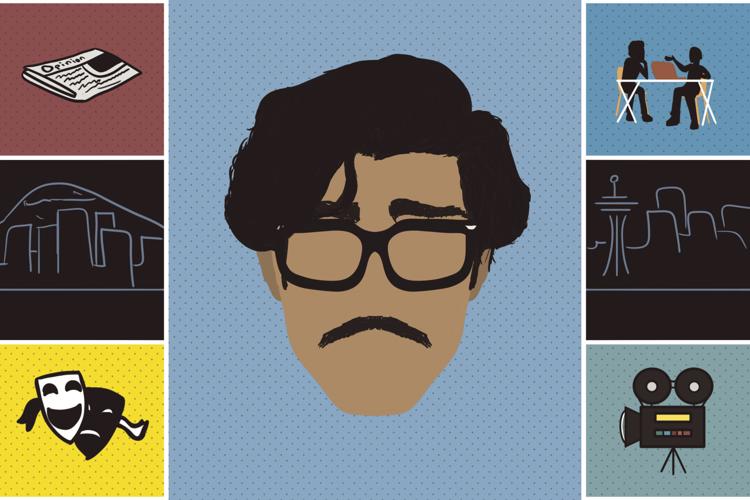 Full disclosure: I was ensnared into writing this article. Special Sections Editor Alyson Podesta has been a friend of mine since my first quarter at the UW, and when I heard her pleading with her co-editor Charlotte Houston for a 500-word personal essay to be published in the career guide, I volunteered because I'm an idiot and a goddamn fool when it comes to helping my friends.
See, I figured with just the sheer breadth of work I do in theater, in film, in journalism, in education — in addition to (somewhat poorly, but ultimately still manageably) balancing classes — I'd have enough to talk about for a quick essay. Hell, I finished up a majority of this piece after juggling three different commitments for three different organizations, all back-to-back on the same day. The fact that days like this are relatively mundane for me creates an enormous wealth of material to draw from just by itself.
How do I do it? How do I pull it off? These are questions I asked when I started drafting this, because honestly, I'm not sure I do. My sleep schedule is a mess; my mealtimes are all over the map; I'm rarely not tired; and I'm almost always running behind on something. It's become a running gag with my friends and co-workers just how much of a flaming train wreck my day-to-day life is.
It's tempting for me to attribute what I have accomplished to my own tenacity and gumption, but frankly, the only reason I'm able to achieve some simulacrum of stability ultimately comes down being born into a family that can support me.
American capitalism presents itself as a meritocracy where the ultimate currency is hard work, the ultimate reward innovation, and all who reap its profits are those who have the necessary mettle to truly earn their keep. But if I've learned anything over the course of my career, it's that happenstance is just as influential, if not more.
At the end of the day, I can be an actor, a journalist, a stage director, an illustrator, a writing tutor, and (most recently) an editor at the same time, because I don't have to worry about making rent or having food on the table thanks to living with my parents, so taking low-paying theater gigs or writing jobs isn't as risky a venture as it would be otherwise. That's not something I did. It's just the grace of God, the cosmic luck of my divine draw.
I suppose that's the reason I've spent so much time engaging with things like race and opportunities for marginalized people. Because I know that the only thing special about what I do is just that I have the power to do it.
Reach development editor Shahbaz Ahmed Khan at specials@dailyuw.com. Twitter: @JadeMoonSpeaks
Like what you're reading? Support high-quality student journalism by donating here.